Updated April 3, 2023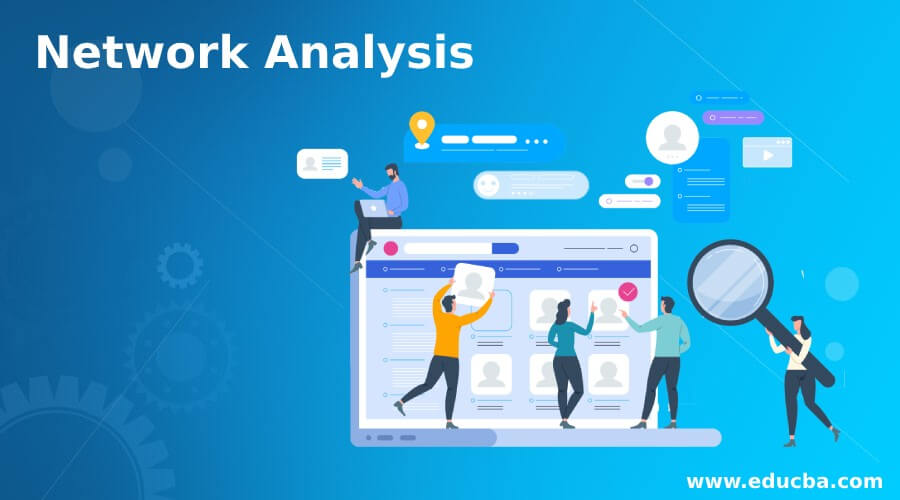 What is Network Analysis?
Network analysis is the method of closely looking at network traffic to collect data on what is going on in the network and what kind of data is flowing through. If a network's web-based and cloud service components are operating slowly, so one of the things to inspect is if there are any Wi-Fi problems, where network analysis helps.
It interprets and displays the data flowing through the network in a readable format. Tools for network analysis can accomplish tasks which are given as follows:
Troubleshooting network issues
Determining availability and speeds for Wi-Fi
Searching for bottlenecks in bandwidth
Network intrusion or spyware detection
Figuring out which part of the network is attacked (and where it comes from) by a DDoS attack.
Discovering faulty applications or hardware
Often, with software installed on it, a network analyzer will be independent hardware, while others will be software installed as part of the network on a device. The key differences between this software include the areas of the network that the tool focuses on, the number of protocols that they can decode and the accuracy of this process, the appearance of the user interface, graphs, or data analysis it can generate.
Why Do We Need Network Analysis?
A network analyzer enables the organization to operate an optimal and efficient network by detecting any performance problems before they influence the entire network or reach the end-user. Many individuals use network analysis in an enterprise setting to perform parts of their jobs like programmers, system admins, network engineers, and security experts.
If your organization depends on web-based or cloud-based services or uses a large Wi-Fi network with a lot of users, it is important to ensure that the network is operating properly. It may cause minor problems resulting in lost efficiency when the network encounters a crisis or major problems including financial or data loss or reputation loss due to poor results.
As Wi-Fi networks are becoming more popular, it is also becoming increasingly important, particularly in densely populated areas like big cities. Wi-Fi operates on a specific spectrum of frequencies, and a finite number of channels are split into those frequencies.
These channels can be used by any Wi-Fi system to communicate, but if too many devices attempt to communicate with Wi-Fi, all the channels are filled. If one channel is used by too many devices, it will overlap with each other and probably be unable to connect.
Many Wi-Fi devices automatically pick which channel on which they will run. However as more Wi-Fi networks grow, as sections of the wireless spectrum on each channel become overloaded with connexions, and because of this network congestion can occur. Analysis of the Wi-Fi network will help organizations evaluate the coverage and strength of the Wi-Fi signal, so you can better balance the load of the network.
Using network analysis and monitoring software to set benchmarks for network output from a Wi-Fi optimization perspective can help evaluate where and when a problem has occurred. Users can also set alerts to warn when the network is slowing down and highlight what bandwidth might be used by devices on the network. This software also enables users to create Wi-Fi accessibility maps, like heat maps, to indicate where there is a low Wi-Fi signal. This will allow the organization to operate more effectively, as you spend less time trying to find out why the network works poorly or why in a certain location you can not communicate.
Network Analysis Tools
Here is a list of some popular Network Analysis Tools
1. SolarWinds Network Performance Monitor
SolarWinds Network Performance Monitor (NPM) is a widely used network analyzer which has an easy-to-use interface for beginners as well as experienced IT professionals It provides network management features that are useful for Wi-Fi optimization and network analysis.
Features of NPM
Multi-vendor network analysis and monitoring
Network Insights for better visibility
Intelligent maps
It supports PerfStack and NetPath for troubleshooting
It provides more scalability for large systems
Advanced alerting
2. NetFlow Traffic Analyzer
SolarWinds also has another great network analyzing software called NetFlow Traffic Analyzer (NTA). The best feature of NTA is that it can analyze wireless LAN controller traffic. This helps you to keep track of the apps and users' use bandwidth on your wireless network and can help you fix problems more efficiently with rogue apps (or greedy users). NTA also offers alerts for unpredictable or irregular device traffic.
Features of NetFlow Traffic Analyzer
It has a Network Traffic Analysis Dashboard
It provides Cross-Stack Network Data Correlation
Users can evaluate Network Traffic Forensics more efficiently
3. WiFi Analyzer
WiFi Analyzer is also high-quality software that can be installed on the phone and also supports windows. If the user's network is slow and overcrowded, the app analyses that network and generates visualizations to show any weak points in your network, and provides recommendations for channels that you can use.
Features of WiFi Analyzer
It has a Beeper for notifications of signal strength
It provides various filters for network analysis
Prevents screen timeout
Recommended Articles
This is a guide to Network Analysis. Here we also discuss the introduction and why do we need network analysis? along with network analysis tools. You may also have a look at the following articles to learn more –