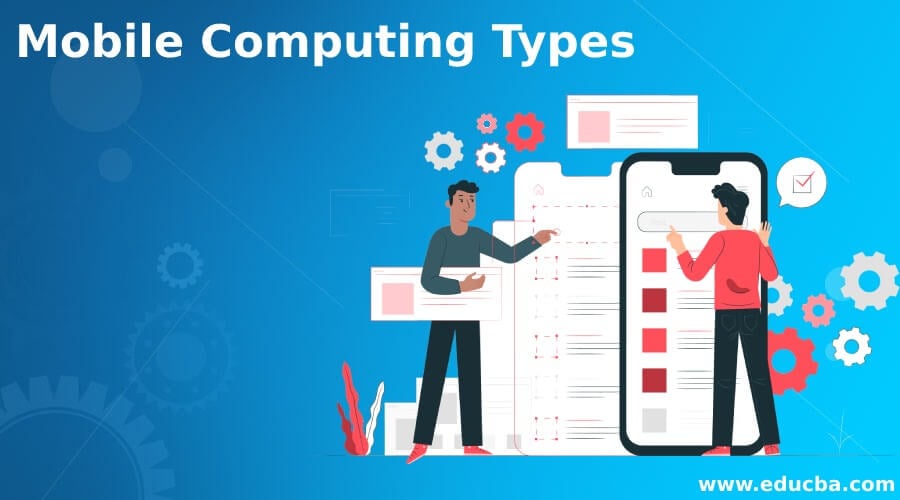 Introduction to Mobile Computing
Mobile computing are the types of mobile computing that are of two types, i.e., Portable computing and Mobility computing. Mobile computing is a technology that provides environment to enable users to transmit data from one device to another device without any use of physical cables or links. Mobile computing allows data transformation, video, and voice through any wireless-enabled device or computer. In general, computing is seen as the technology used in mobiles, laptops, tablets, etc., and other such kinds of devices which support mobility. Here we will see types of mobile computing and the concept behind mobile computing.
Concept Behind Mobile Computing
Mobile computing is based on the below concepts:
Mobile Communication
Mobile Hardware
Mobile Software
1. Mobile Communication
Mobile communication refers to infrastructure being in place to ensure seamless, reliable, and hassle-free communication with wireless devices. It includes adhoc and infrastructure networks, protocols, and data formats. Data format ensures there are no collisions with other systems. Radio wave infrastructure is used where signals are sent in the air.
2. Mobile Hardware
Mobile Hardware includes mobile devices or device components. It refers to mobile devices that can access mobility services, which includes laptops, tablet PC's, smartwatches and smartphones, other PDAs (Personal Digital Assistants). In such devices, receptors are installed to sense and receive signals. These devices can send and receive signals at same time which is known as full-duplex.
3. Mobile Software
Mobile Software is a program that can be used for mobile hardware and can also call a mobile OS. It deals with requirements of mobile applications and remains responsible for all of the functions in devices called as device engine.
Different Types of Computing
We have two types of mobile computing:
Portable Computing: It needs wired communication. All the users have the freedom to move devices anywhere and at any time but they required access to make a connection within a network line.
Mobility Computing: It refers to wireless communication and is also known as "Mobile Computing". It provides a better environment for users to send data from one location to other anytime with the usage of these mobile computing devices, without any physical connections.
Some of the mobile computing devices are listed below:
Tablet: It is a wireless portable computer with a touch interface. It is smaller than a notebook but larger than smartphone.
Laptop: It is a portable computer usually with battery charged.
Smartphone: It performs many functions of computer basically with a touchscreen interface, network access and Operating system which is capable of accessing or downloading applications.
Personal Digital Assistant (PDA): It is a pocket computer and is capable of transmitting data from one terminal to other with synchronization. In PDA, user has access to video call, voice call, calendar, clock, etc. Nowadays, PDAs vary based on Operating systems.
iPad: It is a tablet personal computer designed by Apple Inc. It has 9.7 inches screen with touch, used to browse the web, listen to audio, watch videos, play games, etc.
Portable Gaming Devices: It is a video game console with a built-in screen, mice, game controllers and speakers. They are small in size when compared with home video consoles.
E Readers: It is a portable electronic device used to read digital content like e-books, e-newspaper, etc., also known as E – Book readers.
Graphing Calculator: It is a special type of hardware calculating device which displays plotted graphs for solving complicated equations such as parabolas, etc.
Netbook: It is a mobile computing device that has lightweight, less processing power comparatively, and less power consumption. It is designed mainly to operate word processing and to access the internet on web browsers.
Pocket PC's: These are also known as Microsoft windows classic device which is different from PDA and has the ability to run Windows mobile OS, and also has the ability to perform tasks similar to modern PC's
Ultra – Mobile PC's: It is portable hardware device which has a capacity to run Windows OS, has good functionality compared to laptops. It has a screen size of 5-7 inches and a weight of 2 pounds.
PlayStation Portable (PSP): It is a slim gaming console released by Sony Entertainment.
Atari Lynx: It is an 8-bit or 16-bit portable gaming device, developed by Atari Lynx in 1989.
Gizmondo: It is a handheld hardware gaming console designed by Tiger Telematics.
N – Gage: It is a Symbian smartphone along with a combination of handheld gaming systems introduced by Nokia in 2002.
GamePark 32: It is a portable hardware device for video games, released by Game Park company in 2001.
PC Engine GT: It is a portable version of PC Engine, introduced by the Japanese in 1990, and then the USA released it as TurboExpress.
Advantages and Disadvantages of Mobile Computing
Given below are the advantages and disadvantages mentioned:
Advantages:
These devices save time, while the user is traveling or whenever in an urgency, work can be done over mobile devices.
Users have location flexibility, can work anywhere and at any time of the day.
These devices have enhanced productivity and provide ease of research.
Mobile devices can be used for entertainment purpose too and connect with people around world through social engagement applications.
Disadvantages:
Users might face security issues too as many of the mobile computing devices can be hacked.
These devices take more power consumption, even though there is a better battery.
Cost also plays a major role of disadvantage to users, as with new technologies coming through, cost of these also increases, which becomes difficult for users to buy.
Conclusion
With this, we shall conclude the topic "Mobile Computing types". We have seen what mobile computing is and what are the type of mobile computing devices used in today's world. We have also seen the concept behind mobile computing which is comprised of three major points. We have also listed out a few of the mobile computing devices and their specifications. Have gone through some of the advantages and disadvantages of mobile computing devices.
Recommended Articles
This is a guide to Mobile Computing Types. Here we discuss the introduction, concept, different types of computing, advantages, and disadvantages. You may also have a look at the following articles to learn more –