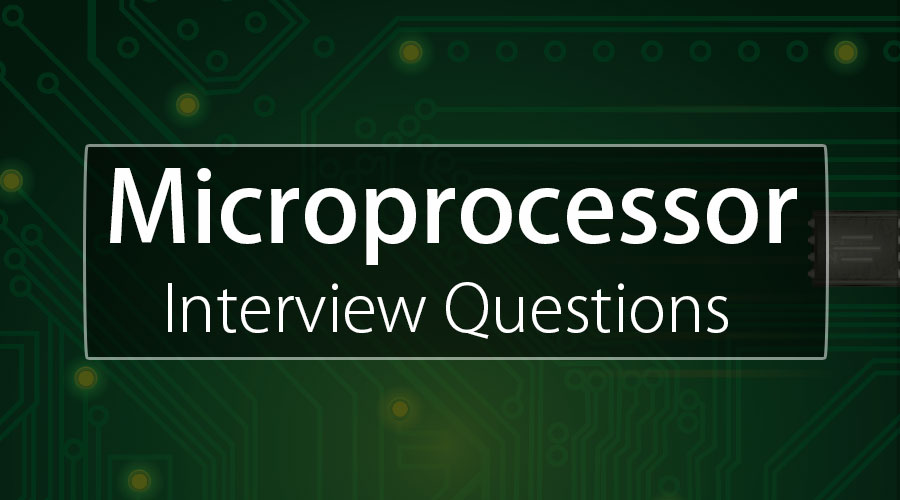 Introduction To Microprocessor Interview Questions And Answers
A microprocessor is a controlling unit of a micro-computer, fabricated on a small chip capable of performing ALU (Arithmetic Logic Unit) operations and communicating with other devices connected to it. Microprocessor consists of register, control array, and control unit. ALU performs arithmetical and logical operations on the data received from the memory or an input device. Register array consists of registers identified by letters like B, C, D, E, H, L, and accumulator. The control units control the flow of data and instructions within the computer.
How does a microprocessor work?
The microprocessor follows a sequence: Fetch, decode and then execute.
The instructions are stored in the memory in a sequential order. The microprocessor fetches those instructions from the memory, then decodes it and executes those instructions till STOP instruction is reached. It then sends the result in binary to the output port. The task of the register is to store data temporarily and ALU performs the computing functions.
Features of microprocessor
Cost-effective: the microprocessor chips are available at low prices and results in its low cost.
Size: it is small size chip and hence portable.
Low power consumption: microprocessors are manufactured by using metaloxide semiconductor technology, which has low power consumption.
Versatility: the microprocessors are versatile as we can use the same chip in a number of applications by configuring the software program.
Reliability: the failure rate of IC in microprocessors is very low, hence it is reliable.
Types of microprocessor
RISC Processor: – Reduced Instruction Set Computer. It is designed to reduce the execution time by simplifying the instruction set of the computer.
CISC Processor: – Complex Instruction Set Computer. It is designed to minimize the number of instructions per program, ignoring the number of cycles per instruction.
Special Processor: – These processors are designed for special purposes. Some of the special processors are as follows
o Co processor
o Input/output Processor
o Transputer
o Digital Signal Processor
Now, if you are looking for a job which is related to microprocessor then you need to prepare for the 2020 Microprocessor Interview Questions. It is true that every interview is different as per the different job profiles. Here, we have prepared the important Microprocessor Interview Questions and Answers which will help you get success in your interview.
Below are the 10 important 2020 Microprocessor interview questions and answers that are frequently asked in an interview. These questions are divided into two parts are as follows:
Part 1 –Microprocessor Interview Questions (Basic)
This first part covers basic Interview Questions and Answers.
1. What is a microprocessor?
Answer:
The microprocessor is a program-controlled device, which reads a set of steps to be executed from memory and executes them.
2. What are the flags in 8086?
Answer:
This is the common Microprocessor Interview Questions asked in an interview. In 8086 carry flag, parity flag, auxiliary carry flag, zero flags, an overflow flag, trace flag, interrupt flag, direction flag, and sign flag are present.
3. Why crystal is preferred for clock source?
Answer:
The main reason to use crystal is high stability, large O and accurate frequency which remains constant all the time.
4. What is the program counter?
Answer:
Program counter holds a location in memory of the next step to be performed or the location of the next step in a set of steps in case of multistep instruction. In all cases, the counter is increased by one as steps are progressed. Also, the program register keeps the address of the next instruction.
Let us move to the next Microprocessor Interview Questions
5. What is the 1st, 2nd, 3rd, 4th generation processor?
Answer:
The processor made of PMOS / NMOS/ HMOS/ HCMOS technology is called 1st, 2nd, 3rd, 4th generation processor and it contains 4/8/16/32 bits.
6. What is a tri-state logic?
Answer:
Tri-state logic is the three logic levels used, they are High, Low, High impedance state. High impedance is electrical open circuit conditions which high and low are normal logic levels.
Part 2 – Microprocessor Interview Questions (Advanced)
Let us now have a look at the advanced Interview Questions.
7. Classify interrupts on the basis of the signal. State their differences?
Answer:
On the basis of levels, there are two types of signals
Single level interrupts
Multi-level interrupts
The differences between them are as follows
Single interrupts are managed with a single ping whereas multi interrupts are managed by multi pins.
For single interrupts, polling is essential while for multi it is not necessary.
Multi-level interrupts are relatively faster than single –level interrupts.
8. Explain briefly the trap input for 8085?
Answer:
Trap responds to both edge and level.
The pulse width for trap input should be more than normal noise width.
The second trap never responds second time as the first trap goes from high to low transition.
To prevent unwanted false triggers pulse width should be wider than normal widths.
Let us move to the next Microprocessor Interview Questions
9. Explain differences between The Hlt and Hold States?
Answer:
When HLT state is executed the processor stops functioning, buses go into tri state. No acknowledgment in any form is given by processor.
In the case of Hold, the processor goes into hold state but the buses are not driven to tri-state.
On other hands-on Hold, state processor gives out HLDA signal. This signal can be made to use by other devices.
10. Briefly explain the steps involved in a fetch cycle?
Answer:
This is the advanced Microprocessor Interview Questions asked in an interview. Fetch cycle is time taken to retrieve an operation code from a specific location in memory.
General fetch cycles consist of 3T states.
In first T state, memory address stored in program counter is sent to memory.
In the second T state, contents of the specified memory location from the program counter are read.
In 3rd T state, the operation code is sent to instruction register for execution via a data bus.
In case of memories with slow execution speed, there is provision for WAIT cycles.
11. Explain briefly what happened when the Intr signal goes High in 8085?
Answer:
The INTR is lowest priority, non-vectored and masks able interrupt for 8085. This INTR signal goes into a High state in many instances, whenever this condition occurs following things occur.
For every step in the set of instruction that happens the 8085 checks the status of INTR interrupt, if it has occurred.
Until completion of every step, the status of the INTR signal remains High. As soon as this instruction is completed, the processor sends the completion signal to INTR.
As INTR signal receives this completion signal, a new operation code is placed on a data bus to transfer it for execution.
The processor receives this new operation code address, saves this address on STACK and new interrupt service subroutine begins.
12. Where does CPU enhanced mode originate from?
Answer:
Intel's 80386 was the first 32-bit processor so the company had to backward support 8086. All the modern Intel-based processors run in the enhanced mode which is capable to switch between real mode and protected mode, which is the current mode of operation.
Recommended Articles
This has been a guide to the list of Microprocessor Interview Questions and Answers so that the candidate can crackdown these Interview Questions easily. Here in this post, we have studied top Microprocessor Interview Questions which are often asked in interviews. You may also look at the following articles to learn more –