Updated October 10, 2023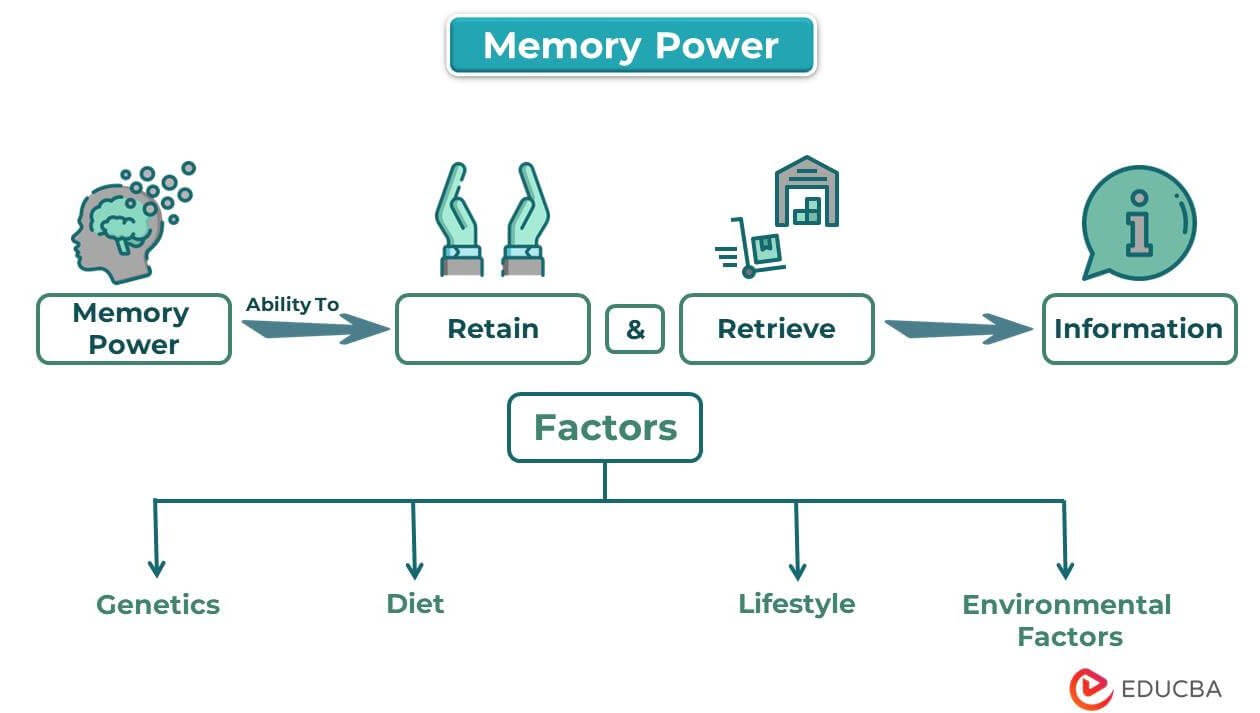 What is Memory Power?
Memory power refers to the ability of an individual to maintain and recover information from their memory. It involves the capacity to store and retrieve information accurately and quickly. A strong memory power enables an individual to remember important details, recall past experiences, learn new skills, and perform academically and professionally. Genetics, diet, lifestyle, and environmental factors can affect an individual's memory power. Activities like regular exercise, a healthy diet, and mental exercises like puzzles or memory games may help improve memory power.
Boost Your Memory Power
One of the most common complaints from students is, "I remember everything when I am studying for the exams. I give perfect answers when my friends or family ask me questions for confirmation. But I forget everything once I look at the exam paper."
If this is students' woe, husbands have problems forgetting their anniversaries, birthdays, etc. Women keep forgetting all their shopping and keep repeatedly shopping, though many don't believe it is due to a lack of memory power.
We all walk into a room, open the cupboard, and forget why we are there. We cannot recall where we put our keys even if our life depended on it, especially when running late. We run into people who seem to know us very well, but we cannot remember who they are. These are just a few common examples of how we get tormented by our memories or, to be precise, their loss in our everyday lives.
On the other hand, we have people with eidetic memories like –
Charles Nalder Baeyertz learned the Maori language by memorizing a dictionary;
Swami Vivekananda could memorize a book by going through it once; or
Stephen Wiltshire can draw the entire landscape after seeing it from a helicopter.
Memory Power Of Our Brain
Nothing is more mysterious than our brains. Though we carry it on our shoulders throughout our lives, it is no less strange to us than outer space. We have tried understanding the mind's or brain's functioning for centuries. With the progress of science, though many mysteries around us were understood and solved, our brains became more obscure and incomprehensible.
Memory power is an integral part of our brain, which makes us who we are. According to Locke, our brain is complete when we are born. Still, it is like a blank slate or Tabula Rasa on which we write our life experiences which later become our memory leading to learning skills and acquiring knowledge.
Memory is quite unpredictable and works mysteriously. We may remember something irrelevant to us or even what we want to forget, but on the other hand, we forget the most important thing that meant the world to us. Most of the time, our brain flashes an error message when we try to recall something important, but then it comes to us just like that when we are not even thinking about it.
6 Ways To Improve Your Memory Power
We all could do with a little boost in our memory department. Memory is only observation, absorption, storage, and recall techniques we use as we live.
Today, in the era of technology and smart gadgets, we are losing touch with our natural memory power techniques due to the introduction of educational apps that aid us in remembering things. Gone are the days when we used to keep reminding ourselves about an important person's birthday due in the coming month. Now that we know that Facebook will inform us of upcoming birthdays, we no longer try to remember them. No more tying a thread to your finger to remember an important event.
Science has proven that we lost our tails when they stopped assisting us in balance and mobility. Will we lose our remembrance techniques and ability to use apps and gadgets? Good memory power is always a good and impressive asset of our personality. Let us not ignore it but improve it for healthier and better living.
Improving your memory power today will help you fight old age problems like dementia, Alzheimer's, or poor memory power by reducing the risk to some extent.
Let us now get ready to walk down the fascinating path of improving our memory power. Just because we are about to explore a few memory improvement techniques, you don't have to apply everything for yourself. Explore, evaluate, and adopt the memory power techniques that you feel comfortable with and that meet your requirements.
Below we have discussed some techniques to improve your memory power, so go through them.
1. Pegging
Some cues with simple words are easy to memorize and remember for a long time. In the pegging technique, you use these simple cues to recall information in a particular order. Pegs are the same hooks on which you hang the required memory sequence. Remember how you turn your coats or hats on hooks?
Using different colors to have a visual effect, creating flowcharts, keyword note-making, and many other techniques are adopted by students to remember their lessons.
You can use numbers from 1-20 or Alphabets for the peg technique. It is good to have rhyming words to go with the pegs. For example,
For one, you can choose sun, bun, or fun
For two, you can select shoe, who, or blue
For three club words like tree, free, or bee
Many people with visual learning disabilities use the number shape system, which goes as the following
1 – Upright wand
2 – Swan with its head looking down
3 – Half an upright infinity sign or a heart lying on its side
4 – Yacht sail
Once you memorize the rhymes or visual images and know them well, you can use them as pegs to hang your list on so that you recall the names easily. For example, if you have to use the peg for memorizing three fruits – apple, banana, and strawberry- peg with the words Sun, Shoe, and Bee.
Imagine the apple sweating in the sun, a banana with big shoes slipping on its peel, and a strawberry stung by bees. The vivid pictures will not only help you recall exact names, but you will also be able to recall them in exact order.
2. Acronyms
Imagine you have to purchase five items you need at home on your way back from the office. It is easy to know the list when you leave home, but can you remember them after a hectic workday? Probably not. Acronyms will help you simplify and remember your lists. For example – if you plan to buy rice, oranges, milk, sugar, apples, and bread on your way back, use the first letters of each item to form a new word. How about Rambos? Sombra? Is it not easy to recall the list with the help of these words?
You may argue that writing and carrying a list is always easy, but with bad memory power, you may even forget the list. On the other hand, memory power techniques and tools will exercise your brain and make it stronger.
Did you know that LASER is not a word but an acronym for Light Amplification by Stimulated Emission of Radiation? Another popular usage of the Acronym is seen in schools when students use the word VIBGYOR (Violet, Indigo, Blue, Green, Yellow, Orange, Red) to remember the colors of a rainbow.
Once you get used to creating crazy and funny acronyms, you will remember everything better while having fun.
3. Loci
Loci, or Mental Palace, is the oldest mnemonic strategy to remember familiar places. In these ancient memory power techniques, you will use organization, visual memory, and associations to retain more complex data than lists.
With Loci, you can give an impressive presentation, express your ideas through a speech without peeking at notes, and clearly remember a lot of information by stimulating your brain correctly.
We do not pay much attention to the steps, doors, or paths when we walk through familiar places. In Loci, we have to select a familiar way and get accustomed to it so well that we can visualize it.
The next step is to assign a keyword that triggers your memory power as you walk through the path in your mind.
For example, to remember a speech in order, you need to pick up keywords from it and assign them to your path in an absurd (or logical) way you can clearly remember. When you mentally walk the path, you will recall the keywords, which will help you remember the rest of the data.
Make your path. Make sure you follow the path the same way and do not change it. Once done with the foundation, assign tasks or sentences to it to remember in order. This method helps people remember even a 100-digit number.
4. Fists Clenching
It is common for people to clench their fists when they are trying to recall something. You can reverse this process by clenching your fist at the point you wish to recall later. You can clench your fist to retain data initially and clench your opposite fist during the recall process.
For example, if you want to remember a task your boss assigned you during a meeting, taking out your mobile phone and jotting it down in front of others is odd. Instead, clench your right fist if you are right-handed, and when you want to recall, clench your left fist—it works the opposite for left-handers.
The research conducted by Montclair State University, led by Ruth Propper, and published in the journal PLOS ONE, validates this point.
This works by stimulating your brain for information.
5. Chunking
There is a joke that goes
"How do you eat an elephant?"
"One bite at a time."
Chunking is similar to the joke in which you try to retain elephant-like information in smaller bites. Many of us involuntarily use this method to remember ten-digit mobile phone numbers. When large data gets divided into smaller chunks or groups, it is easier to remember and recall.
6. Breathing
Now, this must be shocking to you, but believe it or not, breathing can also help you improve your memory power.
In the past, when students fumbled with their answers, teachers would make them hold their left earlobe with the right hand and right ear lobe with the left hand and then sit and stand without squatting flat on the floor. Today, scientists have proof that this enhances memory power to a great extent and is a good recall technique if done with deep breathing. Repeat the same procedure with deep inhaling when you go towards the floor and exhaling as you come up.
Conclusion
Apart from all the techniques, you must remain calm and focused on your work, eat healthily, exercise regularly, and get enough sleep to enhance your memory.
Let us not be dumb people with smartphones, but keep challenging our brains with puzzles and memorizing trials.
Do not quit if you fail to succeed the first time. Keep trying. Once we learn about cycling or swimming, we never forget it. This technique does not apply to everything. We need to keep practicing to increase our memory power. The more we practice, the stronger the memory power, as proven by the tables we learned in school. We repeat them every year, so we remember them even after we are out of College, but can we recall poems from English so clearly? This is because the repetitions create strong neuropathy in our brains, which helps us recall information.
Recommended Articles
We hope that this EDUCBA information on "Memory Power" was beneficial to you. You can view EDUCBA's recommended articles for more information.