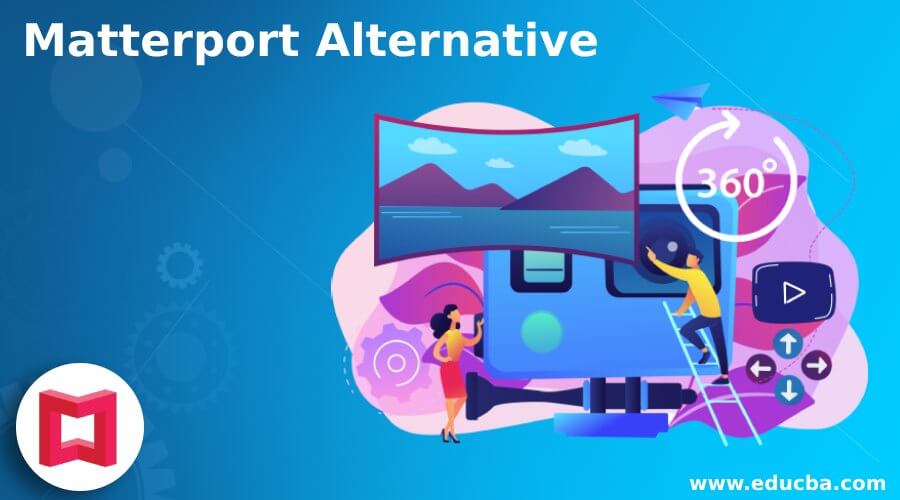 Introduction to Matterport
The following article provides an outline for Matterport Alternative. Matterport began as a manufacturer of 360-degree cameras for virtual tours but has now expanded to include software platforms for creating and utilising 3D imagery for real estate and creative applications. The Matterport technology can turn 2D panoramic pictures and 360 movies into fully interactive 3D images via cloud-based processing.
Recognizing the possibilities of modern hardware, Matterport may be utilised with 360 cameras from brands other than Matterport, such as Ricoh and Insta360, which are more affordable. This initiative has aided Matterport in expanding the scope of its 3D rendering solutions, which have now processed nearly 2 million 3D photos. Although Matterport remains the most popular platform for making 3D virtual tours, there appears to be an increased demand for alternatives recently.
Some of the reasons why many real estate brokers are making the change are as follows:
Subscription fees are extremely expensive
Not suitable for small markets
Proprietary hosting
List of Matterport Alternatives
Here is a list of software systems that offer a strong set of functionality without being too pricey when looking for the best Matterport alternatives. We also value software that allows you to create virtual tours with just a phone or tablet, as the lack of a 360 camera reduces the amount of cash you'll need as a real estate agent.
1. Cupix 3D Tour Platform
Cupix is the best option for professional-grade virtual tours at a reasonable price. Because of superior assistance and a more customer-centric approach to copyright and licensing, this is a relatively new startup that has managed to win over a large number of Matterport users.
Cupix is a paid service with three different subscription options to choose from. If you don't want to commit to these plans, you can try out their free options, which have restricted storage space and can be used forever.
Optional add-ons for photo editing, team management, and dimensional analysis of your 3D models are also available from Cupix. Cupix requires panoramic photos to be captured using either a 360 camera or a DSLR camera for 3D tour production. Cupix allows just about any major 360 camera model, including the Mi 360, Ricoh Theta, Insta360, and GoPro Fusion, among others, which limits the platform's accessibility. In some ways, this might be seen as a benefit if you want your 3D tours to appear great. Cupix takes a more customer-friendly approach to data ownership and copyright, which has always been a hazy area in Matterport.
2. Zillow 3D Home Tour
It will be extremely difficult to beat the Zillow 3D Home Tour in terms of price. Zillow's 3D Home Tour is a smartphone app that offers a variety of real estate services, including lead generating and property management. If you have a Zillow Premier Agent account, you can download and use the app for free. One of the best features of the Zillow 3D Home Tour is that it can be created with just a smartphone or tablet. Although this is an optional function, a recent update allows the app to process footage taken with the Ricoh Theta. Because everyone has a phone, the Zillow 3D Home Tour is a great option for a new real estate agent who doesn't have the funds to invest in a 360 camera.
3. VPiX 360 Virtual Reality
VPiX provides 3D and virtual tour services to a number of businesses, including real estate, entertainment, automobile brands, and hotels. Their platform has nearly all of the tools you'll need to create your own virtual tours, but it also has some unique features that make it simple to share your work across all major social networking platforms. Three membership tiers are available for hosting virtual tours. The most affordable option costs $59 per month and allows you to store up to ten virtual tours.
Although VPiX's subscription options are less expensive than Matterport's, it maintains a nearly identical level of intricacy. To take panoramic photos, you'll need a 360 camera, which will be stitched together by VPiX. If there are any portions of the virtual tour that you are unhappy with, simply take a new image and place it in the appropriate location. Because VPiX lacks any features that allow it to interact with smart devices, you won't be able to take rapid virtual tours with your phone or tablet. The software platform's workflow is also not intuitive, therefore this isn't something we advocate for newbies. Still, if you want to use social media to get more mileage out of your virtual tour, this is a great tool to use.
4. EasyPano Virtual Tour Software
EasyPano's workflow is far more streamlined and straightforward than the others on this list. EasyPano presents a floor plan of the property with clickable links that lead to 360 panoramic photographs, rather than stitching together many panoramic shots to make a virtual tour.
A basic DSLR may be used to make these panoramic photos. While a 360-degree camera is appealing, it will not be required. EasyPano allows you to include numerous media types in your virtual tour in addition to panoramic photographs.
In the floor layout, you can specify a hotspot that will display movies, play audio snippets, or display a brief bit of text. 3D things should be included in your virtual tour, but they must be accurate. You can include 3D objects in your virtual tour as well, but they must be Flash-based. The advantage of downloaded software like EasyPano is that you won't have to pay any more fees after you've purchased it. While it isn't inexpensive, it will save you a lot of money in the long term, especially if you use EasyPano for several years.
Conclusion – Matterport Alternative
Despite being the most popular brand in the virtual tour sector, Matterport is not without flaws. Because it is a difficult and costly software platform, it has spawned a market for alternatives, the best of which we have highlighted below. In this article we have seen Matterport alternatives. You can choose any of them based on your requirements.
Recommended Articles
This is a guide to Matterport Alternative. Here we discuss the introduction and list of matterport alternative for better understanding. You may also have a look at the following articles to learn more –