Updated April 4, 2023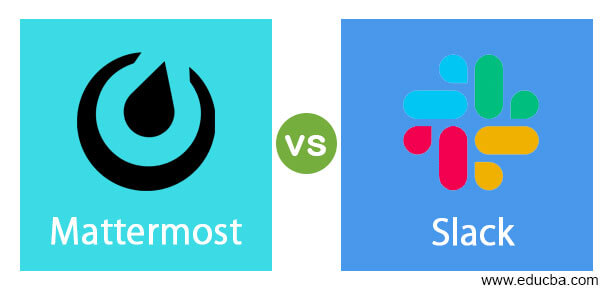 Difference Between Mattermost vs Slack
The following article provides an outline for Mattermost vs Slack. The ability of a business to collaborate and link in the online environment which becomes more demanding. The growing demand compensates by implementing slack that created a virtual and digital live station for instant, private and group messaging to share the files in incorporated third party services. It can be supportive in multiple methods which compensates for the tasks of enterprises. Here it's open-source with a private cloud about the messaging platform. But then mattermost is deployed to large-scale enterprises with all beneficiaries offered by slack.
Head to Head Comparison Between Mattermost vs Slack (Infographics)
Below are the top 8 differences between Mattermost vs Slack:

Key Difference Between Mattermost vs Slack
Slack and Mattermost is based on a cloud that uses software as a service for a messaging system that supports the organization for online communication. Let us discuss some of the major key differences between Mattermost vs Slack:
Definition and working: Slack stores all the history and searchable items in the conversation, which enable for file sharing and application integration that provides a vast API. So the developers can create a new application to make plans and task effectively for the system and enterprises. Mattermost gives solutions specifically designed for organization and focus on being an essential method to interact with application built-in enterprises. The messaging products in the organization give security, privacy, scalable configuration, and legal compliance.
Agility: Agility and efficiency are offered by both slack and Mattermost by modern associations. The self-hosted techniques in mattermost offer unequal and unmatching controls, legal securities and compliances. But it also helps the teams deliver enhanced quality software to meet the safety and scalable requirements and increased privacy.
Open source availability: The deployment of a private cloud of on-premise Mattermost offers the advantages of modern communication and strong privacy. Both slack and Mattermost uses the open software that enables the team to integrate and incorporate high-performance workflow for ChatOps, conversational deployment, DevOps and continuous development by managing the entire code control and auditability. Slack can be cross-platform and also supports self-hosting.
Security: The security features of slack and mattermost keeps on updated by their team to provide more privacy to the users. The trending features included in slack for security options are secondary authentication on the user's devices. Such type of secondary authentication is touch ID, password generation, face ID. It has the capability of copying messages and blocks the unauthenticated file downloads. So the pirated data and unauthorized devices and copying of data can be stopped. But here, Mattermost offers more advanced communication that runs behind the firewall. The important communication and transfer of confidential data work under the existing IT norms and security. Deployment of hybrid, public and private cloud with complete access and total control of source code is based on the one unit tenant systems.
Privacy: The IP address, usage sequence, message contents, software as a service where the organization has more possibilities to know about the company. Mattermost offers enhanced privacy and security without losing the customer's requirements. Slack offers a maximum firewall, and it has a strong policy that it doesn't share the information with any third parties or has control over it. The customer instructions, collaboration with others, integration with affiliates are some of the confidential data that should not be shared anymore.
Legal compliance: Slack is 17 a-4 with FINRA configurable, enables the team to become more collaborative and still agrees on the compliance policies. The tailored FEDRAMP and tracking to become more authorized at moderate FEDRAMP to make it more structured in the public sector that uses the platform in a compliance method. Slack obtained ISO 27001 and ISO 27018, which provides the security of level 4. It is provided to the payment card industry, merchant data, information on credit cards. But it is not currently a PCI service provider. The protection policies on consumer data, GDPR, non-disclosure terms are constant and complex, which makes breech with high penalties as the self-hosting attributes make the communications more simplified and reduce the complexities.
Extensibility: Mattermost provides customization with enterprise-grade, which has the end to end access to the source code. The drivers, APIs, UI text files are the few samples for integration source array. It is under the control of the enterprise to make branding of login browsers and mobile applications with white-labeling. The slack uses shared channels to work directly with employees of the team and centralizes the work by associating the important tool and integration of applications.
Mattermost vs Slack Comparison Table
Let's discuss the top comparison between Mattermost vs Slack:
| | | |
| --- | --- | --- |
| Attributes | Mattermost | Slack |
| Definition | It is developed as an alternative for slack with propriety SaaS messaging services, which can make it more accessible and searchable. | It is a communication tool used instead of email to share files and documents. |
| Applications | Here the application can be desktop clients with the operating system such as macOS, Windows, Linux, Android, and iOS. It is the important attribute which made Mattermost as a unique and remarkable alternate to slack. | Centralization of the team, enabling voice and video calls to communicate with the team with shared channels. |
| Security | It is the enterprise message workspace which makes it more regulated and designed to meet the constant company policies. It is highly secured that top countries represent it as highly secured with DLP and many layers of firewalls. | It encrypts the information and shares it with customers. It protects the data with slack enterprise key management, top DLP's, audit logs. |
| Advantages | It can be communicated on all desktop, laptops, and mobiles. | It can be communicated with primary channels and used as a substitute for the mailbox. |
| Disadvantages | Even though it's open-source, the paid feature pays attention to solve the issues immediately. The mobile user interface has many bugs when compared to web UI. | Some of the advanced features are not activated in slack. |
| Pricing | The pricing of Mattermost is minimum when compared to slack. | It has maximum pricing. |
| Multilingual Support | It supports twelve languages. | It supports only five languages. |
| White Labeling | It provides white labeling. | It doesn't provide white labeling. |
Conclusion
For many business enterprises, mattermost is more suitable for communication when compared with slack because of its extensible advanced features.
Recommended Articles
This is a guide to Mattermost vs Slack. Here we discuss the Mattermost vs Slack key differences with infographics and comparison table, respectively. You may also have a look at the following articles to learn more –