Updated March 30, 2023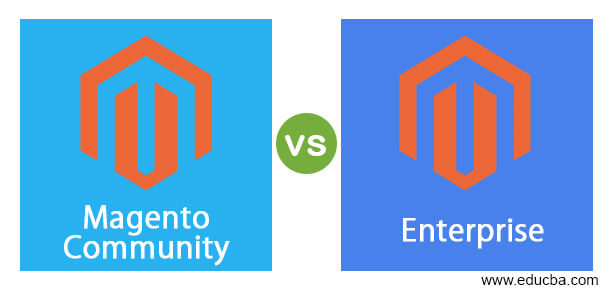 Introduction to Magento Community
Magento Community is an open-source edition of Magento for the e-Commerce platform, which can be downloaded by anyone and can be used for building an online store. For more customizable options and advanced features, the Magento Enterprise edition is used. The biggest online stores widely use it. The Magento team completely supports it, and full support by email and phone is provided to the subscribers. In this topic, we are going to learn about Magento Community vs Enterprise.
What is Magento Community
The community edition of Magento can be downloaded free of cost. Magento Community Edition is widely used by small businesses who want to experiment and learn to build an e-commerce site. Anyone can modify it according to his/her needs as the Magento Community Edition is open-source. To enhance the functionality of the site build up using the Magento Community edition, one can use the Magento extension marketplace.
What is Magento Enterprise
Magento Enterprise edition is the premium edition of Magento, which is a paid one. For the people who are not satisfied with the community edition of Magento as they don't find it as enough, the Magento Enterprise edition is for them. The price of the Magento Enterprise edition includes special features, security updates, and exclusive product enhancements. Magento Enterprise edition costs around $15,550 per year.
Head to Head Comparison Between Magento Community vs Enterprise (Infographics)
Below are the Top Comparison Between Magento Community vs Enterprise:

Key Difference between Magento Community vs Enterprise Edition
Let us discuss some of the major key differences:
Cost: Magento Community Edition is free of cost, while Magento Enterprise edition is a paid edition that costs approximately $15,550 per year. For the implementation of the Magento Enterprise edition, one has to pay more.
Security: Magento Community edition doesn't have highly secured payment bridges or credit card tokenization. This is the Magento Community Edition problem, as the features mentioned earlier are required by credit card companies and by the banks. The major problem with the Magento Community edition is that it is "Not PCI compliant", while the Magento Enterprise edition provides more powerful security features (PA-DSS).
Performance: Magento Community edition provides faster performance to small website owners who have a little number of resources on their website, while Magento Enterprise edition works fastest on the websites with a high volume of products or traffics.
Features: There are more advanced features available in the Magento enterprise edition as compared to the Magento Community edition. Although one can add features in the Magento Community edition using extensions, but this is not recommended.
Functionality: As both Magento, Community Edition, and Magento Enterprise edition are built on Magento, so they both offer the same functionalities. These are content staging, SOLR search, customer segmentation, Advance ACL, RMA functionality, etc. The costs of Magento Enterprise edition adds up more functionality like promotion permission, return management authorization, call center software, and enhanced catalog. So the functionalities available in the Magento Community edition are very basic one as compared to the Magento Enterprise edition.
Scalability: Magento Enterprise edition is most scalable as it has a great capacity to be changed in size or scale compared to the Magento Community edition if one in the future wishes to add a variety of products and grow their ecommerce platform in the future. For growing businesses, Magento Enterprise Edition provides out of the box features like compressing images and also offers to minimize and bundle JavaScript.
Support: Magento Community edition doesn't provide any kind of support while Magento Enterprise edition provides 24/7 technical support by a real team of experts by Magento itself; even a dedicated account manager is assigned to Magento Enterprise edition subscriber who will optimize subscriber's site with recommended verified resources and security support.
Comparison Table of Magento Community vs Enterprise
Let's discuss the top comparison between the Magento Community vs Enterprise
Features
Magento Community Edition
Magento Enterprise Edition
Gift Card
This feature is nowhere found in default Community Edition.
This feature is available in Enterprise Edition, and it is basically great marketing

the strategy used to boost sales.

Related Product Rules
This feature is added manually by the admin in the Community

Edition.

This feature is in-built in Enterprise edition used to show

off product suggestion.

Customer Segments
Personalized shopping experiences cannot be created in Community Edition.
In Enterprise Edition, products, promotions, etc., can be displayed for specific

customers.

Reward Points
Customer loyalty points are not available in the Community edition.
Enterprise Edition provides a loyalty program through store

credits and reward points.

Return Management Authorization (RMA)
To make this feature available in Community Edition, one has to use the extension as it is not available primarily in

Community Edition.

Enterprise Edition has it as an in-built feature; through this, one can simply manage the return process.
Banners
Community Edition doesn't have this functionality.
The banner is an advanced functionality of Enterprise

Edition through which one can customize promotion banners.

Auto Email Marketing Reminder
Community Edition doesn't have this functionality.
Automated email marketing is set up in Enterprise Edition to
remind the customers of wish lists and abandoned shopping carts.
Analytics and Reporting
Community Edition doesn't provide any business intelligence dashboards for reporting.
Enterprise Edition has additional reports through which one can track everything in the store. It provides reports related to Private Sales, Customer Segments and

Customer wish lists.

Content Staging
Community Edition doesn't provide content staging and

preview.

Enterprise Edition has advanced the creation and manageability of

campaigns.

Technical support
No technical support is provided in Community Edition.
24/7 technical support is provided by a real team of experts in Enterprise Edition with a dedicated account

manager.
Conclusion
After the comparison of Magento-Community Edition and Magento-Enterprise Edition, we can conclude that the Magento Enterprise edition is the premium version of Magento. If one wants to explore the basic features of Magento or just starting a small-scale business, then Magento- Community-Edition is a practical choice.
If one wants to build up a big business brand and want to take operations to the next levels with great features on the eCommerce site, then one should go for a premium version of Magento that's Magento-Enterprise-Edition. Magento Community is free of cost and open source edition, and if there no huge requirements about sales volume, then Magento Community edition is enough. While if a brand is dealing with millions of dollars in revenue per year, then it is highly advised to use Magento-Enterprise Edition with advanced functionalities.
Recommended Articles
This is a guide to Magento Community vs Enterprise. Here we discuss Magento Community and Enterprise key differences with infographics and a comparison table. You may also have a look at the following articles to learn more –