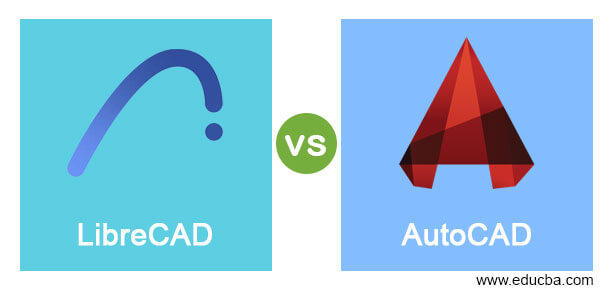 Difference between LibreCAD vs AutoCAD
LiberaCAD is CAD (computer-aided design) software for 2D drafting and deals with different type of designing elements of number of industries and engineering fields. It is free to use software and developed as fork of QCAD Community Edition. You will also see that it has that graphical user interface which is based on Qt5 libraries and due to this features it can run on several platforms. AutoCAD is CAD as well as drafting software and also works for 2D designing of objects of different sectors. Its apps are available on both mobile and web for making it most accessible CAD software. In this topic, we are going to learn about LibreCAD vs AutoCAD.
We will now tell you some of the point which will explain these software and their several aspects and these features will provides you data for understanding them also.
Head to Head Comparison Between LibreCAD vs AutoCAD (Infographics)
Below are the top differences between LibreCAD and AutoCAD

Key difference between LibraCAD and AutoCAD
You are thinking about that if both software are using for almost same purpose then how can they are different from each other? So let us tell you some of the points which are key points of these two software and these points are as follows:
We will tell you price of both of software first and you don't worry about LibraCAD because it is open source free software that means you need not to think about trials, subscriptions, license or annual fees of this software. Although it is free to use software, yet you will find lots of good features which can easily deal with 2D drafting work.
AutoCAD is not free software you have to pay for having it but if you are a student or educator then you can have its free version for limited time with limited features and this version cannot use for commercial purpose. You have to pay $210 for monthly subscription of it, for annual subscription you have to pay $1.690 and this subscription has number of specialized toolsets and advance features.
You can do number of task in AutoCAD such as 3D modeling with good visualization features, modeling of solid object, surface as well as mesh can also do in it, it give photorealistic rendering if you use its rendering feature, 3D scanning and point clouds is also part of it, it can easily do 2D drafting, drawing as well as annotation of them, base, projected and section views of any object is also possible with this software not only this but 3D navigation can do in it whereas in LibraCAD you cannot do 3D modeling, it doesn't offers 3D solid or modeling tools, Backward compatibility is not available with this software, Command clarity is also not in it, there is lack of  custom command feature, custom interface feature, custom menus, custom scripts and many more.
AutoCAD can categorize as Building Design (BD) and Building information modeling (BIM) software whereas LibraCAD is refers as CAD viewers' application.
We told you here those facts of both of the software which are very necessary for choosing one of them for you 2D drafting and designing work of different related industries.
Comparison between LibreCAD vs AutoCAD
In this section, you will go through those facts by which you can analyze this two software in a better way. So let us discuss these facts in a very exciting manner.
| | | |
| --- | --- | --- |
| | LibraCAD | AutoCAD |
| Definition | LibraCAD is designed for creating 2D drafting of different components of CAD related field and sectors. | AutoCAD can use for development of 2D design and drafting of number of elements of engineering sector as well as other industries. |
| Developer | It was developed by LibreCAD community and initially released on December 15, 2011. | It was initially launched on December 1982 by Autodesk for CAD purpose which could run on microcomputers with internal graphics controllers. |
| Latest release | 2.1.3 is its latest working version which was launched on September 23, 2016. 2.2.0 version was released on December 31, 2020 as preview release or this year. | Its latest version was released as AutoCAD 2021 on March 25, 2020 with lots of new updates and improved features. |
| Operating system | For runing it on different operating system you can choose Microsoft Windows, Mac OS, and UNIX-like as operating system. | You can run this software on number of operating systems such as Microsoft Windows, Mac OS, iOS and also on Android. |
| Supported Language | This software supports number of languages which are as follows: English, Arabic, Hindi, German, Portuguese, Romanian, Russian, Hungarian, Slovak, Indonesian, Italian, Spanish, Japanese, Czech, Danish, Latvian, Swedish, Chinese (simplified and traditional), Macedonian, Estonian, Turkish, Ukraine, Polish, French and in some other languages. You can have information about these languages by visiting on its official website. | You can have this software in almost 14 languages that are English, French, German, Italian, Spanish, Korean, Chinese (simplified and traditional), Japanese, Brazilian, Portuguese, Czech, Russian, Hungarian and Polish. |
| | If you want to download it for designing purpose then you can go with www.librecad.org and also have other information according to your requirement from this website related to this software. | You can visit on www.autodesk.com/autocad for having more update about this software or for downloading it to start your work with it. You will also have free version for student or educator from here. |
Now We are sure these points will help you lot for doing good analysis of these software though which you will get knowledge about basic requirement and working ability of them. Now let us move to the next step in this article and now we will tell you about key features of LibreCAD and AutoCAD so you can differentiate these two software on the basis of their special features. 
Conclusion
It was good discussion about LibraCAD and AutoCAD software in which you get interact with number of features, requirement and capacity of them. You can now go with both software for understanding their user interface as well as working methodology before starting your work with them and for this purpose you can use AutoCAD free version and no worry about LibraCAD because it is absolutely free.
Recommended Articles
This is a guide to LibreCAD vs AutoCAD. Here we discuss the LibreCAD vs AutoCAD drive key differences with infographics and comparison table. You may also have a look at the following articles to learn more –