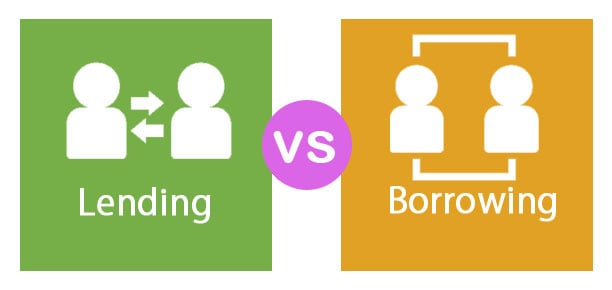 Difference Between Lending vs Borrowing
Money is a key and an essential element for any working or business person because it will be used to fulfill both the short term as well as the long term requirement of funds. It is not possible for any individual or the owner to bring all the money by herself or himself, so she/he needs to take recourse to advances and loans.
Two of the popular terms that are associated with loans and advances are lending vs borrowing. Lending is the term that is used while giving money to somebody with an intention of getting it back i.e. the original principal amount that was given and also the interest on same if it is a commercial loan after a certain time.
lending vs borrowing are, in fact, 2 actions that will differ in sense and purpose. Borrowing, on another hand, will consist of taking money from other person or any financial institution like banks, NBFC with an intention of same to return the amount of money (the principal and the interest) that was borrowed after a certain time.
These 2 terms are always whispered in the same breath, but there are several differences between lending vs borrowing which will be discussed below.
Head to Head Comparison between Lending vs Borrowing (Infographics)
Below is the top 8 difference between Lending vs Borrowing :

Key Differences between Lending vs Borrowing
Both Lending vs Borrowing are popular choices in the market; let us discuss some of the significant differences Between Lending vs Borrowing:
The major difference between the terms lending and borrowing is that while using the term lend would mean that one is giving up something and then using the term borrow would mean taking up something, although both will describe an arrangement that is temporary.
The purpose of the lending is to earn something premium while in case of borrowing the purpose is to get the object in which the borrower is interested and is unable to afford the same.
The lender usually will have the upper hand over the borrower.
One can lend money which can be secured or unsecured while in case of borrowing one cannot use that terms that are secured borrowing or unsecured borrowing.
Lend is a verb while borrow is a noun.
The purpose of the loan could include home loan, vehicle loan, student education loan, credit facility etc. while in case of borrowing there is no such terms.
The intention of borrower is to get that object or the money for its purpose and its obligation to repay the same without any default while the lender objective is to earn premium over the object or money that he has in access and it's his obligation to be fair with the borrower and do not take any undue advantage.
Popular Course in this category
Finance for Non Finance Managers Training Course
7 Online Courses | 25+ Hours | Verifiable Certificate of Completion | Lifetime Access
4.5 (1,061 ratings)
---
Related Courses
Cost Accounting Course
US GAAP Course
Lending vs Borrowing Comparison Table
Let's look at the top 8 Comparison between Lending vs Borrowing
| | | |
| --- | --- | --- |
| The Basis Comparison between Lending vs Borrowing |  Lending |  Borrowing |
| Basic Definition | Funds that are being provided by the financial institution or the bank or NBFC to an organization for a specific objective or purpose, which is to be repayable after a short period of time is known as lending of the funds. | Funds will be called as borrowed when an organization or an entity gets funds from another entity which will be repayable after a certain period and will be carrying an interest rate. |
| Purpose | The purpose and the key objective of lending money are to gather interest income on the amount of money or say the principle that is lent to some person for a certain time. | The purpose or the objective of borrowing would be to make use of the money for specific purposes such as medical expenditure, home construction, hospital expenses, private functions, school education, higher education and the like. |
| Key objects | Lending is not only for money, but it can also be done for other objects as well. | Borrowing to includes objects other than money as well. |
| Grammar | Lending is actually a verb | Borrowing is a noun |
| Key meaning | Lending means one would be giving up something in exchange of something else. | Borrowing means one would be taking up and exchanging something else and thus paying something premium. |
| Motto | In lending, the intention is to earn something and that one has access with himself. | In borrowing the intention is to get something which one does not possess and is ready to pay the premium for same. |
| Lender vs borrower | The Lender is the one who sees himself as the key in the transaction as he believes to have upper hand as there is more of interest from borrower side. | The borrower does seem to have upper hand as he has a key interest in the object that he has borrowed. |
| Other resemble words | For lending, there are different words that will resemble in a world of finance like going long in an asset (giving funds to the company and taking the stock of that company). Other would include like Reverse Repo where large institutions lend money for a day in exchange of collateral. | For borrowing the terms that will be used would be a short sale (where one borrows security that is not purchased by the investor and then, later on, returns the same, but he does this with an objective of getting money and use it for a couple of days). Similarly, in the case of Repo, the institutions borrow money (sells the securities) for a day again in exchange of collateral. |
Conclusion – Lending vs Borrowing
It is well understood that both terms Lending vs Borrowing are 2 different kinds of actions that serve different purposes too.
Lending is giving money to somebody with the intention of getting it back the original amount which is the principal given and the interest on the principal if it is a commercial loan after a certain time. If a financial institution loans money in the way of the commercial loan then, the financial institution is entitled to charge a certain amount as interest on the principle that it lent.
Borrowing, on another hand, consists of taking money from a financial institution or other people with the intention to return the amount of money which is borrowed after a certain time.
Recommended Articles
This has a been a guide to the top difference between Lending vs Borrowing Here we also discuss the Lending vs Borrowing key differences with infographics and comparison table. You may also have a look at the following articles to learn more.
Financial Analyst Course- All in One Bundle
250+ Online Courses
1000+ Hours
Verifiable Certificates
Lifetime Access
Investment Banking Course

Financial Modeling Course

Business Valuation Course