About Kylie Jenner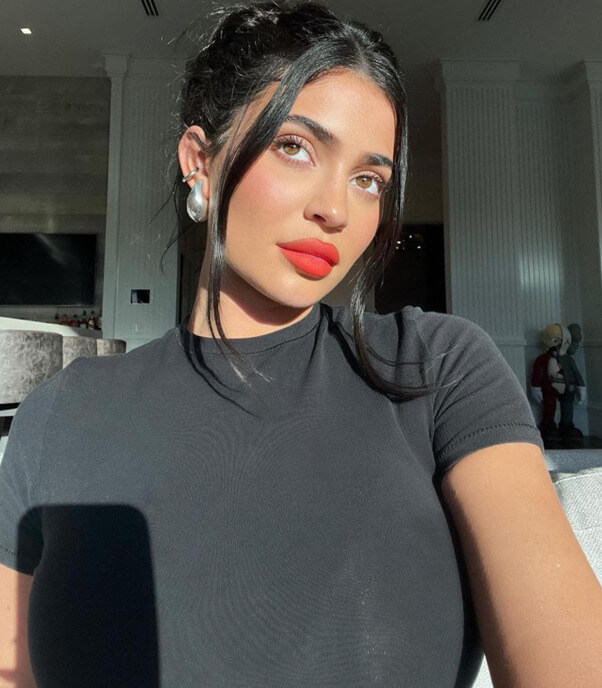 (Image Credit: Facebook)
Kylie Jenner is the youngest diva of the Kardashian clan. Born on August 10, 1997, to couple Bruce and Kris Jenner, she became Forbes World's Youngest Self-Enterpreneur 2020.
With a net worth of $600 Million, the model-turned-entrepreneur is the third most followed on Instagram. Recently, she gave birth to Wolf Jacques Webster, her second child with her singer partner Travis Scott.
Keeping Up with the Kardashians Star
Kylie Jenner became a household name with the show "Keeping up with the Kardashians"-centered on her family's personal and showbiz lives.
The diva gained  fame with her modeling debut with the Sears line" Crush your Style." Kylie Jenner, since then, has starred in multiple photoshoots inspiring youth all over the world.
As she rose in stardom, the fashionista made guest appearances on various shows like Kourtney and Kim Take Miami, Khloe and Lamar,.etc. In 2011 Jenner became a Style Ambassador for the "Style Stars of the Year" magazine.
Her personality and chic style attracted millions of fans and even celebrities worldwide in her fandom. She also co-hosted concerts, award shows, and premiers.
Kylie Jenner's Acting & Writing Debut
Jenner is an all-rounder, no wonder she is the youngest to achieve billionaire status. Entered the acting world with the "Much Music Video Awards" promo, she graced in several music videos, including:
Recognize by singer PartyNextDoor
Come and See Me by singer PartyNextDoor.
I'm Yours by Justin Skye
Stuck with U by singers Ariana Grande and Justin Beiber
WAP by singer Cardi B and Megan Thee Stallion
Beautiful Day by Burberry Pery as a rapper
The fashion-icon turned co-author for "Rebels: City of Indra: The Story of Lex and Livia," a dystopian science fiction novel with Maya Sloan.
Kylie Jenner Philanthropy
Kylie is a hard-core philanthropist. Her donations to the Los Angeles LGBT Teen Center and Nest of Love attracted attention.
She also launched "Smile," a lip kit collection to fund cleft lip and palate surgeries of more than 600 children.
Furthermore, Kylie Jenner donated to tackle the COVID-19 pandemic and Australian bushfires.
The Rise of Kylie Cosmetics
Jenner remained in the limelight with her lip augmentation procedure. Young fans of the diva started with a ticktock trend, the " Kylie Jenner Challenge."
Though that trend faded with time, her newly-augmented plump lips became the talk of the town.
In 2015, Kylie began her entrepreneurial journey by launching her first lip kit under "Kylie Lip Kit," later renamed "Kylie Cosmetics." Her company shattered records.
The gorgeous diva continued to build her company with KKW x Kylie Cosmetics, a Black Friday collaboration with her sister, Kim Kardashian West.
At 19 years, Kylie became the 59th but youngest on the Forbes Celebrity 100.
Her life-centric reality show" Life of Kylie" premiered in August 2017 and became a massive hit amongst her fans.
Kylie Skin and Endorsements
Kylie launched another company, Kylie Skin, a global brand for skincare products.
Her brand became a luxury for numerous celebrities. She also served as the makeup artist director for Balmain Fashion Spring 2020 runway show at Paris Fashion Week.
Jenner with Balmain, a renowned French fashion house, launched a capsule-makeup collection to commemorate their collaboration.
Kylie Jenner collaborated with numerous brands for endorsements. These brands include: Wear Something Spar-Kylie and Kendall and Kylie Collection, by PacSun,.etc.
The Rise of #Rise and Shine
Kylie Jenner trademarked the phrase" Rise and Shine," which became a meme as her video singing it to her daughter Stormi got viral. The #RiseandShine trended on Tik Tok with over a billion views, the fastest for the social media platform.
Next up, she trademarked the phrase "riiise and shiiinnee" for her clothing line. Besides, she went on to trademark Kylie Con, Kylie Kon, and Kylie Museum.
The fashionista later sold 51% of Kylie Cosmetics' stake to Coty, an American-French MNC for beauty products. Later, the star launched the Kendall Jenner x Kylie Cosmetics collection.
Her Stormi collection, a unique Valentine's Day collection named after her daughter Stormi became a sensation. She went on to launch Kylie Swim and Kylie Baby in 2021.
Kylie Jenner, with her pals Hailey Bieber, Anastasia Karanikolou, and sister Kendal, recently ringed in 2023 in Aspen in matching black tights.