Updated February 17, 2023
Introduction to Kali Linux Wireshark
Kali Linux is an open-source operating system used to implement security-related applications, and Wireshark is a free open-source tool used to determine and analyze network traffic while sharing data. Kali Linux Wireshark provides a good display and network packets to display their content so that we can easily analyze them, and it supports most operating systems. Wireshark is included by default in Kali Linux and can be used immediately after installation. Basically, this is the most ideal and important tool, and it is used by testers and hackers to determine network traffic.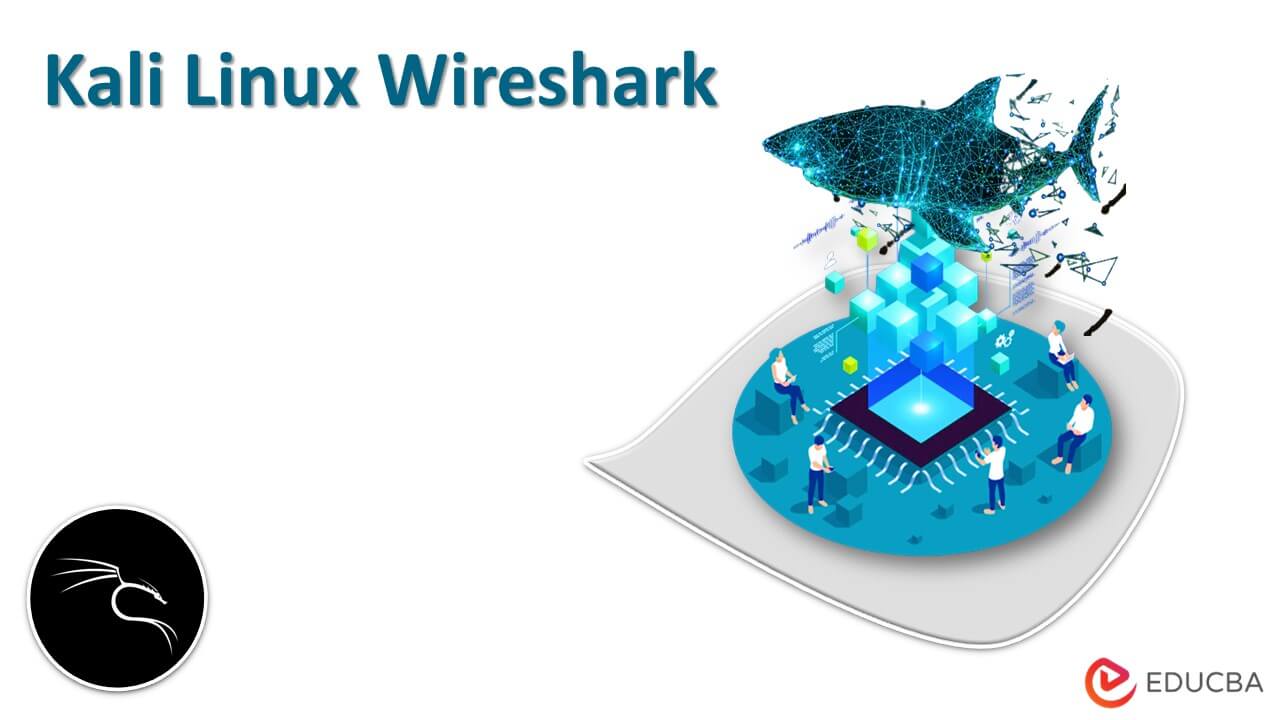 Key Takeaways
It allows us to capture network traffic offline and Live.
It provides a multi-platform to the users.
By using Wireshark, we can do a deep analysis of protocols.
One of the important features is that it supports the Decryption of protocol.
We can store the Read and Write operation in file format.
What is Kali Linux Wireshark?
Wireshark is the most widely used network protocol analyzer tool, formerly known as Ethereal. It is open source and free. Wireshark is commonly used for network analysis and investigation. It continuously captures network transactions and displays them in an understandable format.
We can utilize Wireshark to break down the organization's traffic to figure out which data is truly moving through an organization. So keep it together and read this cautiously. Wireshark programming is an open-source and free organization of traffic light programming that is used in various fields such as security and organization. It is used for a variety of purposes, including network preparation, investigation, correspondence convention advancement, and organizational investigation.
This product runs on different stages including Windows, Linux, and UNIX. You can catch network parcels and show them at a granular level with the assistance of Wireshark programming. This device permits you to assess and channel your organization's traffic, focus on the main driver of issues, help with network examination, and at last organization security.
How to Use Kali Linux Wireshark?
After successful installation, we are able to open the Wireshark tool as follows:
After the start of Wireshark, we get a user-friendly interface that is shown in the below screenshot.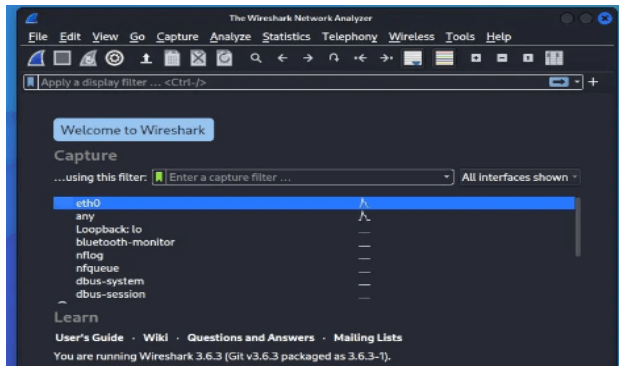 In the above screenshot, we can see the multiple options and with the help of this option, we can perform any action as per our requirement. From this screen, we can select the network interface where we can see the actual network traffic.
If we need to capture the traffic, then we can easily capture it as well as we can analyze the network packets. We can also apply different filters as per our requirements.
How to Install Kali Linux Wireshark?
We know that Kali Linux default has a different tool, and it is difficult to find Wireshark, so now let's see where we can see the options step by step as follows:
First, we need to open the main menu as shown in the below screenshot.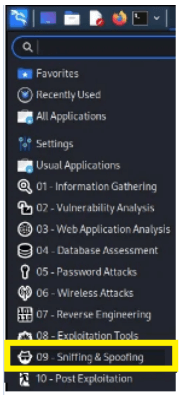 In the above screenshot, we can have Sniffing and Spoofing options, so we need to click on that specified option, so we get the Wireshark tab as shown in the below screenshot.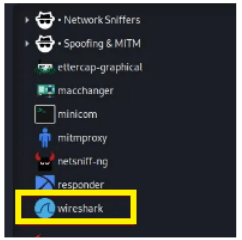 Next, we need to click on the Wireshark option, here we can also use the search option to find the Wireshark tool. If this option is not available, then we need to use the below command as follows.
First, we need to execute the sudo apt update command as shown in the below screenshot.

After completion of system updating, we need to execute the below command for Wireshark installation and after that follow the same process which is already discussed. sudo apt install wireshark as shown in the below screenshot.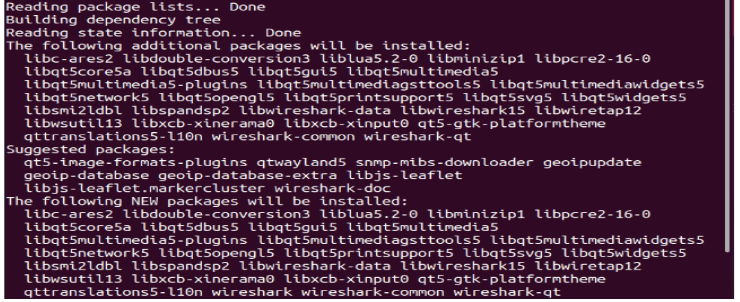 Kali Linux Wireshark Analysis
Mainly Wireshark allows us to capture the network traffic, this is one of the most important features. We know that our system is one of the devices which is communicated with the network, most of the time we use our own network, so we can easily determine the usage. But on the other hand, let's assume our device is one of the important devices that mean DNS. So, it will record all the traffic and it is helpful to analyze all network traffic. So let's see how we can capture the network traffic as follows.
First, we need to select the required interface to capture traffic, generally, it will be eth0 if our system is connected via Ethernet, and else it will be wlan0 for Wi-Fi connection as shown in the below screenshot.

Let's consider all packets and plugins working fine then the table window looks like the below screenshot and it automatically updates.

Let's see how we can do the packet analysis below:
After capturing network traffic, we need to analyze all content of the network which is visible in the above screenshot.
List of Packets: This is the first part of the network, where we can capture and determine all packets, and as per our requirement we can filter them.
Details of Packets: After clicking on the single packet, we can see all the details of the selected packet.
Bytes of Packet: It contains hexadecimal content.
Let's see the capture and display filters as follows:
If we want to capture the specific data then we can use the capture filter which is shown in the below screenshot.

Another option is a display filter which is used offline to analyze the network traffic when required.
Conclusion
From the above article, we have taken in the essential idea of the Kali Linux Wireshark and the representation of the Kali Linux Wireshark. From this article, we saw how and when we use Kali Linux Wireshark.
FAQ
Given below are the FAQs mentioned:
Q1. Can Kali Linux have Wireshark?
Answer: Yes, the Default installation is present for Kali Linux but if we don't have then need to install it by using commands to capture the network traffic and troubleshoot.
Q2. Can we crack passwords with the help of Wireshark?
Answer: Basically, Wireshark is used to capture any type of data that is passed through the network such as personal details, usernames, photos, videos, emails, etc.
Q3. What is the main advantage of Kali Linux Wireshark?
Answer: Mainly it is used to determine the network troubleshooting, identify the network security issues, debugging of different protocols, and verification of different network applications.
Recommended Articles
This is a guide to Kali Linux Wireshark. Here we discuss the introduction, how to use kali linux wireshark, installation, and analysis. You may also have a look at the following articles to learn more –