Updated July 17, 2023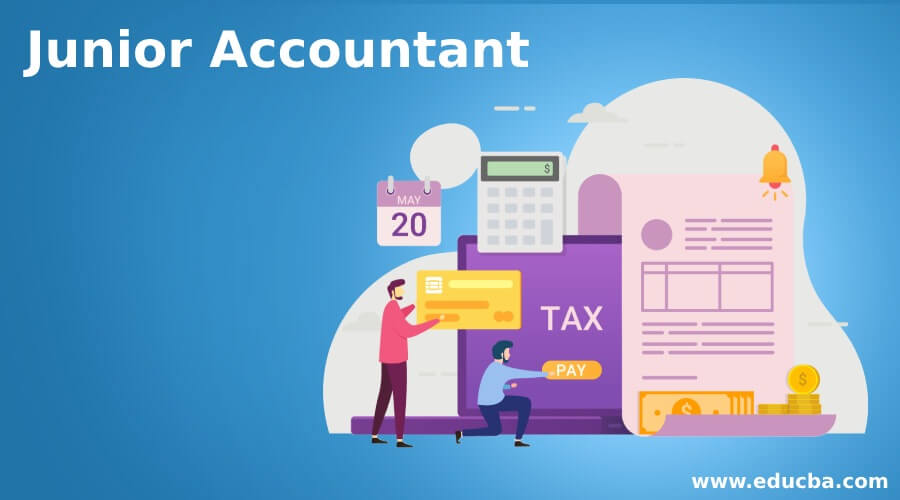 What is Junior Accountant?
A junior accountant is a finance professional primarily responsible for maintaining and compiling financial reports and statements while ensuring that they comply with the applicable regulatory requirements.
Some of the core responsibilities of a junior accountant include analysis of balance sheets, management of ledger accounts, updating of financial statements, maintenance of receivables& payables, payment of monthly payroll, and preparation of financial reports. A junior accountant plays a critical role in an organizational set-up, irrespective of whether it is a large multinational company or a small domestic entity. Typically, accountants start their careers at the entry level in the role of junior accountants. Then, they gradually grow with time as they gain more experience and take up more responsibilities to become managers or even partners in their firm.
Junior Accountant Job Description
Candidates interested in finance profiles and possessing special mathematical skills are best suited for the junior accountant role. A junior accountant usually reports to a senior accountant or an accounting manager. The job responsibilities of a junior accountant might vary across organizations. However, some of the duties and responsibilities of a junior accountant are as follows:
Ensure proper recording of all business transactions by posting and processing journal entries.
Continuous tracking and monitoring of the accounts receivable and accounts payable.
Issuing and preparing trade invoices and reconciling the entries from time to time.
Assisting in preparing and processing financial statements, such as income statements, balance sheets, cash flow statements, etc.
Ensuring that all financial reporting adheres to the legal and regulatory guidelines applicable to the organization.
Collaborating with other departments, such as Marketing, Operations, and HR, while reviewing the organizational expenses.
Updating financial information in a timely manner.
Ensuring that all the recorded information is accurate. If there is any inaccuracy, immediately communicate the same to the superiors.
Keeping track of the organization's key performance indicators (KPIs) and preparing reports for the senior management.
Supporting the senior accountants and assisting them with other accounting projects when needed.
Qualification of a Junior Accountant
Although the minimum educational requirement for a junior accountant is an undergraduate degree, aspiring candidates can either in higher qualifications/certifications or pursue a post-graduation degree to enhance their employability.
Education: An entry-level accountant must hold a bachelor's degree in accounting, finance, or other related disciplines. However, some employers prefer candidates who possess a master's degree in accounting or taxation or even an MBA degree with a finance specialization.
Certification: If the role of a junior accountant involves filing documents with the U.S. Securities and Exchange Commission (SEC), then the additional qualification of Certified Public Accountant (CPA) is preferable. There are various other certifications or higher qualifications available, such as ACA, ACCA, CIMA, etc., that an aspiring candidate can pursue to stay ahead of the competition in the job market. These higher qualifications indicate that the aspiring candidate possesses expertise in a specialized field.
Other desirable attributes for a junior accountant include analytical ability, mathematical aptitude, a deep interest in finance, an eye for detail, and the ability to keep things well organized. Also, a junior accountant should be technologically sound as the role might involve learning new accounting software due to changing accounting requirements and growing technological advancement.
Salary
Typically, junior accountants enjoy above-average earning potential as they have access to a wide range of clientele. However, the starting compensation of each junior accountant usually varies, and it depends on various factors, such as the location & size of the employer, the tasks that they handle, and their experience & qualification in the relevant field. Their salary increases accordingly as they gain experience and take on more responsibilities. The average salary of junior accountants lies in the vicinity of $41k per annum, wherein junior accountants with experience of less than a year get somewhere in the range of $27k to $50k per annum, and those with experience of more than two decades can earn up to $70k per annum.
Career Opportunities
The growth of employment opportunities for the accounting role is positively correlated to the economic growth of a country. Hence, healthy economic growth results in the creation of more accounting jobs. Further, the demand for accounting jobs also increases with new and changing accounting rules as both public and private sector companies need to hire more and more accounting professionals. In fact, in some cases, junior accountants with exceptional knowledge in their field get promoted to senior accountants, auditors, accounting supervisors, etc. According to the Bureau of labor statistics, the growth in employment opportunities for accountants in the US from 2019 to 2029 is expected to average 4%.
Key Takeaways
A junior accountant is responsible for maintaining and compiling financial reports and statements. People who enjoy mathematics and intend to have a career in the finance domain are best suited for the role.
The aspiring candidates should at least possess an undergraduate degree in finance and accounting. However, some candidates also pursue post-graduation degrees or acquire certifications like CPA, ACCA, ACA, CIMA, etc., to increase their employability.
In the US, accountant employment opportunities are expected to grow by 4% from 2019 to 2029.
Recommended Articles
This is a guide to Junior Accountants. Here we also discuss the introduction and qualification of a junior accountant along with salary and career opportunities. You may also have a look at the following articles to learn more –