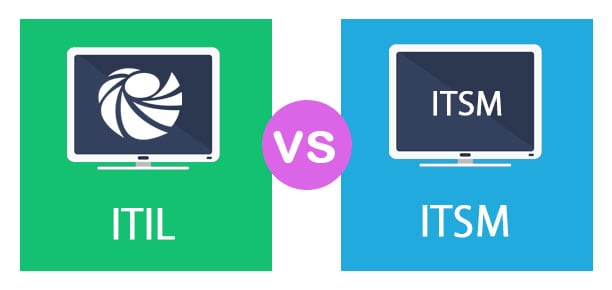 Difference Between ITIL vs ITSM
ITIL
ITIL meaning IT infrastructure library is a structure consisting of the best ITSM practices. These are general processes, procedures, checklists and tasks which can be integrated by any organization in their business strategies. ITIL is a registered trademark of AXELOS. It consists of best practice solutions and related theory and exams.
ITIL consists of five books covering the ITIL lifecycle:
Service strategy
Service design
Service transition
Service operation
Continual service improvement
ITSM
ITSM stands for IT service management. The IT services of a customer are managed here. It basically pertains to the process involved in managing IT services like planning, operating, controlling and delivering. It is very much customer oriented and has a continual process of analyzing and improving processes, IT services and also the IT infrastructure. This makes the framework extremely efficient and cost-effective. Earlier the term ITSM meant managing technology but now it has become a process to deliver valuable services to customers.
ITSM consists of activities like procedures, policies, etc. Which are executed by organizations for the designing, planning, delivering, operating, maintaining and controlling IT services? Such as doing all that is required to save a business from disruption, using offensive and defensive methods to fix IT issues and managing the IT budget to smoother expenses.
How is ITIL and ITSM Related?
People often get confused between the two terms and there are times when one is used instead of the other. What to do, can be understood under ITSM and how to do it, under ITIL. An individual wanting the qualifications of ITSM may opt for the ITIL course.
Head to Head Comparison between ITIL vs ITSM ( Infographics)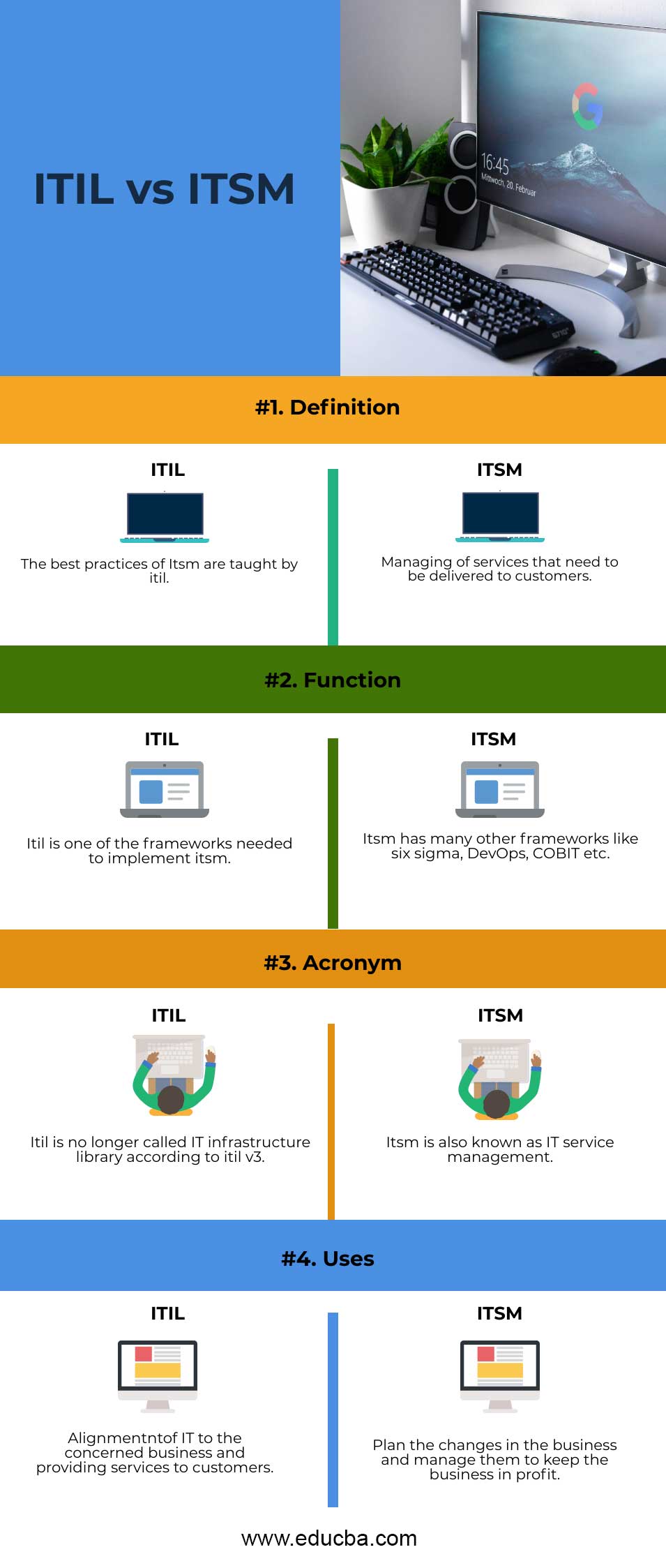 Key Differences of ITIL vs ITSM
ITIL and ITSM are two different things and should not be interchanged. ITSM is used by the IT team to manage the delivery of services in a better way. While Itil is one of the best practices of the ITSM framework. So one can say that ITIL is iITSM but not every ITSM is ITIL.
Continuing the previous point, it is often seen that ITSM is followed in many organizations without the best practice approach. There are other such approaches also like COBIT, IT4IT, etc. which are well known to ITSM.
ITSM is also known as IT service management, while ITIL is no longer called the IT infrastructure library as it is no longer mentioned in ITIL v3.
ITSM is used to plan and manage changes in the system to keep the business profitable while ITIL aligns IT with the concerned business and provides services to its customers.
ITSM manages the IT budget so that bills can be paid and investments made when required. ITIL makes the delivery of IT services cost-effective by minimum wastage and believes in doing things right from the
ITIL vs ITSM Comparison Table
Below is the topmost comparison between ITIL vs ITSM
| | | |
| --- | --- | --- |
| Aspects | ITIL | ITSM |
| Definition | The best practices of ITSM are taught by ITIL | Managing services that need to be delivered to customers |
| Function | ITIL is one of the frameworks needed to implement ITSM | ITSM has many other frameworks like six sigma, DevOps, COBIT, etc |
| Acronym | ITIL is no longer called IT infrastructure library according to ITIL v3 | ITSM is also known as IT service management |
| Uses | Alignment of IT to the concerned business and providing services to customers | Plan the changes in the business and manage them to keep the business in profit. |
Benefits of using ITIL
There are many ITIL procedures that may benefit your business. It helps in:
Keeping business and it's IT in alignment so that better services can be provided to satisfy users.
The best IT services are delivered by analyzing the level of available capacity, security and continuity and finally having solutions to deliver all of these.
Minimizing the cost of supplying IT services by trying to get the process right the first time and thus reducing the cost of wastage.
ITIL has chosen four dimensions to run the service system smoothly:
People and firms
Information and technology
Colleagues and suppliers
Value streams and procedures
Adopt and Adapt
An organization must carefully decide which procedures to adopt and adapt, and which ones to ignore, according to its requirements. Understanding the culture and values of your company is important because if you choose a process which is contrary, even after investing time and money in that framework, employees will ignore the process, blaming the system for not giving the desired results and finally the organization will have to abandon the ITIL framework.
So one should adopt only the parts that are needed and adapt the ideas of the ideal for your organization. For eg. there are organizations that may opt for operational procedures only, like incident management and change management. They are a small part of the ITIL framework but do provide value.
Other ITSM Frameworks
ITIL is not the only ITSM framework that is productive. While it is the one widely used, there are companies that use other frameworks as well along with ITIL. The common ITSM frameworks are :
COBIT which is ideal for bureaucracy, audit, and agreements work very well with ITIL in these areas.
Agile and DevOps are good for new business. Though they are quite different from ITIL, if the organization can figure out the values each of them provides, the results will be great.
Lean is best suited for continuous improvement and reducing as well as eliminating wasted efforts.
Adopting ITIL services means that one should be able to make his organization more effective, efficient and agile.
ITSM framework is constantly changing according to the needs of the customers and ensures that technology and the right process are in alignment so that the business goals can be met.
There are organizations that assess ITSM solutions to validate their ITIL capabilities. So one must always choose ITSM services that are certified to execute ITIL best practices.
Recommended Articles
This has been a guide to ITIL vs ITSM. Here we also discuss the ITIL and ITSM key differences with infographics and comparison table. You can also go through our other suggested articles to learn more –