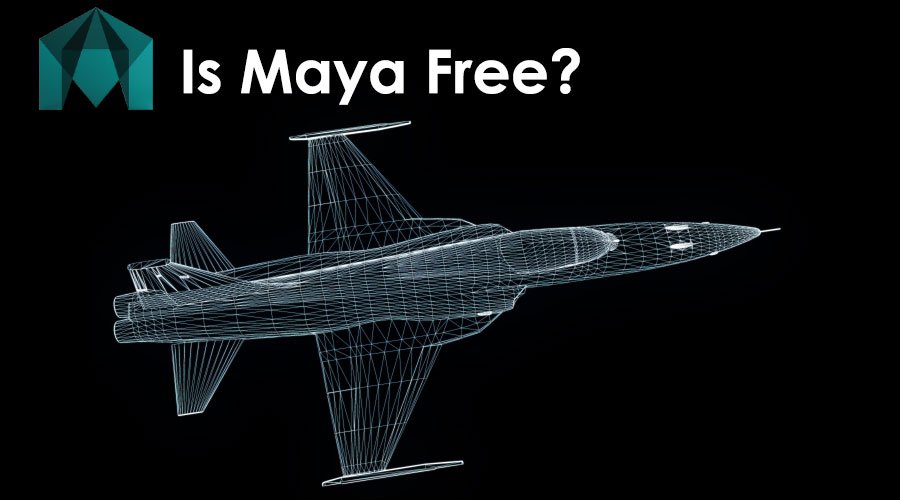 Introduction to Maya
If you are new to 3d, you may have started to learn 3d software like 3ds Max or Maya at an institute, or maybe you are a traditional artist looking to adapt to digital media to produce a wider variety of art and get more commercial work. In any case, welcome to the world of 3d! When you look for 3d software on the internet, Autodesk Maya will appear as one of the most popular choices for artists working in industries ranging from animated movies and video games to visual effects in live cinema and advertising. It is user-friendly and easy to use and learn, and once you start using Maya, it is a tool you will fall in love with.
It can provide you with a complete solution to create 3d work from scratch to finish, and through the endless hours you will pour into it while you give wings to your imagination, you will rarely be left in a blind spot to execute anything at all that comes to your mind. But once you are out of the learning phase, you must face life's hard choices: to work for yourself or to take a salary. If you choose to take a salary, this question will come in from you at a much later date, but if you decide to go on your own, you need to first invest in the tools you need for your work as a freelancer or a business owner in the field of 3d content creation services. This is when you will ask the question that is the title of this Maya free post, and we are here to answer it for you and make things clearer.
Versions of Autodesk Maya
Autodesk Maya has 2 versions – Maya and Maya LT or Maya Lite. For commercial use, Maya is available as a monthly subscription for USD 1505/year or Rs.87,423 for India, and Maya LT is available for USD 245/year or Rs.11, 308/year for India. You can use the 30-day Maya free trials of both for commercial purposes.
Downloading the Maya Free Trial Version
To download the Maya free trial version, visit www.autodesk.com or www.autodesk.in for India.
| | |
| --- | --- |
| For www.autodesk.com, find the software you want to get and click on a free trial. | For www.autodesk.in, click 'Free Trial' from the menu at the top, search for the software you want on the search bar, and click 'Free Trial' on the correct search result. |
On the popup with hardware specifications, click Next.
Select between the Business user and the Student or teacher.
If you choose Student/Teacher, you will be directed to the education Community page for login.
If you choose the Business user, log in with your email or Autodesk ID.
After login, you will see a download dialog box, from where you can choose between a direct download or a download manager.
Is Maya Free of Cost?
However, if you are part of an educational institution or a student, you can access Maya free of cost by creating an Autodesk account. The Autodesk education program is available to students as well as people working for educational institutions all over the world.
Downloading the Student Version
However, you cannot use the student version for commercial purposes, training, or production. Did I rain on your parade? Sorry about that. Don't worry, though. If you are looking for free 3d software that could work for you as an alternative, here are some suggestions:
Alternatives to Maya
If you want software you can use commercially and don't have to pay for, Blender 3d from The Blender Foundation is your one-stop solution. It is a complete package with 3d production and post-production capabilities and a game engine added for good measure. The Blender Foundation produces open movies every year to demonstrate the capabilities of their latest stable version. It generates revenue from selling the open movie DVDs and donations while giving away the software for free. Lately, Blender 3D has mentioned of the software used in making 'The Amazing Spiderman.'
Other options are available if you are an artist or designer looking for a solution to produce 3d models for any stills. The best of them is Google Sketchup. The Maya free version is available as an online tool. To access it, you must create a Trimble account, which gives you more facilities like a 3D warehouse, Trimble Connect, etc. You also have the option to sign in with your Gmail ID.
Tinkercad is an essential online tool Autodesk offers for budding DIY enthusiasts in robotics and electronics.
HomeByMe is a great primary option for generating floor plans. It is aimed at people looking to design homes but can be used for commercial buildings with the tools provided.
Vectary is a browser-based 3d tool aimed at graphic designers; it is pitched as a prototyping tool and works on Chrome, Firefox, and Opera browsers.
Other software that you can explore, based on your need, is Daz3D and FreeCAD. Daz3D is posing and animation software with a large repository of models which are available online. FreeCAD is a parametric modeler that can accurately simulate the objects you want to model based on general parameters.
Hopefully, that clears any confusion regarding pricing and usage rights for Maya and Maya LT Subscriptions, and you can now make a better-informed choice for the tools you need to work. Go on, then, summon that dragon out of thin air!
Recommended Articles
This has been a guide to Is Maya Free. Here we have discussed the basic concepts, versions of Autodesk Maya, is maya free of cost, and alternatives to Maya. You may also look at the following articles to learn more –