Updated March 23, 2023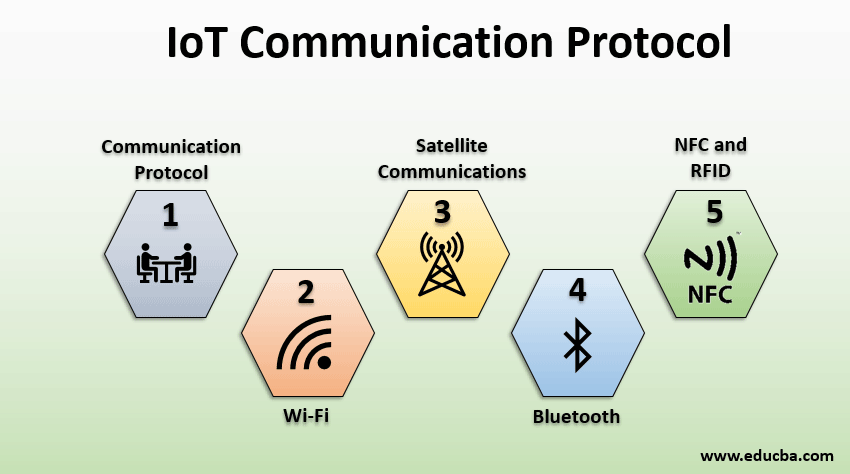 Introduction to IoT Communication Protocol
IoT Information Communication Technology (ICT) is a breakthrough in human to human, human to things and things to things transmission of information. Smart devices are now able to connect, move, and make decisions on behalf of individuals, this technology is also termed as "connectivity for anything". IoT ecosystem consists of many smart devices that can be connected amongst each other anywhere and anytime. However, constraints such as storage volume, radio range, and power are hindering the IoT growth and need the communication protocol to manage these constraints.
Top IoT Communication Protocol
Many wireless technologies are available today that are being used to interconnect IoT devices and the internet, consisting of various ranges WPAN and WLAN such as Wi-Fi, Infrared, Bluetooth, Bee, M-bus, etc. The communication protocols can be broadly classified into Wi-Fi, Bluetooth, Satellite, NFC, and RFID standards.
Here we see the top 4 IoT communication protocols:
1. WiFi
For many developers, Wi-Fi connectivity is often an obvious choice, particularly given the pervasiveness of Wi-Fi within the LAN home environment. It's a local area network that makes use of IEE 802.11 standards in a range of 5Ghz ISM frequency wavelength. Wi-Fi is short-range technology and provides a range of about 60 feet from an access point. Wi-Fi is a wireless protocol designed to replace Ethernet with wireless means. Its goal was to provide cross-seller interoperability with off-the-shelf, easy-to-implement, easy to use short-range wireless connectivity.
Standard Wi-Fi is often not the best IoT technology, but some IoT applications can leverage standard Wi-Fi-enabled, particularly for in-build or campus environments. Obvious cases include building and home automation as well as in-house energy management, where Wi-Fi can be used as the communication channel and the devices can be connected to electrical outlets. On the other hand, Wi-Fi 802.11ah also called "HaLow" is specially designed for IoT and requires unique clients and infrastructure. Vendors of Wi-Fi technologies continue to improve and are trying to provide better technology every day.
2. Satellite Communications
Satellite communications allow mobile phones to communicate with the nearest antenna of about 10-15-mile. These are referred to as GSM, GPRS / GSM, 3G, 4G / LTE, 5G, and others depending on the speed of communication. Satellite communication is also referred to as Machine to Machine communication in IoT as it allows communication between mobile devices.
Custom-designed satellite communication appears to be the only feasible solution to the communication limitation that is the wide-scale interconnection of IoT devices. Satellite technology could help the IoT sector grow and handle this wide-ranging connectivity challenge easily. The speed of data transfer could prove to be a concern for such high loads. Nevertheless, it is only a matter of time before the advent of innovative solutions.
Satellite providers are already partnering together to deliver services and equipment capable of unleashing IoT's full potential. A solution is being already worked upon to integrate fiber, satellite, and wireless networks. The global nature of satellite systems and the ability to simultaneously broadcast to multiple points make it the most effective signal delivery on Earth. In order to achieve global coverage, satellite transmission tag along with terrestrial networks.
3. Bluetooth
Bluetooth technology has come a long way since its invention in the year 1994 by Ericsson. Bluetooth was developed as an alternative for standard RS cables which were then being used for connecting external devices to PC. Bluetooth is used in IoT for keeping track of equipment in commercial, educational, or health care sectors.
Bluetooth applications are very effective for indoor tracking scenarios which has lower power requirements. Bluetooth connectivity, however, falls under short-range connectivity and doesn't support transmission or track underwater. Moreover, Bluetooth connectivity is further not advised for security solutions that require visual or audio information to be transmitted over the network Launched in 2009, Low-Energy Bluetooth created the opportunity for IoT to utilize Bluetooth as a medium of communication.
BLE is a standard that specifically addresses small-scale IoT implementations such as wearables and beacons which allow devices to send small amounts of data using minimal power. The roles and uses of Bluetooth in cars and homes are going to continue to grow and expand. Imagine receiving automatic traffic updates or weather reports on your dashboard during your daily commute or home automation scripting using Bluetooth to set up lighting, thermostat, and home theater systems for the perfect mood or occasion is not farfetched.
4. NFC and RFID
NFC technology was initially originated from Radio Frequency technology (RFID) which encodes and reads the information using electromagnetic fields. Every NFC-enabled device is equipped with a small chip that is activated when it comes close to another NFC chip (10 cm range). Consequently, NFC allows for simple and safe interactions between electronic devices. NFC devices can be further classified into active and passive devices. Active devices include mobile devices that are capable enough to send and receive information.
On the contrary, passive devices can transmit information and are not equipped to read information themselves. NFC technology can be embedded for multiple benefits like performing contactless transactions, connecting devices with a tap, downloading digital content with high speed, and providing security system credentials. With a single tap, two different IoT devices can be simply connected with NFC. NFC technology has built-in security features such as encryption to prevent any potential hack. Further, the short-range NFC acts as a shield and protects against hackers.
Radio-frequency identification (RFID) is a method of communication used for wireless tracking and identification of objects. It is one of the simplest methods of communication and is being used in the majority of IoT ecosystems. It is not only used to track consumer products around the world, but also to track toll collection vehicles. It is used by hospitals to track their patients and by farmers to track their animals. RFID tags are the advancement of traditional bar codes and have the capability to read and write the data.
Conclusion
In this article, we have seen various IoT communication protocols also termed as mediums of communication within the IoT ecosystem. Many communication techniques are available today that can be used for communication within the IoT ecosystem. However, deciding upon the communication medium is entirely based on business needs and requirements.
Recommended Articles
This is a guide to IoT Communication Protocol. Here we discuss the introduction and top 4 IoT communication protocols in detail. You can also go through our other suggested articles to learn more –