Essay on the Importance of Newspaper
Newspapers have been an essential part of human communication for a long time. They have had a significant impact on informing people and shaping their beliefs. From their early days to the digital age, newspapers have been a source of knowledge and a platform for debates. In a world where information is abundant, newspapers remain relevant in molding public opinion and creating informed citizens.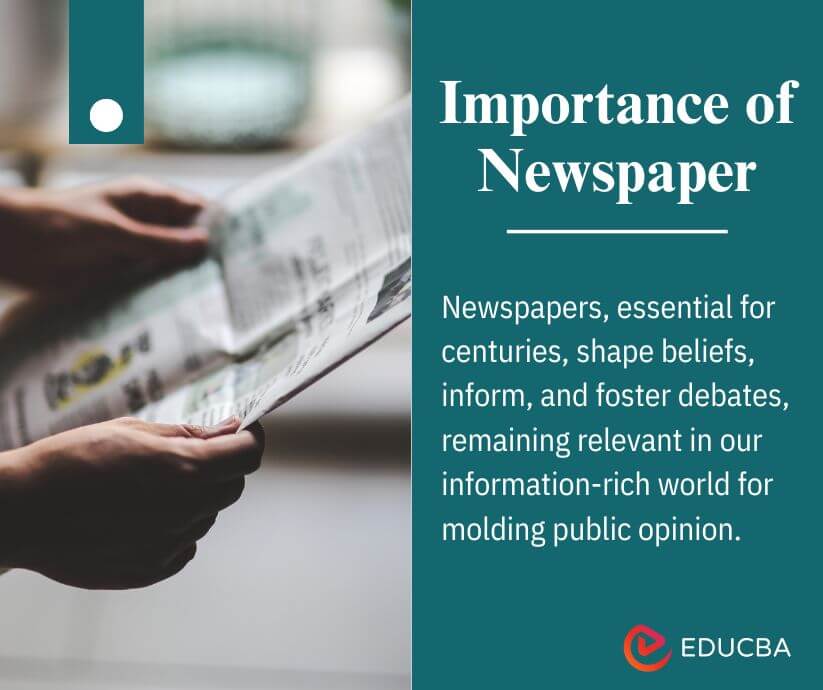 Evolution of Newspaper
The evolution of newspapers is a fascinating journey that spans centuries and has witnessed significant transformations in content, distribution, and readership. Here's a breakdown of their evolution:
Early Origins
Ancient Beginnings: Newspapers trace their origins back to ancient civilizations, where official bulletins, handwritten news sheets, and early forms of communication existed.
The Printing Press: Johannes Gutenberg's development of the printing press in the 15th century revolutionized information dissemination, allowing for the mass production of manuscripts and early newspapers.
Birth of Modern Newspapers
17th Century: The first true newspapers emerged in the 17th century, with publications like "The London Gazette" and "The Oxford Gazette" in England. These early newspapers were often government-controlled and carried official announcements.
18th Century: The 18th century saw the rise of independent newspapers, fostering the growth of journalism. In England, papers like "The Spectator" and "The Tatler" began incorporating news, essays, and opinions, catering to a wider readership.
Industrial Revolution and Mass Circulation
19th Century: The Industrial Revolution accelerated newspaper production and distribution. Innovations in printing technology and transportation led to increased circulation and lowered costs.
Penny Press Era: The introduction of the penny press in the mid-19th century in the United States made newspapers more affordable for the masses, significantly expanding readership.
Diversification and Expansion
20th Century: Newspapers diversified their content, including local news, editorials, sports, and entertainment sections. They became powerful tools for influencing public opinion and shaping societal discourse.
Rise of Major Publications: Esteemed newspapers like "The New York Times," "The Guardian," and "Le Monde" gained prominence globally for their journalistic standards and wide-ranging coverage.
Digital Transformation
Late 20th Century: The late 20th century witnessed the advent of the internet, leading to a shift from print to digital formats. Newspapers began establishing online editions to reach a broader audience.
21st Century: With the proliferation of smartphones and digital platforms, newspapers further adapted their strategies, offering multimedia content, interactive features, and personalized news experiences.
Importance of Newspaper
Here's a breakdown of newspaper importance in different domains:
Politics and Governance
Information Dissemination: Newspapers serve as primary vehicles for disseminating political information and informing the public about government policies, political developments, and legislative actions. They act as a bridge between the government and citizens, ensuring that people are aware of the decisions and actions of political leaders.
Public Opinion and Political Awareness: Newspapers contribute to the formation of public opinion by providing diverse perspectives, analyses, and editorials on political issues. They play a vital role in enhancing political awareness, helping citizens understand the implications of political decisions, and fostering an engaged and informed electorate.
Watchdog Function: Newspapers act as watchdogs by critically examining government actions and policies. Investigative journalism exposes corruption, abuse of power, and other issues, holding political leaders accountable for their actions. This watchdog function is essential for maintaining transparency and integrity in governance.
Election Coverage and Political Campaigns: Newspapers play a pivotal role during elections by providing extensive coverage of political campaigns, candidate profiles, and election results. They facilitate an informed electorate by presenting voters with in-depth analyses and fact-based reporting on political candidates and their platforms.
Policy Debates and Analysis: Newspapers serve as platforms for policy debates and analysis, providing space for experts, academics, and opinion leaders to express their views on political issues. In-depth articles and opinion pieces contribute to a nuanced understanding of political debates, helping citizens make informed decisions.
Civic Education and Participation: Newspapers play a crucial role in educating citizens about government functions, political processes, and the rights and duties of individuals. They promote civic engagement by offering information on how citizens can participate in public discussions, engage with the political system, and exercise their democratic rights.
Economics and Business
Market Information and Financial News: Newspapers provide timely and comprehensive coverage of financial markets, offering insights into stock prices, commodity trends, currency exchange rates, and other crucial economic indicators. Investors and businesses rely on this information to make informed investment decisions, financial planning, and market trends.
Business Reporting and Analysis: Newspapers are vital in reporting on business activities, corporate strategies, mergers and acquisitions, and economic trends. In-depth analysis and investigative reporting contribute to a deeper understanding of the business landscape, helping businesses and entrepreneurs make strategic decisions.
Policy and Regulation Coverage: Newspapers report on government policies, economic regulations, and legislative changes that impact businesses. Businesses use this information to adapt to changing regulatory environments, comply with new laws, and anticipate the potential impact of policy decisions on their operations.
Consumer and Market Trends: Newspapers track and report on consumer behavior, market trends, and emerging industries, providing businesses with valuable insights into evolving market dynamics. This information is essential for businesses looking to innovate, tailor their products or services, and stay competitive in dynamic markets.
Global Economic Context: Newspapers offer a global perspective on economic issues, covering international trade, geopolitical events, and economic developments worldwide. Businesses benefit from understanding the global economic context, as it influences trade decisions, supply chain management, and market expansion strategies.
Entrepreneurship and Small Business Support: Newspapers often feature success stories, profiles of entrepreneurs, and insights into small businesses' challenges. This coverage encourages entrepreneurship, guides small business owners, and fosters a supportive business community.
Education and Research
Current Events and Real-World Application: Newspapers provide students and researchers with current information on local, national, and global events, allowing them to connect classroom learning to real-world applications. Articles on current events offer practical examples for understanding complex concepts in various academic disciplines.
Supplementary Learning Materials: Newspapers serve as supplemental learning materials, offering diverse content that complements formal education. This includes articles, opinion pieces, and features that provide additional context to academic subjects. They enhance the learning experience by presenting information in a different format, catering to varied learning styles.
Critical Thinking and Media Literacy: It has been observed that reading newspapers can greatly enhance the essential skills of thinking and media literacy of students. By analyzing news articles, students can develop the ability to evaluate information sources, identify biases, and distinguish between fact and opinion. This, in turn, contributes to the development of informed and discerning citizens capable of navigating the complexities of the information age. Therefore, newspapers play a significant role in shaping students' intellectual and cognitive abilities.
Research Source and Reference Material: Newspapers serve as valuable sources of information for research projects and academic papers. Researchers can use newspaper archives to access historical information, track trends, and analyze societal changes. The credibility of newspapers adds weight to research findings, providing a foundation for evidence-based arguments.
Multidisciplinary Perspectives: Newspapers offer multidisciplinary perspectives on science, technology, politics, culture, and the arts. Researchers and students benefit from exposure to diverse viewpoints, gaining a more comprehensive understanding of complex subjects.
Educational Outreach and Community Engagement: Newspapers often engage in educational outreach programs, collaborating with schools and universities to promote literacy, critical thinking, and journalism skills. Community-focused newspaper articles contribute to a sense of shared knowledge, connecting educational institutions with the broader community.
Social and Cultural Awareness
Diverse Perspectives and Voices: Newspapers showcase a variety of perspectives, opinions, and voices, representing the rich diversity of cultures, communities, and ideologies within society. By featuring stories from different backgrounds, newspapers contribute to a more inclusive and culturally aware public discourse.
Cultural Events and Celebrations: Newspapers provide coverage of cultural events, festivals, and celebrations, helping readers stay connected to their cultural heritage and fostering a sense of pride and identity. This coverage encourages cross-cultural understanding and appreciation, bridging gaps between different communities.
Social Issues and Advocacy: Newspapers shed light on social issues, including inequality, discrimination, and human rights concerns. They play a role in advocacy by bringing attention to marginalized voices and inspiring societal change. Through investigative journalism and in-depth reporting, newspapers contribute to social awareness and promote discussions around pressing cultural and social issues.
Cultural Trends and Influences: Newspapers track and report on cultural trends, reflecting shifts in societal values, tastes, and norms. This coverage helps individuals stay informed about evolving cultural landscapes and understand the factors influencing cultural change.
Preservation of Cultural Heritage: Newspapers contribute to the preservation of cultural heritage by documenting and reporting on traditions, customs, and historical events. They serve as archives that future generations can access to understand their predecessors' cultural nuances and social dynamics.
Science and Technology
Scientific Discovery and Breakthroughs: Newspapers report on the latest scientific discoveries and technological breakthroughs, making complex information accessible to the general public. Coverage of scientific advancements helps raise awareness about innovations, breakthroughs, and their potential impact on society.
Public Understanding of Science: Newspapers contribute to the general understanding of science by translating complex scientific concepts into layman's terms. They act as intermediaries, making scientific information accessible to a broad audience. Through features, interviews, and explanatory articles, newspapers facilitate a deeper understanding of scientific principles, research methodologies, and technological applications.
Ethical and Societal Implications: Newspapers explore the ethical and societal implications of scientific and technological advancements, sparking discussions on the responsible use of emerging technologies. In-depth reporting helps the public consider scientific developments' potential consequences and ethical considerations.
Profiles of Innovators and Inventors: Newspapers often feature profiles of scientists, researchers, and technology innovators, providing insights into their work, motivations, and contributions to the scientific community. These profiles humanize the scientific process, inspiring readers and highlighting the diverse individuals driving advancements in science and technology.
Digital and Technological Trends: Newspapers track and report on digital and technological trends, covering areas such as artificial intelligence, cybersecurity, renewable energy, and more. Coverage of tech trends keeps the public informed about the rapid evolution of technology and its impact on various aspects of daily life.
Influence on Public Opinion
Newspapers have a significant influence on public opinion, and this influence stems from several factors. Let's take a closer look at these factors:
Agenda-Setting Function: Newspapers can determine which issues and topics receive significant coverage and attention, which plays a key role in setting the agenda for public discourse. The prominence given to specific stories shapes public perception of what is important, guiding readers in forming opinions on societal issues.
Framing of Issues: The way newspapers frame news stories influences how readers interpret events. Editors and journalists make choices about language, tone, and context, shaping the narrative surrounding an issue. Framing can influence whether an event is perceived as a crisis, an opportunity, or a regular occurrence, impacting public opinion accordingly.
Editorials and Opinion Pieces: Editorial content provides newspapers with a platform to express their stance on various issues. These pieces can influence public opinion by presenting a newspaper's perspective and encouraging readers to consider alternative viewpoints. Opinion pieces by columnists and guest contributors contribute to diverse opinions within the newspaper.
Public Advocacy and Campaigns: Newspapers advocate by championing specific causes or campaigns. They can mobilize public opinion through investigative reporting and editorials to support or oppose particular issues, policies, or social movements.
Letters to the Editor and Reader Feedback: Reader participation in letters to the editor and online comments gives a forum for public expression. By publishing these opinions, newspapers contribute to a dynamic exchange of ideas and perspectives. Reader feedback can influence subsequent coverage and editorial decisions, making newspapers responsive to the concerns and views of their audience.
Crisis Communication: Newspapers are essential in shaping public opinion during crises or big events by giving context, analysis, and updates. The way newspapers report on crises can impact public perceptions of the causes, responses, and potential solutions to the issues at hand.
Credibility and Trust: The credibility of newspapers is essential to their influence on public opinion. Readers are more likely to be swayed by sources they perceive as reliable and trustworthy. Newspapers that consistently uphold journalistic standards and ethics enhance their influence on public opinion.
Social Media and Online Influence: In the digital age, newspapers extend their influence through social media platforms, reaching a broader audience and engaging in real-time conversations. Online interactions, shares, and discussions amplify newspaper content and its impact on public opinion.
Life Without Newspapers
Imagining a world without newspapers requires us to consider the profound impact of their absence on various aspects of society. While the digital age has brought new means of information dissemination, newspapers have historically played a unique and crucial role.
Here's an exploration of what a world without newspapers might look like:
Limited Information Access: Without newspapers, a primary and structured source of information would be lost. Communities would have reduced access to comprehensive and reliable news on local, national, and global events.
Diminished Civic Engagement: Newspapers traditionally serve as a tool for civic engagement, providing information that empowers citizens to make informed decisions. Without this source, there could be a decline in voter awareness, public participation, and community involvement.
Erosion of Journalism Standards: With their commitment to journalistic integrity, fact-checking, and in-depth reporting, newspapers set a standard for quality journalism. In their absence, there might be a proliferation of unverified or biased information, eroding the reliability of news.
Loss of Accountability: Newspapers often act as watchdogs, holding governments, institutions, and corporations accountable through investigative journalism. In a world without newspapers, mechanisms for scrutinizing and exposing wrongdoing might be weakened.
Impact on Democracy: Newspapers play a crucial role in democratic societies by fostering an informed electorate. Without this source of information, the foundation of democratic decision-making could be compromised, potentially leading to uninformed choices.
Cultural and Social Disconnect: Newspapers contribute to a shared cultural and social narrative, reflecting the diversity and richness of a society. Their absence might lead to disconnection, with communities lacking a common platform for shared experiences and perspectives.
Reduced Educational Tools: Newspapers serve as educational tools, enhancing literacy and critical thinking skills. Without them, an important resource for educational development would be lost, impacting learning at various levels.
Shift to Digital Echo Chambers: While digital media exists, the absence of newspapers may lead to an increased reliance on online sources, perhaps generating digital echo chambers in which individuals are exposed solely to information that supports their existing opinions.
Loss of Jobs in Journalism: A world without newspapers would significantly reduce jobs within the journalism industry. Journalists, editors, photographers, and other professionals contributing to creating newspapers would face a challenging job market.
Impact on Local Communities: Local newspapers often play a vital role in reflecting and strengthening local communities. The absence of local news coverage might lead to declining community cohesion as residents become less informed about local events and issues.
Conclusion
Newspapers are important for creating an informed, aware, and interconnected society. They cover various topics, from politics and economics to science and culture. Their role in sharing information, promoting critical thinking, and showcasing the diverse fabric of our world is unmatched. In the rapidly changing digital era, newspapers remain pillars of knowledge, resilience, and social cohesion.
Recommended Articles
We hope that this EDUCBA information on the "Importance of Newspaper Essay" was beneficial to you. You can view EDUCBA's recommended articles for more information.