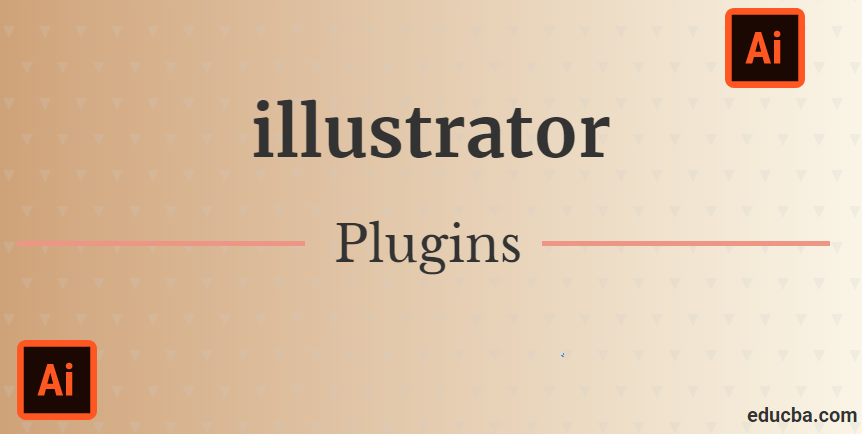 Introduction to Illustrator Plugins
Illustrator plugins are a helpful inclusion to Adobe's vector tool. With every latest release, Adobe Illustrator tries to expand on its robust vector-editing abilities. Additionally, there is a broad range of third-party Illustrator add-ons out in the market that will save your time and add a little shine to your drawing.
In the graphics industry, Adobe Illustrator is considered to be the most robust vector software available. It is mostly utilized to draw sketches, diagrams, cartoons, logos, and charts. Compared to the bitmap images that caches data in a mesh of dots, Illustrator utilizes mathematical calculations to sketch out the shapes. This makes vector graphics turn out to be scalable because this is resulting in no loss of resolution.
Top Plugins of Illustrator
Here are the top plugins of Illustrator, which are as follows:

1. Cineware
If you want to work with 3D, then Cineware is the plugin built by MAXON partnered with TurboSquid and is free. This program is entry-level and is ideal for graphic designers who feel overawed by 3D tools but still want to test with the medium. This plugin operates by permitting consumers to import whichever Cinema 4D files are available and balance the lighting, texture, and views to merge 3D elements with 2D design.

2. VectorScribe v3
You can control vectors with VectorScribe, defined by its inventors as a Swiss Army Knife that is vector-based. You can utilize this tool to control paths, handles, and points, making your work simple whenever you want to edit and reduce file sizes.
You can produce and edit whatever shapes you want along with the application of various styles of edges to your design, and with the help of VectorScribe's effective measurements, you can swiftly and precisely estimate everything from straightforward lengths to path areas and angles, eliminating any assumption when you require things with the precisely correct size.

3. Gold Rush
In order to provide your design with an elegant look, you can use Gold Rush, a plugin that provides all the foil, metallic, and glitter effects that you will ever require. It contains 218 swatches in a raster format and 35 stroke elements.
The set comprises crumpled foil, hot foil effects, metallic paint, gold leaf, and many more. It is not just available in gold but also in rose gold, silver, copper, and black.

4. VectorFirstAid V2
This is the latest version of VectorFirstAid developed by Astute Graphics, with the help of which you can clear up your vector files with a single click of the button. This plugin is outlined so that it helps to remove surplus information and inflate that can come with imported artwork.
The latest characteristics in VectorFirstAid V2 pay attention to the text grasp. With the reconstruction of the Combine Text Lines Engine, it now aids transformed and/or rotated kind and keeps possession of tracking, kerning, sub and superscripts, indents, etc. One of the functional tools is the alignment of point text, which has alternatives to snap the text aside and eliminate text conversions.

5. Assimilate
A plugin filter that bridges multiple paths into one constant path that finds similarity to the merge path command when utilizing the blob brush tool in Illustrator.
Concatenate includes a few additional characteristics that include an assimilate function, which examines an area that is selected or layer for paths that are not selected and merges them.

6. Everdrifter Watercolor Pro Effects
This plugin provides brushes with a watercolor style to provide a pragmatic painted effect to your design.
An enormous package of tools is present, and you can access 12 watercolor AI brushes and 49 watercolor background tiles. It also has more than 42 instant watercolor-effect graphic styles and 50 practical paint splats.

7. Fontself Maker
This plugin is very important to a designer. It permits you to produce standard and color vector fonts from your own engraving. It will make your design unique and provides a creative edge.
It is very easy to utilize this plugin by just pulling and dropping your engraving into the Fontself Maker panel, and the rest of the thing is done by it. Once you are done with your font, you can export it in a .otf font file format and utilize it in your design whenever you need it.

8. Phantasm v3
This plugin is known for its simplicity. It productively acts as a mediator between photoshop and illustrator, which adds bitmap-editing functions and alternatives to a vector plan. It includes hue, saturation and curves, automation functions, levels, etc.
It provides halftone and duotone alternatives, effects that are non-destructive. It also provides a preview of overprint and a separations choice that appends some significant prepress weight to Illustrator's armory.

9. Magic Exporter
Magic Exporter, developed by Jeremy Marchand, unravels the procedure of exporting object items from Ai documents to PNG files that are web-ready. With Magic Exporter, you just have to mark the object you require and export it with the assistance of the dedicated menu. You do not have to hide or slice the layers manually to export the object.

10. YemZ Mesh Tormentor
Artists have different opinions regarding gradient meshes in Illustrator. Some are of the opinion that they provide pliability and pragmatism, but some think that they merely try to imitate images, but no matter which side of the argument you are on, mesh tormentor makes the procedure much simple and swifter.
Twenty new buttons are accessible, which provide you with the ability to turn knots into vertexes, reflect, rotate and shift colors, transform mesh into a segment of paths, and much more.
Conclusion
Plugins available for Adobe Illustrator can enhance artisanship with regard to both standards and time. Illustrator plugins expand Adobe Illustrator's definite purposes to permit consumers to improve particular features of their designs. They permit consumers to provide a superior-looking end result with the help of high-end features that Illustrator would not give you. Plugins are cost-effective, save time, support clarity, include multiple versions within one document, and provide extra characteristics like CAD functionality and 3D preview.
Recommended Articles
This is a guide to Illustrator Plugins. Here we discussed the Concept and the top 10 Illustrator Plugins used in the current industry. You can also go through our other Suggested Articles to learn more –