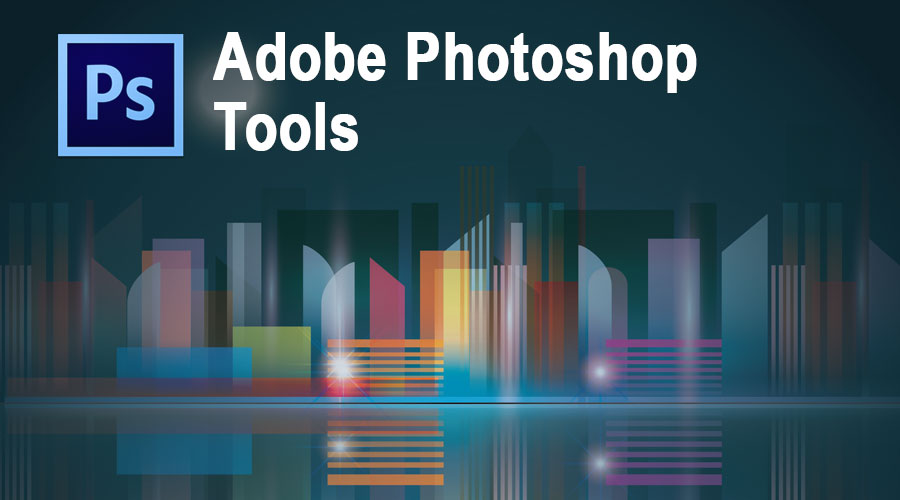 Introduction to Adobe Photoshop Tools
Photoshop is one of the best raster graphics editors, which is the application developed and published by Adobe Inc. for the Operating system users of Windows and Mac OS. The initial digital tool to make images, gifs and .pdf files, and many more. We can work on Image edits for making image property changes such as making different layers, Masks, alpha compositing, different color models, RGB values edits, Spot color, clip arts, gif, 3D graphics, videos and many more.
Its various updated versions improved its performance levels by solving many changes the user faced and kept updating the new techniques in the real-time usage of the software. Photographers and Videographers, Magazine makers, newspaper editors, and many other professionals use Photoshop as their primary software in their project pipeline as per client's requirements and attributions in animation and gaming studies.
Many professionals use Photoshop, and enough practice and skill help to get started in Photoshop to become experts and get jobs in suitable job roles with the best visual results for the tool with sufficient sources and knowledge. We will understand how to handle RGV image combinations and adjusting image attribution using Photoshop for a better user visual experience. There are multiple versions to try the student version, and a professional version and similar packages are officially on the Adobe Photoshop website.
Different Types of Adobe Photoshop Tools
There are many tools in Adobe Photoshop to improve the visual look and feel of the Image. We will discourse commonly used tools for users and daily requirements; there are few more project-based tools that are specific to projects. We shall know about each tool one of the other as listed below.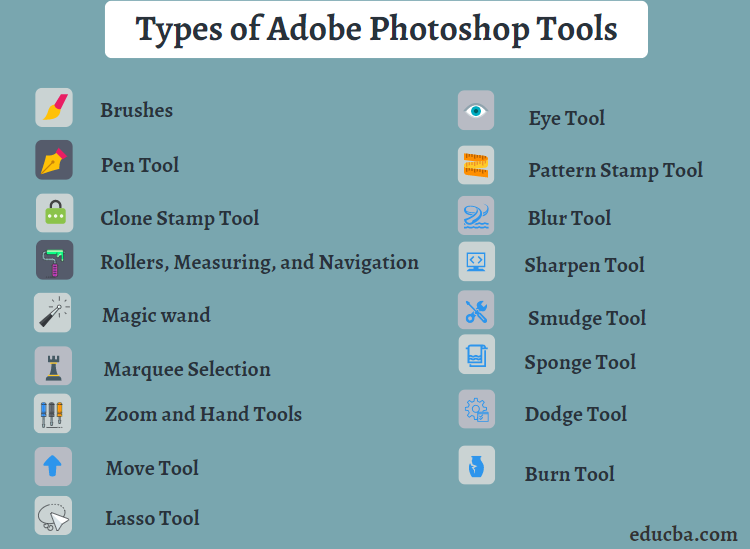 1. Brushes: With multiple types with different adjustable thicknesses can be used as required.
2. Pen Tool: The pen tools are much flexible to draw hand free drawing, magnetic pen and form pen as per image and its curves and shapes.
3. Clone Stamp Tool: To clone the same colors and patterns to other places of the same image.
4. Rollers, Measuring, and Navigation: It helps in maintaining the size occupancy of shape in a banner, Pampa late, paper article designing and many more.
5. Magic wand: To select the same colored portion or a portion of an individual layer for differencing from the image.
6. Marquee Selection: The tool has a crop, slicing, moving, etc., to adjust the image and individual layers as per the required area and shape.
7. Zoom and Hand Tools: Both help in working on different pixel levels of the image and move from one area to another on the working image.
8. Move Tool: Move Tools is used for moving images, layers, handling folders, and to get information.
9. Lasso Tool: We can select an area in our image and work accordingly in free space. Lasso tool has 2 more options like Magnetic Lasso and Polygonal Lasso tools, which help in cutting the image portions exactly as per requirements with high contract edges and selected boundaries.
10. Eye Tool: This adobe photoshop tool is used to Remove the unwanted red-eye effect, closed eyes, pet eye effect in our photo. To get a visual realistic feel of eyes to the people in the pictures.
11. Pattern Stamp Tool: It is used for Dumps or paints the same portion of the area, which is taking as a reference to match patterns on images as required.
12. Blur Tool: This helps in managing the soft and hard edges of the image by adding a smooth and portrait feel to the images.
13. Sharpen Tool: Sharpen Tool increases the saturation, color combinations, visual focus vies to the image by focusing on the soft edges of the image.
14. Smudge Tool: Using the Smudge tool, we can give stimulation to the image components of the image that can be dragged and pushed to set them at the right place on the image. Fingers, stick, etc., can be moved as wet paint by dragging in directions.
15. Sponge Tool: It helps in changing the color and saturation of an area.
16. Dodge Tool: It lightens the portion selected in the image and brightens the portion with shadows.
17. Burn Tool: It darkens the area selected on the image, which helps in adding detailing and highlights to the image.
There are few more tools that can be performed by configuring based on the project's demand; a few of them are recomposing tool, the Perspective Crop tool, the Cookie cutter tool, Pencil tool Content-Aware Move tool, Straighten tool, etc. We can switch between tools using keyboard shortcuts to save time and increase efficiency. Good hands-on practice is required for every individual who is interested to learn Photoshop.
Conclusion
Adobe Photoshop Tools is one of the best tools for every individual who is interested and wants to know Graphic designing, Image editing, new paper article stricture building, magazine designing, photos of multiple event enhancements and many other images related attribution can be modified as per needs. Its user interface is the best and easy to understand and deal withal the aspects required. The application has enough tools and techniques to learn and understand the image visual improvements for the best user experience while viewing.
After complete learning and practicing different tasks on Photoshop, we will be ready to apply for similar skill set jobs and show our technical and theoretical knowledge for the same and get a job. There are multiple projects for different designations in the field for the people how are creative and having out of box concepts and application experience, which an application like Photoshop can show.
Recommended Articles
This has been a guide to Adobe Photoshop Tools. Here we discuss the Concept, Different Tools in Adobe Photoshop. You can also go through our other Suggested Articles to learn more –