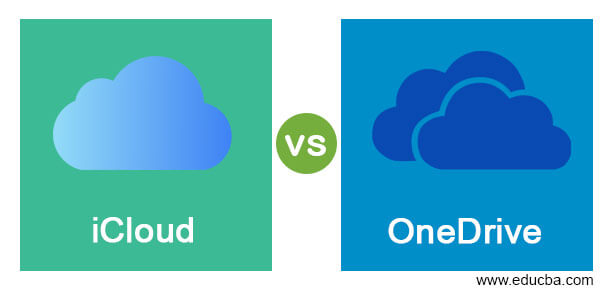 Difference Between iCloud vs OneDrive
iCloud vs OneDrive is defined as, the iCloud is a cloud storage and cloud computing service which is provided by Apple Inc, allows to store data such as documents, photos, and music and also allow to share and send data to other users, it is helpful to manage the Apple devices if it is lost, whereas the OneDrive is also called as Microsoft OneDrive which is a cloud storage service allows user to store all the files at one place securely so that we can access them from anywhere this service works like an external drive but the only difference is that it is available through internet with additional features.
Key Differences
The iCloud does not provide the good syncing speed as compared to their service, it means that iCloud provides good service but when it comes to handling large files then the syncing speed is good, this slow processing may be irritated the users as every user wants speed in their work, on the other hand, OneDrive provides satisfying syncing speed with a large number of servers, it has block-level copying that can make the syncing of files speedy, also it helps to copy a part of office file without making changes in the whole file.
The iCloud provides good security to our files because they provide the security of data encryption but Apple does not have information or access to the encryption key which used to encrypt all the data. Other iCloud services can keep a copy of user's encryption key whereas it connected the encryption key with the Apple id and the emails stored on it also do not have any encryption which is also a defect in iCloud, whereas, the OneDrive provides the security to only business plan users, it encrypts each file of the business plan users. A few years ago it added feature to make user's file safer that help for both business and personal user to recover the last 30 days of data which has been attacked. Also, it has a great feature to protect password by using OneDrive link due to that when user share the file to other then it is more secure.
There are some features that describe the difference between these two cloud services. OneDrive has been closely related to Office 365 and both of the cloud services that are iCloud and OneDrive are integrated with window-8 or windows-10 of windows services, OneDrive works good with Windows in which it manages all files across the devices and the data of the third party cannot be accessed by OneDrive, on the other hand, iCloud Drive is integrated with the cloud it can be easily accessible and there is no need of the additional application, it can help to back up our desktop folders and documents for the Mac users, the iCloud drive is designed for Apple users, not for Android devices.
Both the cloud services are the iCloud and OneDrive allows uploading files by using desktop applications, mobile applications, or web browsers. The maximum file size of iCloud is 50GB only so that if we want to upload large video files then iCloud does not able to upload it because most of the video files are greater than 50GB, on the other hand, OneDrive has an impressive file size that is 250GB so that we can work with iCloud when the files are larger in size, iCloud works smoothly particularly with Apple devices. So iCloud gives a great performance as compared to the OneDrive.
If we had any problem while using iCloud then we can contact technical support for help. It gives very efficient technical service, which any user can talk with the technician over phone, free plan users can also contact with a technician, and wait time is also less, it may be 2 minutes only and time vary as per your location, on the other hand, OneDrive does not provide technical support to everyone their support is available only for the business user but they provide web chat support, while chat they have a service issue and so that it cannot help.
So in term of support, Microsoft is more comprehensive than apple as both has online questioning service.
Comparison Table

Comparison Table of iCloud vs OneDrive
| | | |
| --- | --- | --- |
| S.N. |                     iCloud |                        OneDrive |
| 1. | The iCloud is founded by Apple incorporation. | Whereas, the OneDrive is provided by Microsoft incorporation. |
| 2. | The cost of iCloud is less, it only cost additional storage. | Whereas, the cost of OneDrive is more as compared to iCloud. |
| 3. | It provides paid storage space which is 2 TB. | Whereas, it can provide storage space up to 6 TB. |
| 4. | This service can be used for professional work as well as personal use. | But, this service can be used by professional working use mostly. |
| 5. | It cannot allow uploading files remotely, we need to upload them manually. | Where in OneDrive remote uploading can be done. |
| 6. | File versioning can be done partially in the iCloud. | Whereas, it provides full file versioning. |
| 7. | The maximum file size can be only 50 GB, which means it has limits for size. | And the maximum file size can be 100 GB to 250 GB. |
| 8. | It has a limit on traffic and bandwidth. | On the other hand, there is no limit on traffic or bandwidth. |
| 9. | In iCloud, we cannot access and edit the document from the browser interface. | Whereas, the OneDrive interface allows to access and edit the files from any computer with an internet connection. |
| 10 | It does not have any version history tool to revert the version of the file. | Whereas, this has a version history tool which we allow to revert files of the last 30 days to the previous version. |
Conclusion – iCloud vs OneDrive
In this article, we have seen the comparison and key differences between the two cloud services, considering the differences both of them have different services for different users, in which this article is also helpful to choose a good cloud service according to the security, speed, technical support, and performance.
Recommended Articles
This is a guide to iCloud vs OneDrive. Here we discuss the iCloud vs OneDrive key differences with infographics and comparison table. You may also have a look at the following articles to learn more –