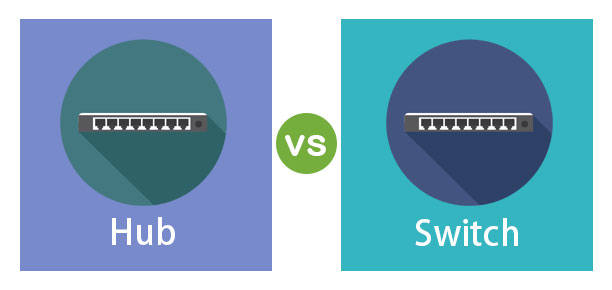 Difference Between Hub vs Switch
A Hub is a case where the devices are connected and gathered in a certain physical location, whereas a switch is a case where the network connection of multiple devices are centralized in a specific location. Hub is usually implemented using the passive device types, and switch is typically implemented using the active device types. The transmission mode and speed of a hub is half and 10mbps respectively, while switch has full or mode transmission mode along with the speed as high as 1Gbps.
What is Hub?:
This hub is also known as a repeater that transmits the amplified signal to every port except the port from where the signal was received. A hub is used to physically connect networking devices and to successfully generate multiple station hierarchies. Hubs can not intelligently communicate and process information for layer 2 and layer 3. It makes the decision on a physical basis, rather than a hardware and logical approach.
What is a Switch?:
A switch is nothing other than a bridge that provides better bridging. In a broad sense, a switch is a device to set up and terminate the connections according to requirements. It has many features such as filtering, flooding and frame transmission. For the function, it needs the target address of the frames that it learns from the original MAC address.
Head to Head Comparison between Hub vs Switch (Infographics)
Below are the top 13  comparisons between Hub vs Switch:

Key differences between Hub vs Switch
Let us discuss some key differences between Hub vs Switch in the following points:
1. The hub works on the OSI physical layer while a switch works on the OSI data link layer.
2.  Bandwidth is shared by Hub between ports. The dedicated bandwidth is provided to ports on the other hand, by a switch.
3.  There are significantly greater numbers of ports that can be linked to the computer, while the number is lower at a node.
4. A single collision domain may be a hub, whereas a different collision domain may be used in different ports. As a result, the hub causes the switch to collide.
5. In the hub is used the half-duplex mode. In the full-duplex mode, however, the switch transmits data.
6. A switch filters the frames so that the redirected frame is provided only to the dedicated device. On the other hand, the filtering concept is not used in the hub and a frame is transmitted to each port.
7. To eliminate the problem of switching loops, the switch uses Spanning Tree Protocol. The hub, however, is unable to avoid switching loops.
Comparison Table of Hub vs Switch
The table below summarizes the comparisons between Hub vs Switch:
| | | |
| --- | --- | --- |
| Sr. No. | Hub | Switch |
| 1. | It works in a Physical layer. Hubs are classified as OSI model Layer 1. | It works in a Data Link Layer. Layer 2 of the OSI model is used for network switches. |
| 2. | They can be linked via a central hub to link a network of personal computers together. | Allow multiple system connections, manage ports, manage VLAN protection configuration. |
| 3. | In hub transmission data is in the form of bits or electrical signals. | In Switch transmission data is in the form of Packet (L3 switch) or frame (L2 switch). |
| 4. | On another hand, The ports of hub is 4/12 hub. | Switch has multiple port bridge 24/48. |
| 5. | Frame flooding can always be done by hubs, unicast, broadcast or multicast. | First, unicast and multicast when necessary. |
| 6. | Device type of Hub is a passive device. | Network Device and active device is a type of switch. |
| 7. | A network gateway is unable to recognize or save MAC addresses. | Switches use the CAM table that is generally accessed by ASIC, accessible to content memory. |
| 8. | The transmission mode of hub is half. | Transmission mode of Switch is half/full. |
| 9. | Electronic device connecting other network devices to allow them to exchange information. | A network switch is a computer network device used on a computer network to connect many devices together. A switch is considered to be more progressive than a hub since a switch sends a message to a device it needs or requests. |
| 10. | The Speed of the hub is 10 Mbps. | The speed of switch is 10 Mbps to 1Gbps. |
| 11. | Transmission of Hub uses the MAC address. | Transmission of Switch uses the MAC address. |
| 12. | In the hub no need of internet connection is necessary. | There is no necessary need for internet connection. |
| 13. | Hub is not an Intelligent category device. | Switch is an Intelligent category device. |
Conclusion
Hub and switch are Networking devices that provide a mechanism for connecting several devices to communicate. The hub is however physical, while the switch operates the data connection layer. A switch overcomes the restrictions of the hub and provides the frame, hardware address, and loop avoidance intelligent transmission.
Recommended Articles
This is a guide to the top difference between Hub vs Switch. Here we also discuss the Hub vs Switch key differences with infographics, and comparison table. You may also have a look at the following articles to learn more –