About Poland
Poland is a City present in Central Europe. It is a country that is rich in History with an excellent geographical area. It is worth visiting Poland for its best places and the delicious Food. Enjoy the famous dish called pierogi. Along with their native language few people do speak English which makes the visitors comfortable communicating. People in Poland are friendly with foreigners and welcome people from all over the world. Even the hotels in Poland have tourist attractions within walking distance.  Here is a list of a few best hotels from Poland for a visitors guide.
Best Hotels in Poland
Some well-known hotels in Poland are listed below:-
#1 Ksiaz Castle
A historic castle called Ksiaz Castle (sometimes spelled Ksi Castle) is situated in Wabrzych, Lower Silesian Voivodeship, in southwest Poland. It is one of the most giant castles in Poland. The castle was constructed in the thirteenth century and has since undergone renovations and growth.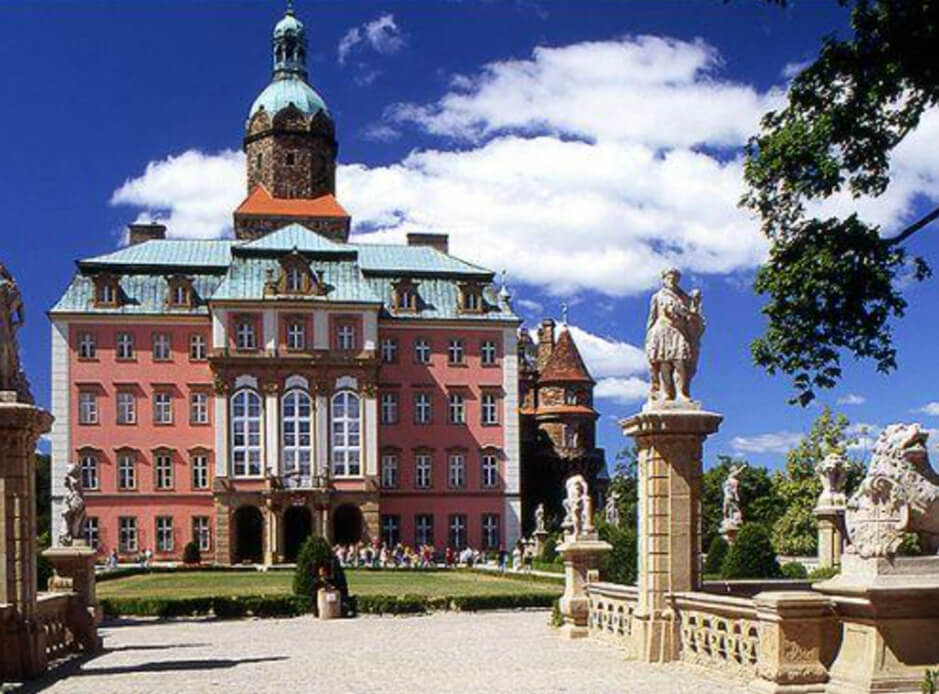 Price: ₹ 6,720
The address of Ksiaz Castle is:
Książ Castle ul. Książańska 1 58-306 Wałbrzych, Poland
There are numerous methods to get to the castle, including:
By Automobile: If you're traveling by car, the castle is close to the A4 motorway and has a sizable parking lot for guests.
By Public Transportation: Wabrzych has excellent bus and train service, and the city center is a short stroll from the castle. Train service to Wabrzych station is available; from there, you can walk or take a taxi to the castle.
By Air: Copernicus Airport Wroclaw, located around 70 kilometers from the castle, is the closest airport to Wabrzych. You can rent a car or take the train to Wabrzych.
Some of the nearby attractions include:
Wałbrzych City Center, Karkonosze National Park, Śnieżka Mountain, Świdnica, Lower Silesian Voivodeship etc.
#2 Wieliczka Salt Mine
There is a historic salt mine in Wieliczka, a city in southern Poland. It has been operating for over 700 years and is a well-liked vacation spot, drawing millions of travelers annually. Over 30 underground chambers and halls can be found in the mine, many embellished with sculptures, carvings, and other works of art.
Price: ₹1,887
The address of
Daniłowicza 10, 32-020 Wieliczka, Poland
There are numerous methods to get to
By Train: A direct train travels 20 minutes from Krakow to Wieliczka. Visitors can take a shuttle bus from the train station to the mine entrance after they arrive in Wieliczka.
By Bus: It takes 20 minutes to go from Krakow to Wieliczka on a regular bus service.
By Taxi: The trip to the Wieliczka Salt Mine takes about 25 minutes and is easily accessible in Krakow.
Some of the nearby attractions include:
Krakow, Auschwitz-Birkenau Memorial and Museum, Ojcowski National Park, The Royal Castle of Wawel, Czartoryski Museum, etc.
#3 Szuflandia
There is unique lodging near the Czech border in the far south of Poland. Szuflandia was created so visitors might unwind from the stresses of daily life. Even though Wisa is nearby, there are many things to do there, including access to a fire pit, playground, swimming pool, and saunas. What a wonderful and cozy place to stay throughout the winter season! Located a great distance from the city's heart. Sitting in this bedroom window and watching the snow fall gives you the impression that you are in a fantasy. Everything you need is in the room, and there is also a small kitchen and a large bathroom. Furthermore, a ski slope is within 150 to 200 meters.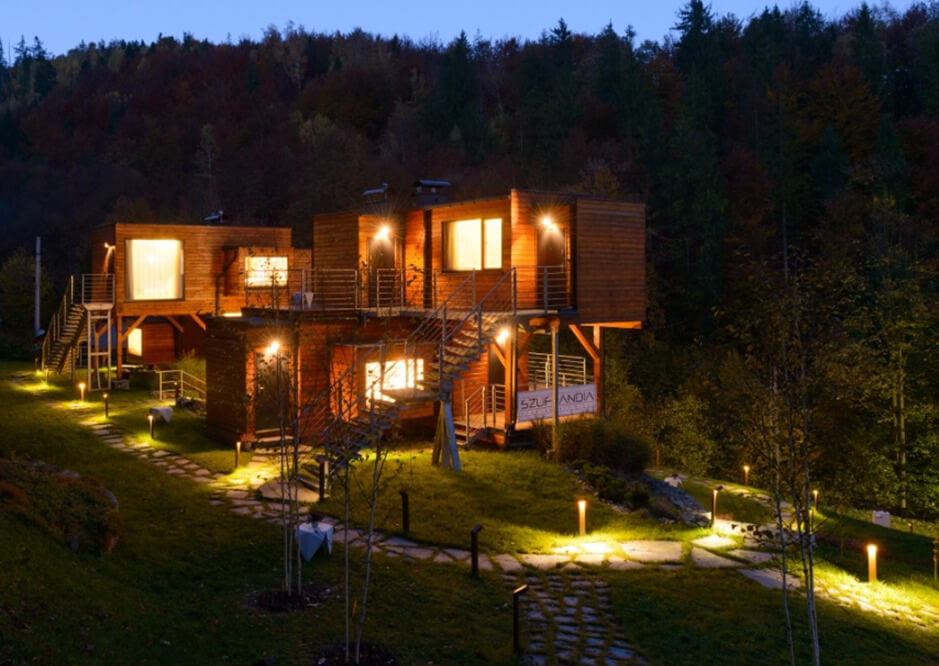 Prices: ₹8,630
Address: Wańkowska 15, 43-460 Wisła, Poland
How to reach?
The train station is Wisla Station (3.7 km / 2.3 mi). You can take a cab from there.
Nearby Attractions:
Nearby attractions include Lesny Park Niespodzianek (6.3 km), Adam Malysz Ski Jump Hill (7.6 km), and Sports trophies of Adam Małysz (3.7 km).
#4 Zamek Czocha
One of Poland's most picturesque castles, Czocha Castle is perched high on a hill with a view of the neighboring lake. This is the ideal chance to fulfill your fantasy of sleeping inside a genuine castle from the thirteenth century. The castle offers a range of accommodations, including superior and themed rooms that will take you back in time. Even the most discerning of our guests will be delighted by the 7 unique, themed rooms in the Castle. Both lone travelers and sizable, well-organized groups are welcome in the castle rooms. The always spotless and hygienic showers in the hallway make up for their absence.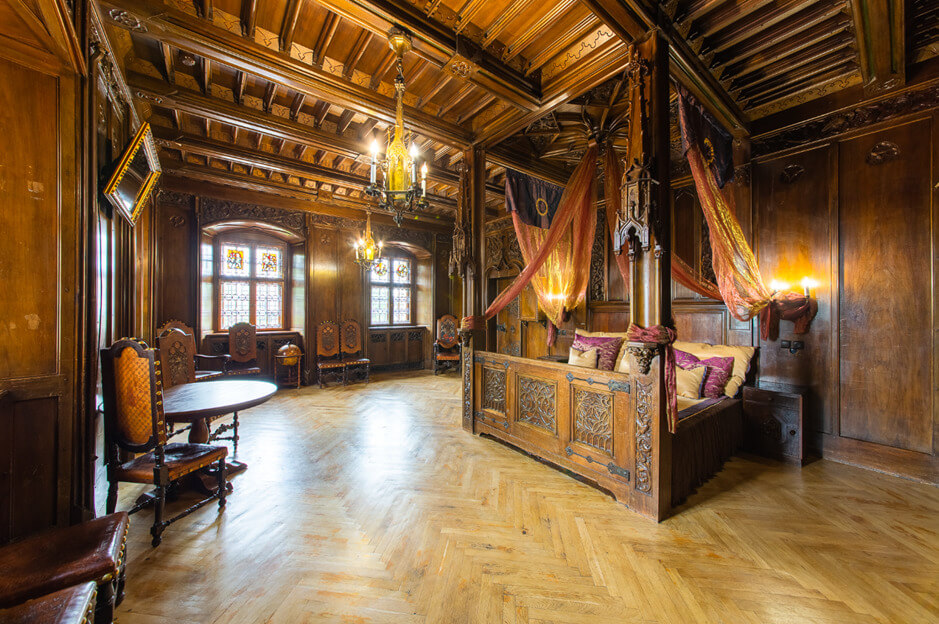 The address of Zamek Czocha is:
Zamek Czocha, ul. Zamkowa 1, 59-820 Leśna, Poland
Price: ₹ 5,203 + ₹ 83 taxes and charges
How to reach?
By Car: Zamek Czocha is situated in the Polish Lower Silesian Voivodeship town of Lesna. Using a GPS or road map and the address Zamek Czocha, ul. Zamkowa 1, 59-820 Lena, Poland, you can travel to the castle.
By Train: Legnica, 45 kilometers from the castle, is the closest train station. To go to Zamek Czocha from there, you can take a taxi or hire a car.
By plane: Wrocaw-Copernicus Airport, about 120 kilometers from the castle, is the closest airport. You can then take a taxi, rent a car, or take the bus to Legnica before taking another cab or renting a car to get to Zamek Czocha.
Nearby attractions:
Some nearby attractions that you can visit while you're in the area include:
Karkonosze National Park, Świdnica Old Town, Karkonosze Museum, Karkonosze Ski Resort, Legnica Old Town etc.