Updated May 26, 2023
Luxury Hotels in Dubai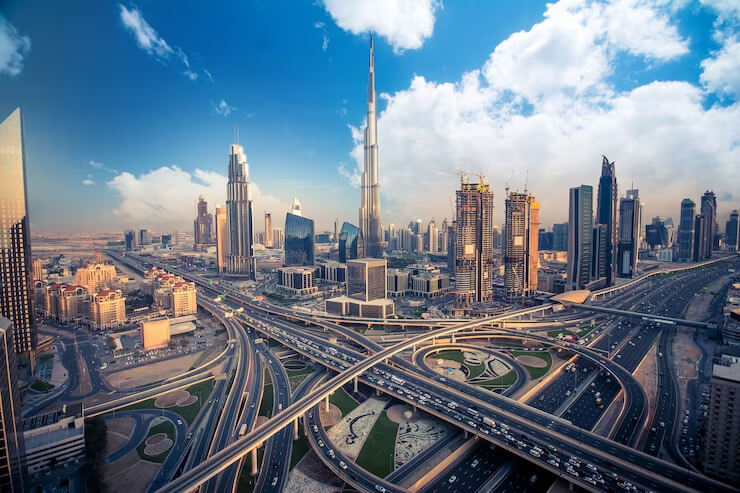 Dubai, the wealthiest city in the UAE, is one of the world's most vibrant and popular tourist destinations. The colorful glints of city life and the tempting tranquility of the seashore are a great combination that balances any travel freak's wanderlust. Staying and Dining are inescapable; selecting the Best hotels in Dubai can alleviate your concerns.
The Palm Jumeirah, Dubai's most innovative destination visible from space, the best water parks, aquariums, underwater zoo, Burj khalifa, Burj Al Arab, museums, streams, and animal sanctuary, the list of attractions is endless.
This land of dunes and camel safaris opens up a paradise in front of everyone, with the world's tallest skyscraper and largest waterpark, as well as a celebration of diverse cultural distinctions. Dubai is a happy hunting ground for more than 200 nations worldwide, providing many culinary and housing options.
To choose the best and right hotel in Dubai, you can set the parameters like:
Location
Activities to execute
Budget, etc
Here is a selection of the finest Dubai hotels that can give you all of life's conveniences and unique staycation experiences.
Finest Hotels in Dubai
1. Four Seasons Resort Dubai at Jumeirah Beach
People visit Jumeirah Beach, the city's main attraction, every year. The Four Seasons Resort here is the most convenient hotel. This hotel provides all the facilities guests need, whether business travelers or honeymooners.
The hotel has high-end facilities such as:
24-hour room service
Free Wi-Fi
LCD/plasma TV
Car power charging
24-hour security
Recreation for guests
Guests can enjoy the views of the magnificent sea and the city's bustle from the hotel's suites and guest rooms. They offer exciting offers from time to time for their esteemed guests.
2. Atlantis The Palm
Atlantis The Palm, situated at Crescent Road, is a beautiful one-stop destination for families because of its high-level amenities for every member. This massive structure has 1500 rooms, including unique guest rooms, suites, and family rooms. This hotel is on the Arabian Sea's gorgeous beach and offers complimentary access to the famed Aquaventure Waterpark. In addition to free Wi-Fi, the hotel offers round-the-clock security. As a bonus, this beautiful resort provides a variety of relaxation and spa facilities where guests can unwind and rejuvenate.
This iconic water-themed resort offers access to:
Award-winning ShuiQi Spa
Celebrity restaurants
The Lost Chambers Aquarium, and so on.
3. Bulgari Hotel & Resorts
The location of Bulgari Beach is in Jumeirah Bay, an artificial island. There is a connection to the Dubai shoreline from this island via a 984-ft bridge. The Bulgari Hotels & Resorts, located on the Bulgari beach, provides magnificent amenities, including a privately owned marina with 50 boats and the Bulgari Yacht Club.
The hotel provides the most satisfactory services to its customers. Their services include in-room check-in, packing and unpacking, and in-room meals with a personal butler.
Apart from that, guests can avail of the following:
1700 square-yard Spa with hammam
Fitness center services
Beauty salon
Indoor pool, etc
Deluxe accommodations with a balcony open to a peaceful beach view provide the most incredible experience. Aside from them, guests can choose between junior suits and expensive Bulgari suits.
4. Burj Al Arab Jumeirah
The Burj Al Arab Jumeirah is the most famous hotel in Dubai and provides a beautiful staycation experience. The suite rooms offer panoramic views of the surroundings. The large windows throughout the suit provide splendid views of the Arabian Gulf. A private driver will escort you in a Rolls-Royce or a helicopter to get you to the hotel.
The hotel provides in-house amenities, such as:
Wide-screen HD TV
Free Wi-Fi
Media hub
Dining and celebration areas
Opulent spa treatments for both men and women, etc
The most well-known restaurant, Al Muntaha in Burj Al Arab, serves superb European cuisine to guests. Tourists may enjoy cocktails and conversation while admiring the fantastic ocean views from the Sky View Bar, 656 feet above sea level. The two tourist attractions near the shore are Wild Wadi Waterpark and Souk Madinat Jumeirah. These top-rated luxury residences in Dubai are enough to wow you with their endless services and timely offers for once-in-a-lifetime vacations. Use your options to plan a great getaway.