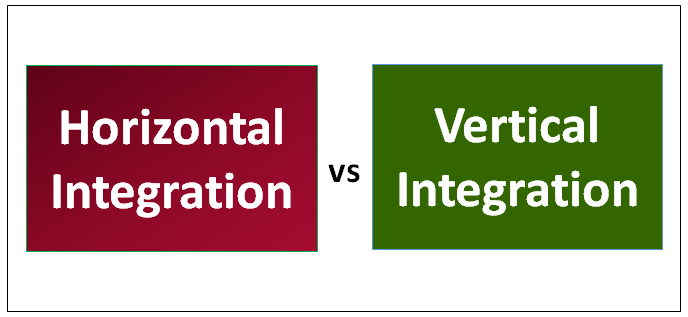 Difference Between Horizontal Integration vs Vertical Integration
Both horizontal integrations vs vertical integration are part of business strategies that occurs during the course of the expansion of any business. Horizontal Integration means an acquisition of similar companies within the same sector and those are associated with the same kind of business activities. On the other hand, Vertical integration plays a crucial role in enhancing profitability and reducing the cost of the company. In this process, the company acquires different stages of production or different functional segments of the production process, and hence the profitability from different channels gets omitted, and the profit margin increases.
Let us study much more about Horizontal Integration vs Vertical Integration:
For example, a steel manufacturing company can generate power also to reduce the cost arising from the power supply. There is various form of Vertical Integration such as Forward integration and backward integration. An example of backward integration is When a Chinese Smartphone manufacturer opens a unit of which manufactures a mobile chipset and supplies to the smartphone unit. Thus in earlier cases, the Smartphone Company had to purchase chipset from any other chipset manufacturing company and the manufacturing costs bear a specific part of the profit which was being enjoyed by the chipset manufacturer. Thus after in-house chipset manufacturing, the profit remains with the smartphone manufacturer. In the case of forwarding integration, we can take an example of Indian Company Avanti Feeds, which cultivates Shrimp-feeds used for the feeding of processed shrimps. Now after running the shrimp feeding business successfully, the company has decided to enter into the processed shrimp business. Thus process-shrimp business turned out to be very profitable and it contributed to the margin healthily along with the increase in Revenue.
Thus these kinds of strategic business activities help the business to increase market share, margins, decrease competition, higher income with higher profitability. But in the case of vertical the kind of expertise which is required is vast rather than horizontal integration. In the case of Horizontal, the scope of the business remains the same, and only the market share and the participants increase big time. For example, the acquisition of Ranbaxy by Sun Pharmaceuticals within the Pharmaceutical space denotes erosion of competition, enhancing product portfolio, increasing customer base, etc. Again these kinds of an acquisition increase market share of the pharmaceutical companies along with profitability.  But in the case of vertical integration, the field of business spreads and there is an emergence of different functions of a business. For example, Google acquired Motorola Inc. because the Company Google wanted to make its mark across the Smartphone department in which it has no previous experience. Thus instead of going Greenfield expansion, it has acquired Motorola by way of Brownfield expansion. Greenfield expansion means setting up new manufacturing and servicing departments whereas Brownfield expansion means going expansion through mergers and acquisitions.
Another example of horizontal integration was Facebook Inc. acquiring Whatsapp. Both are from the social media segment and just to gain market share Facebook had acquired Whatsapp basically to remain competitive in the social media sector. Thus this kind of acquisition can be an example of Greenfield expansion as Whatsapp has its own setup and customer base; there was no new setup was done by Facebook.
Horizontal Integration vs Vertical Integration Infographics
Below is the top 5 difference between Horizontal Integration vs Vertical Integration :

Key Differences between Horizontal Integration vs Vertical Integration
Both horizontal integration and vertical integration are popular choices in the market; let us discuss some of the significant differences:
Horizontal Integration generally emphasizes the market primarily on the Perfect condition market, whereas Vertical integration sees the Industry as a whole and concentrates on the different functional segments of the industry.
After the acquisition or merger of a particular company, the business cannot be called as self-sufficient as it requires various functional departments for smooth functioning. But on the other hand, if vertical integration is done it happens to be self-sufficient as more than one vertical of the business are involved.
The primary objective is to gain market share, remove competition and gain pricing power in case of horizontal integration. But on the other hand, the primary objective of vertical integration emphasizes operational efficiency and followed by margin expansion.
The Capital required in the case of Horizontal integration is much more than Vertical integration as the amount of goodwill is included within the deal. Vertical integration can be classified into two parts viz. Forward integration and backward integration.
Horizontal Integration vs Vertical Integration Comparison Table
Below is the topmost Comparison between Horizontal Integration vs Vertical Integration.
| | | |
| --- | --- | --- |
| The basis Of Comparison  | Horizontal Integration | Vertical Integration |
| Related to | This is related to the acquisition or merger of the same type of business where the line of products is the same and they are more or less could be replaced by each other. Example- Lenovo acquiring Motorola as they both have a smartphone in their product portfolio. | When a business unit takes over different stages within the same production path. For example – Google providing operating systems to smartphones acquired Motorola before Lenovo, to mark its entry within the smartphone market and is a case of forwarding integration. |
| Objectives | To gain Market share, expand of business, and to erode competition. The primary motive is to enhance dominance. | This is another mode of cost-saving strategy which controls excess expense which is otherwise paid to the third-party vendor including the profit margin paid to the supplier. The primary motive is to control costs through operational efficiency. |
| Result | Elimination of competitors from the market and to attain higher market share along with pricing power. | Elimination of excess costs and resulting in margin expansion for the business. |
| Capital required | If a business acquires a new brand or a business, the cost of acquisition is much higher than Vertical integration because a certain amount of Goodwill is also included. | This can be termed as an expansion phase, setting up a new manufacturing plant or distribution segment or any other functional segment requires CAPEX. |
| Types | Cannot be categorized. | Can be categorized as Forwarding integration and Backward integration. |
Conclusion
Both horizontal integration and vertical integration plays an immense role in determining the future of a particular business. One helps in improving operational efficiency and improving margins and profitability and another helps in attaining higher market share and pricing power. Thus a mix of both horizontal integration vs vertical integration is required in any kind of business.
Recommended Articles
This has been a guide to the top difference between Horizontal Integration vs Vertical Integration. Here we also discuss the Horizontal Integration vs Vertical Integration key differences with infographics and comparison table. You may also have a look at the following articles to learn more –