Public Holidays
November is quite a pleasant month when nights get chillier, days shorter, and we feel the best. There are so many festivals and holidays lined up in November that sometimes we get overwhelmed. Holidays in November 2023 await you to enjoy festivals, meet relatives, and spend quality time around. We have come up with a list to help you plan everything for the holidays in November, which is yet to come.
List of Holidays in November 2023 (Updated)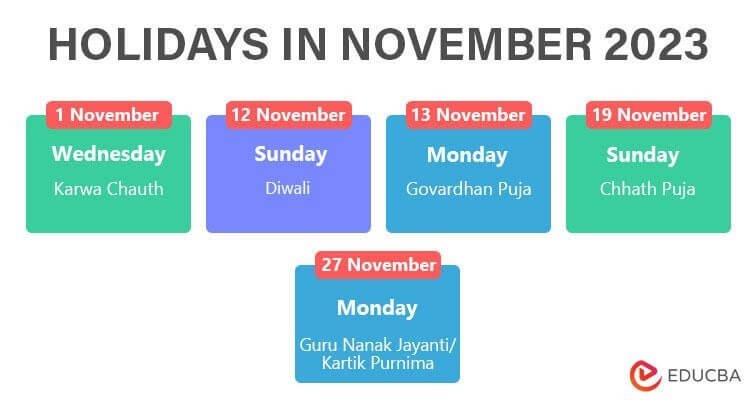 | | | |
| --- | --- | --- |
| Date and Day | Occasion | Regions Where Celebrated |
| 1 November 2023, Wednesday | Karwa Chauth | All India |
| 12 November 2023, Sunday | Diwali | All India |
| 13 November 2023, Monday | Govardhan Puja | All India |
| 19 November 2023, Sunday | Chhath Puja | Bihar, Uttar Pradesh |
| 27 November 2023, Monday | Guru Nanak Jayanti/ Kartik Purnima | Many States |
Detailed Description of Holidays in November 2023
#1 Karwa Chauth
Festivals and fasting are essential parts of Indian festivals. Karwa Chauth is a day-long fasting in which women pray for the healthy and long life of their husbands. At night, they perform Puja offering water to the moon and ending their fasting by having water and food. The markets are full of women wearing mehndi and shopping for this special day. Special preparations are for clothing, food, and Puja. The holidays in November have a different vibe which is very pure, and the tradition of India is well reflected in this festival.
#2 Diwali
The beauty of Indian festivals and traditions is that we celebrate everything for a reason or a reason is there to celebrate something. The same goes for the festival of Diwali, the festival of lights. Light is the symbol of righteousness and good. According to famous mythology, Lord Rama returned to Ayodhya after years in exile, along with his wife and brother Lakshman. The people of Ayodhya welcomed their Real King and their Queen by lighting up the entire city of Ayodhya with Diyas. Also, on this day, we worship and pray to Goddess Lakshmi and Lord Ganesha to give us wealth and intelligence to secure that wealth. Among other holidays in November, Diwali is everybody's favorite.
#3 Govardhan Puja
Worshipping nature has been part of Indian culture and traditions for a long time. We have been worshipping cows as mothers since time immemorial. Govardhan Puja follows Diwali and is an important part of our culture. There is also a mythological story behind Govardhan Puja, related to Lord Krishna. You can enjoy the holidays in November by worshipping using fresh cow dung, making small statues of the mountain, and beginning your puja.
#4 Bhai Dooj
Indian tradition celebrates every relationship like a festival. In the festival of Bhai Dooj, sisters invite their brothers for a meal that includes their favorite dishes and sweets. However, this tradition may vary in the state of Bihar and Central parts of India. The sisters put 'tikka' on their brother's forehead with some rice grains. The beauty of this relationship is the sweet-sour fights the siblings share throughout their lives. You can have the best experience of this festival if you live with your brother or nearby.
#5 Chhath Puja
If you know, you must know about the world-famous festival of Chhath Puja. It is not an ordinary festival, but it is close to every Bihari's heart. Celebrated not only in different parts of India where Bihari lives but also abroad. It is a four-day long festival that starts with 'Nahaye Khaye' and ends with 'Bhor Ardhya'. During these four days, the entire environment becomes so pure and pious. People gather on various water bodies to offer 'Ardhya' to Lord Sun and offer him 'Prasad'. This one festival gives you goosebumps and reminds you of nature's power. It is one of the eminently awaited holidays in November.
#6 Guru Nanak Jayanti/ Kartik Purnima
Guru Nanak Dev was the first Guru of Sikhs. He bestowed in his followers the victory of good over evil and encouraged them to follow what is right and justified. His birthday falls on the Kartik Purnima, the full moon day, and would observe as the day to pay respect to our gurus. Guru Nanak Ji's birthday is as Guru Parv across the country. Devotees chant the verses of Guru Granth Sahib, the holy book of Sikh.