Updated July 24, 2023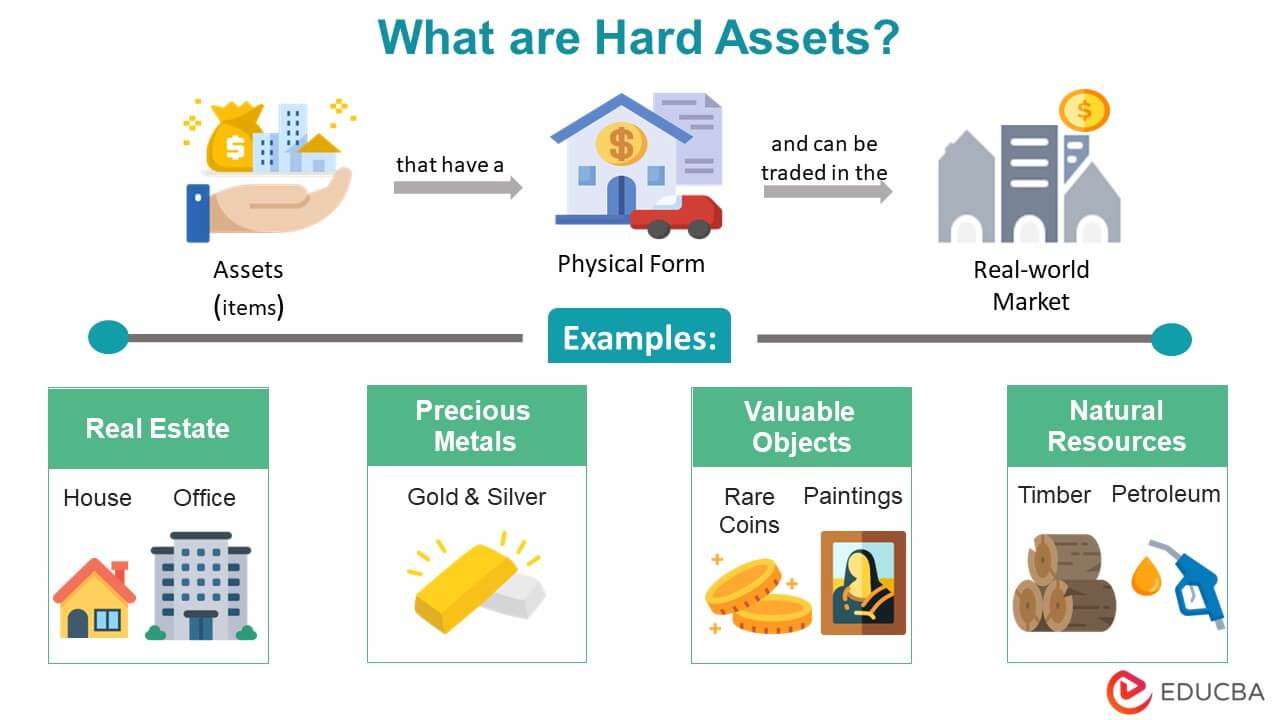 Table of Contents
Hard Assets Meaning
Hard assets are assets, such as houses, vehicles, gold, etc., that you can see, touch, own, and trade in the real world.
These are different from financial assets like cryptocurrencies that exist in digital form. Hard assets are different as they are tangible and have intrinsic values. For instance, you can use them as collateral to secure loans, business growth, or personal needs.
When it comes to investments in this asset, there are usually two forms: long-term and short-term. Long-term assets are held over one year and support business activities or investments. However, you cannot sell these quickly to convert them into quick cash. On the other hand, short-term assets are those that are converted into cash within one year.
Real estate is the most popular and well-known form of hard asset. It includes buildings that we can use for various purposes.
Examples:  Residence (homes), commercial property (offices), and land.
2. Precious Metals
They are valuable metallic elements found in nature. They serve as valuable investments during economic uncertainty or crises.
Examples: Platinum, gold, and silver.
3. Natural Resources
These are assets extracted from earth/nature that have economic value. They can provide income and protection against inflation.
Examples: Timber, minerals, petroleum, and agricultural products
4. Valuable Objects
They are rare and have historical or artistic value. They become more valuable over time.
Examples: Paintings by famous artists, vintage collections, precious stones or gems, and rare coins.
Hard Vs. Soft Assets
| | | |
| --- | --- | --- |
| Basis of Comparison | Hard Assets | Soft Assets |
| Definition | They are physical assets with intrinsic value that can be seen and touched. | They are intangible and non-physical substances. |
| Examples | Real estate, gold, silver, art, machinery, equipment, etc. | Patents, trademarks, copyrights, goodwill, etc. |
| Value | Valuation is on the basis of their market worth and supply and demand factors. | They are valued based on potential future earnings and other subjective factors. |
| Maintenance and Storage | They require regular maintenance and storage costs. | They don't require physical maintenance or storage costs. |
| Diversification | They provide diversification benefits to a portfolio, as they are not affected by changes in the stock market. | They also provide diversification benefits but may not have the same level of impact on the portfolio. |
Investing in Hard Assets
#1 Direct Ownership
The most straightforward approach for investing in hard assets is to own the asset directly. It could involve purchasing real estate properties, acquiring precious metals like gold, silver bullion, and coins, or investing in natural resources. Direct ownership provides complete control and potential for higher returns but requires careful consideration and due diligence.
#2 Real Estate Investment Trusts (REITs)
REITs are companies that own or manage real estate investments. REITs allow people to invest in real estate properties like shopping malls and buildings without a need to buy them personally. The profits are shared among the investors if the property makes money either by selling or renting. This way, individuals can access real estate markets with lower capital requirements and enjoy the benefits.
#3 Exchange-Traded Funds (ETFs)
Hard asset ETFs provide an easy way to invest in a diversified portfolio of hard assets. These funds pool money from various investors to invest in asset such as real estate, precious metals, or commodities. ETFs offer liquidity, transparency, and the ability to invest with relatively small amounts of capital.
#4 Commodity Futures and Options
Investors who are okay with a high-risk investment and understand the derivatives markets can explore commodity futures and options. These financial instruments allow individuals to speculate (guess) on the future price movements of commodities such as oil, gold, or agricultural products. However, these investments require thorough knowledge and experience due to their complexity and risks.
Disadvantages
Lack of liquidity: Selling assets like real estate properties and historical collections can take a long time because finding an interested buyer can be challenging.
Maintenance costs: Physical assets like machinery, manufacturing equipment, etc., require regular maintenance, which can sometimes be costly.
Storage and security: Precious metals and antique collectibles require secure storage to protect them from theft and damage. It can increase the overall cost of owning and maintaining these goods.
Volatility: Hard assets are subject to volatility, such as price fluctuations, inflation, etc.
Final Thoughts
Although there is a demand for digital and other intangible investments, hard assets like physical goods and infrastructure are still very important. Thus, it is important to understand the market and carefully invest in these resources to gain maximum benefits and reduce risks. For people looking for long-term stability, these tangible assets can be a good investment strategy as they grow in value with time.
Q1. How can investors gain exposure to hard assets?
Answer: Investors can gain exposure to hard assets like real estate, gold, and silver by directly buying and owning them. They can also invest in them through Real Estate Investment Trusts (REITS), commodity futures, etc.
Q2. How can technology impact the demand for hard assets?
Answer: Technology has significantly affected the demand for hard assets. Many people are turning towards digital securities like cryptocurrency, and digital arts, instead of buying physical goods. All these have reduced the demand for physical spaces, affecting the real estate business. In simpler terms, technology has made life easier for people, causing them to buy less physical goods.
Recommended Articles
This article provides detailed information about hard assets, what they are, how to invest in them, examples, advantages, and disadvantages. You can also read the following related articles to learn more about assets.