Updated June 15, 2023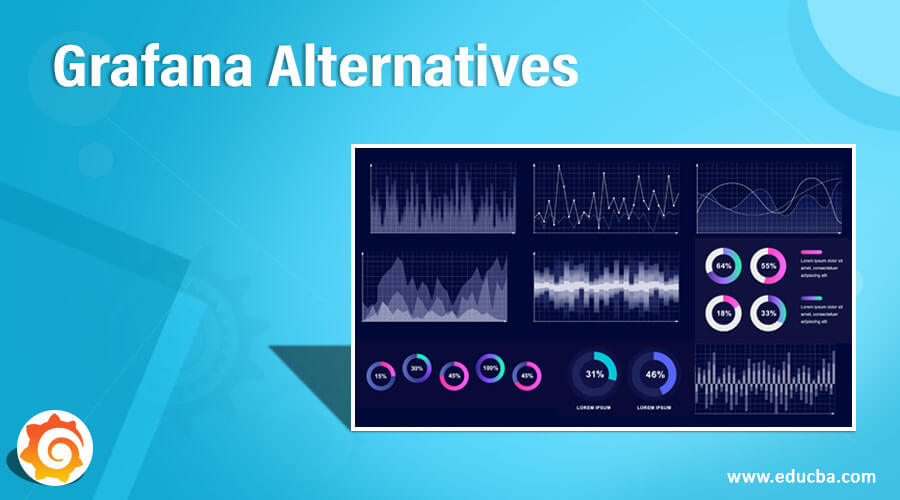 Introduction to Grafana
Grafana is a popular data visualization, graph composer, data analysis, and monitoring tool, which is often used in pairs with other tools such as Prometheus, Graphite, and influxdb. This particular tool is highly used to analyze time-series data or time-series metrics. Grafana allows the creation of customizable dashboards with panels, each representing the metrics received over the given time frame. These dashboards are the most versatile and could be used to understand specific components' performances. This article will look into some of the popular alternatives for Grafana and its efficiency. Like Grafana, there are alternative tools available in the monitoring stack. This article will explore some of these alternative tools.
List of Grafana Alternatives
Given below is the list of Grafana Alternatives:
1. Kabana
Kabana is a popular open-source data visualization tool, and this is one of the better alternatives to Grafana. It is primarily utilized for ElesticSearch, a Java-based search engine built on the Lucene library. Using Kabana dashboards and graph composing capability, users can create lines, bars, pie charts, scatter plots, etc., that map to the large data volume. Kabana also has presentation tool support, mainly the canvas, that can create slide decks with the data from the dashboards. The official site of Kabana shows that a Kabana dashboard has found its application servers analysis like log analysis, infrastructure monitoring, Application performance management, Security Operations, and business analytics.
2. Dynatrace
Dynatrce is one of the popular tools in Application Performance Management APM, Artificial intelligence Operations AIOps, Digital experience management DEM and cloud infrastructure monitoring. Dynatrace helps most medium to large businesses analyze any deviations or flaws in their application performances. With its huge popularity and wide acceptance, this stands out as one of the best alternatives to Grafana. It helps its user to form deep transaction tracing, real user monitoring, synthetic monitoring, and full-fledged network monitoring. With its advanced automation, observations, and Artificial intelligence, it is an all-in-one platform for monitoring the data and other user experiences. The user experience includes preparing better software with better capability and performance in the earliest timeframe.
3. Datadog
Datadog is also one of the popular could scale monitoring services that provide monitoring services to servers, databases, tools, and services through its sophisticated SaaS-based data monitoring and analytics platform. It uses a Go-based agent for its operations. Many open-source platforms such as Apache Cassandra, Kafka, D3, and PostgreSQL have been incorporated into this development in Python, both in earlier and later stages.
Some of the features of the datadog are given below:
Dice and Slice graph alerts. Also, alerts are based on roles and tags.
Alert notification via email and alert is also possible using PagerDuty.
Customizable monitoring dashboard on similar lines to the Grafana.
Sampling intervals of 10 seconds.
Full API access can be granted.
Easy and efficient in computing mathematical statistics such as deviations, ratios, and averages so they can easily be.
During upgrades, the alerts can be muted with one click.
Have different tools for team collaborations.
Clean graphs on the statistics so that the data can be easily visualized.
Thus the above feature makes datadog one of the strong competitors for Grafana, and its comprehensive utilization among the organizations suggests the same
4. Freeboard
Freeboard is one of the most popular tools for the Internet of Things IoT. It is quite simpler and can be used to build real-time dashboards with better visualizations with its most intuitive drag-and-drop interface. Let us see some of the features of the freeboard below
Flexible data source with seamless integrations to get the data.
It is a straightforward tool that enables the creation of real-time dashboards.
Ideal for IoT.
Easy drag-and-drop interface to develop customizable widgets.
Customize depending on your requirement, look, and feel.
Has support for both public and private access at zero costs.
Duplicate or clone any of the already created dashboards and make changes on top of it.
Every feedback has a unique URL, and that can be shared across users who are monitoring.
5. AppDynamics
AppDynamics is Application Performance Management APM and IT Operation Analytics ITOA tool. This tool has its presence both on the cloud and the data centers. It monitors every line of code to monitor the applications so that better performance can be achieved. Cisco acquires it and also has AI capability. It provides real-time monitoring, end-to-end Visibility, Analysing Business insights, and automated anomaly detections. And this support is provided to the entire application stack. Let us see some of the features of the AppDynamics
Code-level visibility is provided by this tool.
Support for mobile real-user monitoring.
Supports data retention.
Easy support for any issues in productions and thus providing easy troubleshooting.
AppDynamics provide dynamic baselining.
Has the support of powerful alerting.
Can monitor multiple platforms.
Has agents for database monitoring, Application monitoring, etc.
It has to support continuously monitoring high-volume environments.
It also supports Browser-based real-time monitoring.
Conclusion – Grafana Alternatives
Thus, this article has different alternatives for the Grafana data visualization and monitoring tool. We have seen some features of them as well. The choice of the tool is purely dependent on the use case and client preferences, budget, and mode of monitoring, which can be cloud support or data center support.
Recommended Articles
This is a guide to Grafana Alternatives. Here we discuss the introduction and different alternatives of Grafana, respectively. You may also have a look at the following articles to learn more –