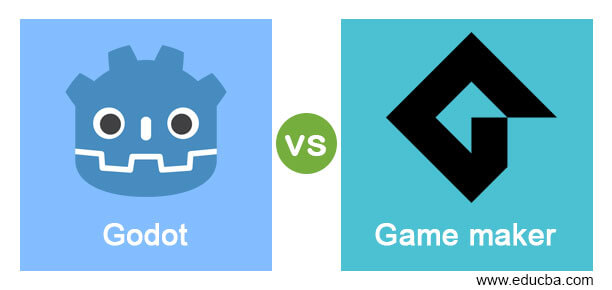 Difference between Godot vs Game Maker
Godot was released by MIT license as cross-platform gaming engine and works for creating as well as designing of different type of video games. It was developed by Linietsky and Ariel Manzur for several companies but later on it was launched for public use. You can play with nodes and make different type of changes in their parameters for having good result in game design with this software as well.  Game Maker is not a game engine but it is a series of game engines and developed by Yo Yo Games but its creator was Mark Overmars and has number of good features for 2D and 3d gaming. In this topic, we are going to learn about Godot vs Game maker.
Let me now tell you more about both software for attracting your attention toward other facts as well as important features of these software so that we can explain them to you in better way.
Head to Head Comparison Between Godot vs Game maker (Infographics)
Below are the top differences between Godot and Game maker

Key Differences between Godot and Game Maker
As we told you above that both software are developed by different developer in different year so they include some of the special features in these software. Now let us discuss them too.
Godot is an open source program which comes under MIT license that means it is completely free to use with lots of good features offer by it and due to MIT license developer has to mention copyright of MIT within its project. If we tell you about Game Maker then you can have only 30 days free trial for getting interact with its user interface and understanding it working. It offer three type of variation in paid version that means for CreatorFrom you have to pay $3, for DeveloperFrom  pay $99 and for ConsoleFrom pay $99.
If you start working with Godot then you will have innovative designs from it, highly featured 3d graphics and also have good environment of 2D games designing whereas with Game Maker you will have YoYo Account, Backward compatibility, and also laptop mode.
Game Maker also supports 3D gaming and you may face difficulties in performance of 3D designing as well as lack of automatic LODs in Godot. Game Maker has Limited OOP support and also you have to buy it for every export platform. One things also we will tell you that Game maker has not best scripting language whereas in godot there on such issue and you will find GDScript which is based on Python in Godot.
Now you have knowledge about other important aspect of Godot and Game Maker which is necessary for deciding with which one you must go for start you 2D and 3D game designing.
Comparison between Godot vs Game Maker:
Through these points you can find some of important terms about these software which build good basic knowledge in your mind and make you able to go with right one.
Godot
Game Maker
Definition
It is an open source game engine and also works on cross platform that means you can run it on both mobile and pc for working on any of the device.
Game maker is series of game engines and it is also a cross-platform game engine. Previously it was named as Animo but later on it changes to Game Maker.
Developer
It was launched under MIT license and developed by Linietsky and Ariel Manzur.
Game Maker was launched by Yo Yo games and developed by Mark Overmars.
Initially launched
Initially it was launched on January 14, 2014 for designing of 2D and 3D game and its components.
Its developer developed it in 1999 but it was taken over by Yo Yo games since 2007 and launched for designing of gaming element and components.
Latest version
Its Latest version released on September 2020 and named as 3.2.3 version of it.
On November 23,  2020 its latest version was released which was v2.3.1
Supported language
It supports C#, C++. GDScript as well as Visual Script as it programming languages.
It supports and written in C++ and C# (IDE).
Operating systems
It can run on Microsoft Windows, Mac OS, OpenBSD, FreeBSD, NetBSD, and Linux.
You can use it on Microsoft Windows and Mac OS operating systems.
Access on Platform
You can use it on many other different platforms also such as iOS, Android, UWP, HTML5, WebAssemby.
It can be used on other platforms which are Ubuntu, HTML5,

Android, iOS, Amazon Fire TV, Universal Windows platform, Play station 4, and Xbox One.

Available in
It is a multilingual game engine that means it is available in many different languages about which you can get information from its official website.
It is available in English, Spanish, French and German languages for making it more user-friendly.
Official website
If you want to collect more information about this game engine and also want to download it for start working with it then you can visit on www.godotengine.org.
You can visit on www.yoyogames.com/gamemaker for having game engines of Game maker and from here you can also get other important information about it.
Supported File Format
Text and binary file formats both are supported by Godot not only this file format but also older file format, COLLADA is supported by Godot. .obj, .escn, .fbx are some other supported files of it.
It native file format is .gmx and you can export your project file from this game engine in .gmz which is compressed file format of it.
It was nice discussion in context of basic requirement as well as capability of working with different devices of these software. Now let you give you information about special features of both software which make them different from each other.
Conclusion
We are  sure that it was your nice experience for getting information about Godot and Game Maker gaming engines from this article and now you are free to decided which engine will be good for you or you can do one thing that go and try both software because Godot is absolutely free and Game makers offers free trail so it will be easy to interact with them.
Recommended Articles
This is a guide to Godot vs Game maker. Here we discuss the Godot vs Game maker key differences with infographics and comparison table. You may also have a look at the following articles to learn more –