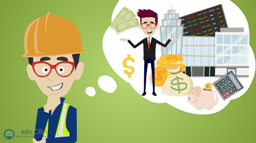 Introduction to Finance Job From Engineering
Education is growing daily, and in this fierce world of competition, many prefer to do their masters. There are different degrees available after graduation, and for those who want to do it in "Finance"; you are on the right track! But there is altogether a different dilemma in the minds of "Engineering students".
Get Finance Job From Engineering – Today, education is growing daily, and in this fierce world of competition, many prefer to do their masters. There are different degrees available after graduation, and those who want to do it in "Finance"; are on the right track! But there is altogether a different dilemma in the minds of "Engineering students". Many questions dwell in their minds, making the decision-making process quite confusing and difficult. And this is why edu CBA is here to answer all your questions and doubts. In this article, we will understand all about Getting a finance job in engineering. MBA in finance is a suitable degree, and there is no specific rule that only people who have done finance graduation should do this. Completing engineering and then doing MBA will add more value to your career. It will help you to be in a higher position than other graduates. And thinking of today's world, every company needs an employee at the management level with some technical knowledge, so nothing is going to go waste.
Journey in the Finance World!!!
Has everyone told you before that in your journey of Getting a finance job from engineering, you have to have a masters degree in Finance? Is this what is pulling you back? Yes, you can get a finance job after completing your engineering degree. Have you considered all options you have for that? Or have you just listened to others and thrown that finance dream out of your system already? You can get into the field of finance by either completing your MBA or CFA. Yes, this is some of the well-known and traditional ways of getting into the finance field, but definitely not the only way. So what are the other routes? The next few lines will definitely cheer you up!!! Let's get you sorted…
There are various skill-based training organizations which are all equipped to provide some excellent training in finance. And it's not just theoretical. It comes with all the practical applications of finance. Here you are ought to get some value-added industry-based training through various courses in Investment banking, Equity Research, Financial modeling and much more. You definitely can get into one of such courses to sharpen your financial skills.
If you are opting for MBA, you need to have a graduation degree for entering into MBA finance. You will have to give the competitive exams to make yourself eligible for entering a good MBA college. Candidates can begin preparation during the third year by enrolling in training institutions and gain some knowledge.
One needs to complete engineering with at least 50% marks. The candidate's performance in their engineering academics will help in the later stages of the selection process. Hence, the candidate needs to focus on performing well in both engineering semesters as well entrance exams.
Prior to considering finance after engineering, one needs to figure out why they want to do MBA or get into finance. And hence one should not get into Finance merely to become a manager in a reputed organization.
Getting a finance job after engineering definitely improves career prospects. However, before becoming a manager, you can gain some work experience and understand the way businesses function.
If the candidate wants to shift from engineering towards finance, he/she needs to understand the difference between the two fields and needs to have a passion for the field of finance. Some self-examination combined with some amount of research on finance will help in determining the goal.
If you pursue MBA or any other degree in finance after gaining some work experience, you will be in a better position to grasp the course contents and apply them appropriately to your work.
"In Your Favor points" for engineering students during the Finance job interview!!!>
Employers won't doubt your quantitative skills or your attention to detail.
Depending on your experience, you can convince the employer that you can work long hours relatively easily.
Also, you have options outside of investment banking that lawyers and accountants don't have access to.
Ways to Spin your Resume Successfully!!!
Get your "story" set. (Why finance after engineering?)
Plan out your recruiting strategy.
Identify which firms you will contact and what fields of finance you're most interested in.
The next and the most important step is to craft a winning resume. Here's how you can do that:
Step 1
Use some investment banking resume templates if you are unsure about how to structure the perfect resume. All the templates are available online, and you can select the one which best suits you and get it to download.
Step 2
Pick some experiences that you would like to highlight the most. These may include what you've done during the entire finance course, summer internship projects, Business competitions or any other major activities where you have displayed your leadership quality.
Step 3
It is best that you rephrase your resume in business and finance terms rather than using big jargon or some engineering lingo.
During the Interview Process!!!
Are you genuinely interested in finance?
Why finance after an engineering degree?
Don't you feel that you have wasted "Four Years of Engineering"?
Have you learned enough about accounting and finance to compete with commerce students?
Do you have the stamina and passion for working 100-hour weeks?
Do you like to communicate with people?
Here's how you can answer these questions
The 100-hour of work question can be answered easily. You may talk about all the lab work you had to do during your engineering degree. Focus on all the last-minute projects you have worked on or the experience that you gained during your summer internship or full-time job if you have previous work experience.
You may talk about some interesting companies or IPO's or stocks to prove your interest in finance. You may stick to some unusual companies or success stories rather than opting to talk about common companies, as everyone is bound to do the same. Talk about any investment you've done or any recent market news, which displays your market awareness.
To answer technical questions, you can get access to some interview guides, or you can also join financial modeling programs that will teach you everything you need to know.
To answer the questions related to your interpersonal skills, you must be absolutely polished and well prepared. Do not hesitate or get confused while answering such questions. The best way to get good at this is to practice with any friends who are smooth talkers.
Make sure that all your answers are crisp and to the point. Do not run around the same bush again and again.
It's Time to Answer the Technical Questions!!!
Since you do not have a finance background, employers may have lower expectations when it comes to technical questions. But this does not mean that you just ignore them. You must know all the basic concepts, for example, fundamental accounting and valuation questions. Be thorough with all the three financial statements, how they are linked together, how to walk through changes to the financial statements, and how to value a company.
You can also prepare questions on advanced topics like mergers and Acquisitions, Credit rating, and LBO models. At the same time, stick to the basics of these topics. You do not have to know all the absolute and intricate details of the topics at the initial steps. If you're in a time crunch, you can visit various sites where you can get questions and answers on finance interview questions.
Be prepared with "Plan B."
You prepared your story, crafted an excellent resume, and have gone through all the technicalities of finance, but what if you do not get a job in the desired investment bank? You came out of the interview room with no offers. are you already thinking that Getting a finance job in engineering is indeed difficult? Do not panic, and don't get depressed. It's not the end of the world for you. Keep other options open as well. Also, consider Finance Roles Outside of Investment Banking. Some of the other options are as follows.
Corporate Finance
Corporate finance jobs include working for a company and managing the capital necessary to run the enterprise.
Commercial Banking
A career option available in commercial banking includes bank tellers, loan officers, operations, marketing and branch managers.
Hedge Funds
Hedge funds are private investment funds whose managers can buy or sell an array of assets and financial products. Because of the mystery that surrounds them, Hedge-fund jobs are considered by many to be glamorous.
Private Equity
Private equity job includes helping businesses find capital for expansion and current operations. It also includes providing financing for corporate business transactions like buyouts and restructurings.
Venture Capital
Venture-capital job includes evaluating pitches by founders and small-company leaders to determine if the venture capital firm will make an investment in such businesses.
Financial Planning
Financial planning job includes helping individuals develop plans to ensure their present and future financial stability.
Insurance
Finance jobs in insurance involve aiding businesses, and individuals anticipate their potential risks and protect themselves from losses.
Choose the Right Direction for Yourself !!!
Different finance jobs require different skills and portray different work environments. And this is why it is wise to select a job that aligns with your long-term interests and abilities. For example, someone with good interpersonal skills can do well as a financial advisor, while on the other hand, someone who enjoys working with numbers might do better in accounting. Hence it is wise to do the research first to discover your options. We hope that through this article of Getting a finance job from engineering, you will remember that-
<"The time spent discovering the most interesting possibilities, can be time saved working in a job that just doesn't fit".>
If you are interested in taking up a course and hone your skills in finance, you may like to visit-
Getting finance job from engineering- Finance for non-finance
Learn the juice of this article in just a single minute. Getting a finance job from engineering infographics
Recommended Articles
Here are some articles that will help you to get more detail about the Finance Job, so just go through the link.