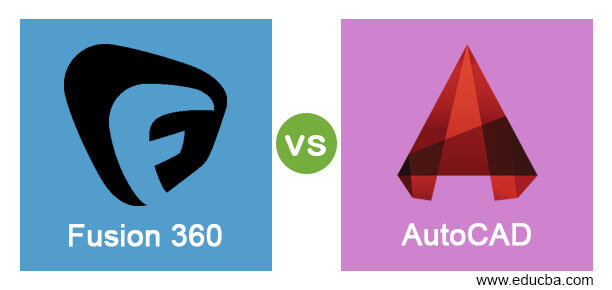 Difference Between Fusion 360 vs AutoCAD
Fusion 360 is 3D modeling software which deals with different types of designing works of Computer-aided design (CAD), Computer-aided manufacturing (CAM), Computer-aided Engineering (CAE), and Printed circuit board (PCB) also and it is one of the products of Autodesk. On the other hand, AutoCAD also works for 2D designing and drafting of different elements as well as components of engineering sectors such as electrical, mechanical, and civil, and so on.  It is also an Autodesk product, and Autodesk offers different types of subscription plans for both software. So let us have a discussion on different aspects of this two software. In this topic, we are going to learn about Fusion 360 vs AutoCAD.
Head to Head Comparison Between Fusion 360 vs AutoCAD (Infographics)
Below are the top differences between Fusion 360 and AutoCAD

These are some important points from which you can have lots of information about the basic knowledge of this software. Now let us move to the other part of this article, and in the next part, we will discuss the differences between this two software.
Key Difference between Fusion 360 vs AutoCAD
As we know, both software is dealing with designing purposes of different engineering as well as other structural industries, but both have their unique features, so let us have a look at them.
As I told you, AutoCAD is Trialware, so you can have it free during the trial period, but after that, you have to pay for a subscription of it, and Autodesk offers different type of plans such as if you are looking for the monthly plan then you can have it by paying $210, for an annual subscription you have to make a payment off $1690. Both plans will have full features of this software, and the price of plans can vary according to the requirement of users, so you can visit its official website for having information about which plan suits you.
If I tell you about Fusion 360, then it has several types of subscription plans for its use according to their requirement such as you can have a monthly plan for $395, one year plan for $2,590 (if you want to give this amount in installment then you have to pay $215.83 monthly). There is 3 years subscription plan also in $6995 ($194.31 monthly).
One thing that is common between both software is that Autodesk offers a free version (for a limited period) for students or educational purposes so that you can learn it without paying anything.
There are lots of things which we can do in AutoCAD, such as 3D modeling with limited features, solid object modeling, create surfaces with mesh, creating a photorealistic object by using rendering features, whereas Fusion uses curves-based modeling, or you can understand it as NURBS based. Here NURBS stands for non-uniform rational B-spline, but if you look at the technical point in this context, it actually uses T-splines.
2D drafting and drawing are key skills of AutoCAD, and you can do annotation of the different objects of 2d drawing, create the base, view projection, use the library for different components, and so many things in it while Fusion 360 works on solid modeling so we can call it solid modeler. So let me explain it by example; if I create a cube, it will be the solid object and cut it from the center or any other plan for diving into two parts, then there will be two separate surfaces after division.
We can categorize Fusion 360 under 3D modeling as well as CAD software, whereas AutoCAD can understand as CAD, BD (Building Design), and BIM (Building information modeling) software.
Comparison Table between Fusion 360 and AutoCAD
It is necessary to analyze the basic details of any software for understanding them deeply, so now I will take you through some of the basic information so that you have a clear view of both Fusion 360 and AutoCAD in your mind.
| | | |
| --- | --- | --- |
| | Fusion 360 | AutoCAD |
| Definition | Fusion is designed for creating 3D models of different components of CAD, CAM, CAE, and PCB by using its highly featured tools and parameters. | AutoCAD focused on 2d drawing and drafting for preparing 2d designs of a number of elements of different engineering as well as other related industries. |
| Developer and Initially released date | Autodesk developed it and launched it for public use on June 25, 2013, as its one of the 3d modeling software. | It was developed by Autodesk and launched by them in December 1982 as 2d drawing as well as drafting software. |
| Latest version | Fusion 360 2021 is the latest and currently stable version of this software, and you can collect more details of it from the official website of Autodesk. | Its latest or current stable version is AutoCAD 2021, which was launched on March 25, 2020, for overcoming the drawbacks of previous versions. |
| Operating system | You can run and install it on several operating systems such as Microsoft Windows 8.1, 10 and its later versions, and Mac OS. | AutoCAD also has its compatibility with different operating systems that are Microsoft Windows, Mac OS, iOS, and Android. |
| Supported Languages | English, Italian, German, French, Japanese, and Chinese is some of the languages that are supported by this software. | AutoCAD is multi-language supported software and is available in several languages such as English, French, Czech, German, Italian, Spanish, Korean, Chinese (simplified and traditional), Japanese, Brazilian, Portuguese, Russian, Hungarian, and Polish. |
| Availability | If you want to download this software and searching for more details of this software, you should visit www.Autodesk.com, which is the official website of Autodesk. | Visit www.Autodesk.com/autocad for having more details or updates related to its latest features. |
| License | It offers different types of licenses to its users. | It has a Trialware license type that means you can use its full features until its trial period is up, and after that, you have to pay for the full features of it. |
Conclusion
You can understand Fusion 360 and AutoCAD very easily now because we have discussed lots of good points about them, and it is easy now to start your work with any one of the software. If you are a beginner, you can start your learning with free versions of any software or software one by one.
Recommended Articles
This is a guide to Fusion 360 vs AutoCAD. Here we discuss the Fusion 360 vs AutoCAD key differences with infographics and a comparison table. You may also have a look at the following articles to learn more –