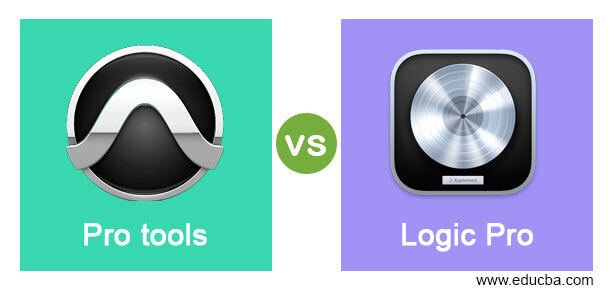 Introduction to Pro Tools vs Logic Pro
Pro Tools is a DAW software that means digital audio workstation and deals with mastering as well as editing process of an audio track. Not only editing and mastering it also works on production, creation, and recording of music or sound for achieving high quality of result, and for this purpose, it offers high featured tools to their user. Logic Pro is both a digital audio workstation and MIDI sequencer software which is created for the Mac OS platform and has standard tools that can easily deal with editing of audio as well as for the MIDI sequencer process.
As you see in the introduction both software is using for the same type of purpose and have their own features as well as tools for doing audio editing task so let us first discuss this two software from the very basic information of them.
Head to Head Comparison between Pro Tools vs Logic Pro (Infographics)
Below are the top 10 comparisons between Pro Tools vs Logic Pro:

Comparison between Pro Tools and Logic Pro
By comparing Pro Tools and Logic Pro you will get an idea about system requirements, their version, supported language, license type, and so on.
| | | |
| --- | --- | --- |
| | Pro Tools | Logic Pro |
| Definition | Pro tools are a digital workstation for editing and mastering the process of audio tracks and this workstation also involves in production as well as the recording of sound or music. | Logic pro is also a digital workstation of audio editing as well as works as a MIDI sequencer for having different types of manipulation in audio tracks. |
| Developer | Evan Brooks and Peter Gotcher were its original developer but it was launched by Avid Audio under Avid technology for public use. | It was originally developed by C-Lab in the early 1990s and named Notator Logic or Logic but later on, in 2002 it was acquired by Apple and renamed Logic Pro. |
| Initially Released | Avid audio initially released on January 20, 1989, as digital audio workstation software. | It was initially launched for public use in 1993 as Notator Logic for dealing with MIDI sequencing process and audio editing. |
| Latest or Stable version | On December 22, 2020, its latest version was launched to resolve issues of the previous version and this version is Pro tools 2020.12. | On November 12, 2020, it's latest or current stable version was released and named 10.6.1. |
| Operating systems | It can be run on different operating systems such as Mac OS and Microsoft Windows. | It has its compatibility only with Mac OS. |
| Supported Languages | This software has its compatibility with a number of supporting languages and these are English, German, Chines (traditional and simplified), Japanese, French, Korean and Spanish. | It is available in different languages which makes it more understandable by a variety of users. These languages are English, French, Japanese, Spanish, German, and Chinese. |
| Written in | It is written in C, C++, and Assembly languages. | It is written in C, C++, Objective-C, and Swift computer languages. |
| Type | It can be categorized under Digital Audio Workstation Software. | It can consider under MIDI sequencer as well as Digital Audio Workstation software |
| License Type | It has a Proprietary license type. | It has also a Proprietary license. |
| Availability | You can find the download link of this software from www.avid.com/pro-tools which is its official website and can also visit here for other updates related to this software. | You can have it from the Mac App Store to start working with it. |
These were all possible information about Pro Tools and Logic Pro and by analyzing these facts you can have a basic idea of different aspects of this two software. Now let me tell you about the special characteristics of Pro Tools and Logic Pro for enhancing your knowledge level about them.
Key differences between Pro Tools and Logic Pro
Here in this section of the article, you will get knowledge about special features and facts of this software that make them popular in their field.
You must think about are both software is affordable to you? You can have Pro tools by paying $299 as annual subscription charges with free support and get time-to-time details of all updates related to its new features. This is starting price of this software and will vary with additional features and facilities. You can have details about different prices and additional features from its official website.
For having a Perpetual license it you have to make a payment of $899 for an annual subscription. Apart from paid versions it also offers free trial versions to its users but for a limited time period. You can learn lots of things about it from the trial version.
If I tell you about Logic Pro then you can have Logic Pro X by expending $199.99. It is an apple product and currently, they are offering a 90-day free trial to their users under some terms and conditions. Generally, they offered 30 days free trial for Logic Pro.
Pro tools have a number of standard features that can easily incorporate with industry standards while Logic Pro is popular among professional musicians.
Pro tools require 16 GB of RAM with 32 GB or more as recommended size whereas Logic Pro requires 8 GB of RAM and 6 GB minimum installation space in the disk.
Logic Pro X, which is one of the versions of Logic Pro has a number of professional tools that can easily use in songwriting, editing, beat mixing, and many other tasks that can be performed in this software.
With Pro Tools, you can do composing, recording, mix, and editing audio as well as music. You can create tracks in it without any problem and speed up your work.
You will have the Quick Help option in Logic Pro X which makes your work easy and smooth during working with this software while Pro tools may create little bit of problems for you during handling it due to difficulties in the navigation of some options.
Conclusion
Now you can say that Pro Tools and Logic Pro are that two software about which you have enough knowledge and you can use the above-discussed information for making a decision about which software will be good as a digital audio workstation and give the best result in audio editing as well as mastering process.
Recommended Articles
This is a guide to Pro Tools vs Logic Pro. Here we discuss the key differences with infographics and comparison table. You may also have a look at the following articles to learn more –