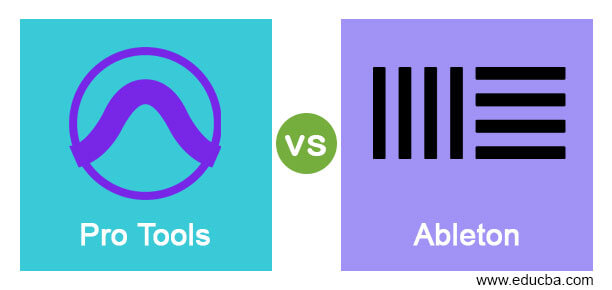 Difference Between Pro Tools vs Ableton
Pro tools are a digital audio workstation which is used for editing and mastering process of audio track where during this process it offers a number of adjustable parameters. It also deals with production, recording, and creation of sound as well as music for adding a number of effects to them. Ableton is also a digital audio workstation and generally designed for instruments that are used for live performance and also work as composing, arranging, recording, mixing, and mastering software for music as well as sound. It also used by DJs because it offers a wide range of control for beat matching, crossfading, and for adding many different types of effects.
Today I will tell you about every aspect of these two digital audio workstation software so that you can start using them for audio editing and mastering work.
Head to Head Comparison between Pro Tools vs Ableton (Infographics)
Below are the top 9 differences between Pro Tools vs Ableton:

Key Differences between Pro Tools vs Ableton
Some of the key differences between the Pro Tools vs Ableton are given below:
Although both software is using for the same type of audio editing work their developer's inbuilt different features for achieving the best result in their work. So let us now discuss those inbuilt features which make them different from each other.
Having being proprietary license you have to pay for having both of the software. Pro tools offer different types of packages to their users according to their requirements such as for an annual subscription of it you have to pay $299 and this is not a fixed price it can vary according to additional features and requirements.
The second package offers by Pro tools is a Perpetual license and for it, you have to pay $899. It also offers you a free trial version for a limited period. This makes it convenient to start work with it without paying anything.
Ableton you will also have variation in price according to version, features, and so on. For Ableton Live 10 it will cost $99 (for Live Intro), $499 (for Live Standard), and $749 for Live Suite.
For Ableton Live 10 box version you have to pay $99 (for Live Intro), $499 (for Live Standard), and $799 for Live Suite. You can visit its official website for having more detail of the package plan of different versions.
If I talk about Pro tools then it is great for tracking bands, working with audio, editing, and mastering process of audio, music, or sound while Ableton is a slightly creative tool and has lots of plugins as well as instruments for doing this type of creative work with lots of trending effect.
For Live Users, the interface of Ableton divided into views where the first one is the Arrangement view and the second is the Session view. Both views are for the management of different parameters. With AbletonLive can utilize audio samples or MIDI sequences, use as clips that are arranged to be played live. This is a very good feature of Ableton.
You can operate the Pro tool as standalone or in conjunction with a wide range of analog to digital converters as well as PCIe cards with digital signal processors.
Now by above-discussed points, you can extract some of the standard detail for analyzing both software deeply.
Pro Tools vs Ableton Comparison Table
By comparing both software you will have an idea about their capability of doing audio editing work and what type of accessories you need with this software.
| | | |
| --- | --- | --- |
| Basis | Pro tools | Ableton |
| Definition | Pro tools are used for audio editing and master purpose. It also works for music production and recording for getting an effective results. | Ableton is designed for making controls of different aspects of live instruments and also incorporate with composing, recording as well as the mastering of audio tracks. |
| Developer and Initially released | Pro tools were released under Avid technology by Avid audio and Avid audio launched it on January 20, 1989, for working as a digital audio work station but its developer were Evan Brooks and Peter Gotcher. | Ableton got its a name from its developer that means it developed by Ableton for control live instrument parameters as well as for doing audio editing |
| Latest or currently Stable version | Pro tools 2020.12 it its currently stable or the latest version which was released for public use on December 22, 2020, with a number of updates. | Its latest version 11.0 is launched by Ableton on February 23, 2021, with lots of new features to overcome the issue of the previous one. |
| Operating system | Pro tools have their compatibility with two major operating systems are Microsoft Windows and Mac OS. | It can run on two operating systems such as Microsoft Windows and Mac OS. |
| Supported Language | You will find it in a number of supporting languages and these are English, German, Japanese, Chinese (traditional and simplified), French, Korean and Spanish. | Ableton is multilingual software and supported many different languages such as English, German, Italian, Japanese, French, and Spanish. |
| Written Language | C, C++, and Assembly are those computer languages in which this software is written. | It is written in only one computer language which is C++. |
| Software Type | Digital Audio Workstation is a type of software under which this software can be categorized. | It can also consider under the Digital Audio Workstation type of software. |
| License Type | It can be listed under a Proprietary license. | Proprietary is the license type under which it is listed. |
| Availability | www.avid.com/pro-tools is the official link by navigating this link you can download it under some terms and conditions of its developers. | For having a download link of it you have to visit www.ableton.com which is the official website of Ableton. |
I think these are enough points to explaining the the basic features of Pro Tools and Ableton and you can use this information to understanding this software from your end. Now we are going to discuss some other facts and features for delving with Pro Tools and Ableton.
Conclusion
Now no doubt Pro Tools and Abletonare not new software for you because we did a good discussion on different aspects of both software for understanding them in a better way in this article. You can try both software for audio editing work because both are good in their work in their style of doing that.
Recommended Articles
This is a guide to Pro Tools vs Ableton. Here we also discuss the Pro Tools vs Ableton key differences with infographics and a comparison table. You may also have a look at the following articles to learn more –