Updated July 21, 2023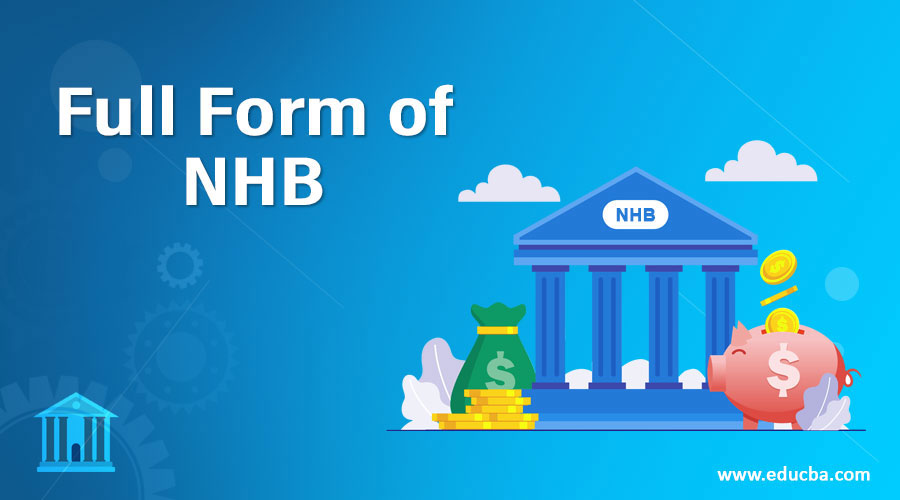 Introduction to NHB

The Full Form of NHB is (National Housing Bank) and it is an apex level institution which was established by the Parliament of India through the passage of a special Bill known as National Housing Bill in the winter session of Parliament in the year 1987.
Following which the National Housing Policy proposed setting up of National Housing Bank in the year 1988. Thus National Housing Bank was set up on July.9, 1988 in accordance with the rules laid down in National Housing Policy, 1987.
What is National Housing Bank?
National Housing Bank acts as an autonomous Institute with focus on Housing development, promoting Housing Finance Institutions across the country for both regional and national development of Housing Infrastructure and also to make available financing needs of these Institutes through either fundraising for onward refinancing to such Institutes or to provide a guarantee to such Institutions for raising finances.
National Housing Bank operates under the control of its Board of Directors and the Current Managing Director of National Housing Bank is Mr. S. K. Hota along with various other Directors which are appointed and includes officials of Reserve Bank of India, Ministry of Finance, Ministry of Rural Development and Ministry of Housing and Urban Affairs. Together the Board of Directors manages the functioning of National Housing Bank. It acts as a regulator of Housing finance Companies operating in India and is responsible for the proper functioning and control of Housing Finance Companies, their financial stability as well as ensuring the creation of Housing Units in line with the government objective of Housing for All by 2022. The entire Paid-up Share Capital of National Housing Bank is owned and controlled by the Central Bank of India i.e. Reserve Bank of India. National Housing Bank operates across India through its Branch Offices and its Head Office is located in the Capital city of India i.e. New Delhi.
Vision of National Housing Bank
National Housing Bank is established with the vision to promote housing for all and stabilize the market for Housing finance in order to serve the housing needs of all segments with special focus on affordable housing segments for lower and middle-class people. The Organization functions with fifteen different departments and has a lean structure with a professional setup.
Role and Objectives of National Housing Bank
National Housing Bank has a specific role that is inherited with the purpose behind its formation in the year 1988. Its major role and objectives are enumerated below:
The first and foremost objective is to ensure the availability of adequate financing for Housing Infrastructure development as well as a seamless flow of liquidity to various Housing finance Institutes to ensure timely financing to various Income segments (Lower, Middle and Higher Income group).
Another important objective behind creation of this apex Institute is to ensure proper regulation and supervision of Housing Finance Companies operating in the Country, timely audit of them, ensuring their compliance with the relevant guidelines as well as ensuring the credit is made available by such organization at affordable rates to meet the objective of housing for all.
Another important role National Housing Bank plays is in increasing the number of housing units in the country. To achieve this objective NHB plays a pivotal role in making available land for building Housing by acting as facilitator, ways, and means to enable companies in the Housing segment to raise funds as well as smoothening the entire function to bring in more efficiency and enhanced productivity.
Functions of National Housing Bank
Regulation and Supervision of Housing Companies operating in India is one of the most important and foremost functions of this apex Institute, powers of which are derived from the National Housing Bank Act.
Raising of Funds on large scale and onward refinancing to Housing Finance companies, Cooperative Banks and other housing agencies for onward lending to Individual and Infrastructure companies in Housing Segment.
Ensure Housing Finance Companies meet regulatory Capital requirements as required by BASEL norms, have proper risk management framework in place, good governance practices, etc.
Benefits of National Housing Bank
Exclusive and focused Institute for Housing Infrastructure finance.
Acts as a guaranteeing institute for small Housing finance companies who lack the capability to raise funds from the market.
Expertise in Underwriting Housing Finance with a solid credential, skilled staff.
Creation of Housing Stock and facilitate the construction of new houses through refinancing.
Due to the support extended by National Housing Bank to Housing Finance Companies, there were more than 100 Housing Finance companies that have established themselves in India and together these companies have more than 5100 branch offices spread across the country contributing to the achievement of Housing for all goal of the government.
Conclusion – Full Form of NHB
National Housing Bank plays an indispensable role in acting as an interface for providing financing for the development and creation of Housing Units in India. This apex Institution plays a very pivotal role with a specialized focus on the Housing segment which is one of the basic and also one of the most cherished dreams of any household in India. National Housing Bank is playing a big role in achieving the current government mandate of Affordable Housing for all by 2022 by making available the much-needed financing at accessible rates to Housing Finance companies as well as to other Cooperative Organization working towards Housing Infrastructure.
The shortage of Housing is a rampant problem in India and majority of the Indians live in rented accommodation, National Housing Bank is playing the epitome role in connecting the dreams of billions. Not just that creation of Housing results in attracting Investment in more than 32 different types of Industries thereby bringing loads of employment opportunities and as per a recent study for every Hundred rupee spent in creation of Housing 12% gets collected as Indirect tax thereby increasing tax collection, in fact not just that every additional rupee invested in Housing Sector contributes one and a half times addition to Gross Domestic Product (GDP) of the nation.
Recommended Articles
This is a guide to the Full Form of NHB. Here we discuss the full form of NHB and the role and objectives of the national housing bank along with benefits. You may also look at the following articles to learn more –