Updated June 2, 2023
ETA Meaning
How frequently are you required to queue for a buddy who is late? It's interesting how some individuals are so awful at scheduling while being so brilliant at inventing excuses for being chronically late. There's traffic, damaged autos, alarm issues, and extraterrestrial visits. Whatever the situation, you swallow another justification, squander your time, and are likely to feel frustrated, furious, or sad, depending on your personality type.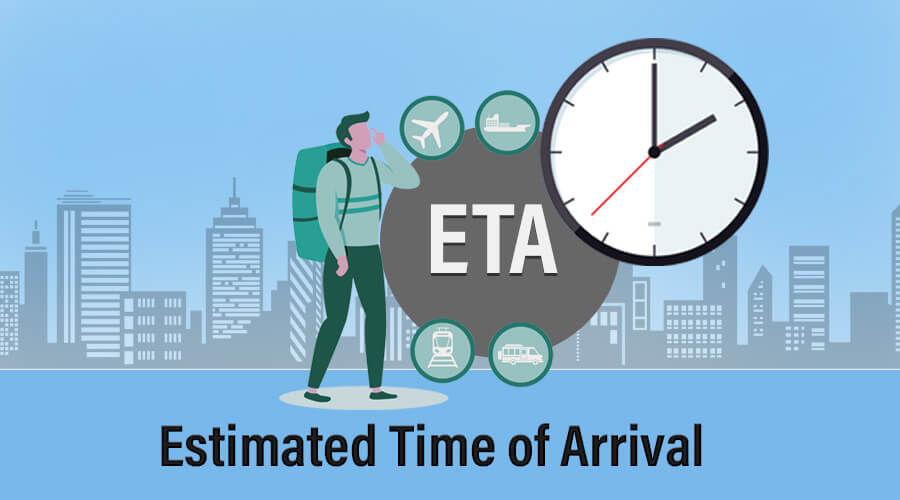 Estimated time of arrival, abbreviated as ETA, is a word used internationally to express the time of arrival. It is used in the shipping and logistics business to forecast when cargo will arrive at its ultimate destination port. Carries send arrival estimates to consignees so that they may plan their next steps based on when the cargo will arrive at the ultimate port. The container may come after the due date.
The estimated time of arrival (ETA) of a vessel, crate, or package in transit might assist the recipient in tracking their shipment without calling the shipment office. Simultaneously, operational teams may utilize this data to increase predictability and optimize supply schedules.
How to Determine the Estimated Time of Arrival?
Several variables are brought into mind while computing ETAs. These are some examples. The distance from the point of origin to the end of the destination.
The vessel's average speed
The number of ports of call
Weather and climate conditions
Time to refuel the vehicle
Congestion and port traffic
Unexpected emergencies, for example.
Formula
Using the following formula, you can compute the anticipated time of arrival:
Estimated departure time + Estimated transit time = Estimated arrival time (ETA)
Carriers must appropriately assess the time investment in procedures when issuing ETAs. Real-time visibility provided by API connectivity and intelligent technology aids in tracking vessels and providing an accurate departure time at the port for the ship or container.
ETD vs. ETA
Estimated time of departure & Estimated time of delivery is two interchangeable words. When the vessel anticipates leaving the origin port is the estimated time of departure (ETD). Based on this, one may evaluate the arrival time (ETA).
The estimated delivery time (ETD) is when the shipment anticipates arriving at the final destination, which is the consignee's address. ETD is rarely calculated but instead planned based on last-mile delivery activities. Please keep in mind that the expected arrival time (ETA) pertains to the ultimate port of destination, not the delivery location of the consignee. The predicted time of delivery is computed based on the ETA.
Estimated departure time (ETD) Estimated arrival time (ETA) Estimated time of delivery (ETD)
Actual Arrival Time vs. Estimated Arrival Time
As the name implies, the estimated arrival time is the projected time when the vessel expects to arrive at the port.
Terms linked to estimated arrival time
Estimated departure time
Complete container load
fewer than a container load
Ocean cargo
We've all experienced unexpected traffic delays caused by accidents, road construction, and other factors that affect our projected arrival time. It would be best if you left sooner than necessary. Bring books and study materials with you if you come soon so you may broaden your thoughts and have more intellectual weaponry for the job at hand. Carry articles and reading that will help you learn more about the next conference.
You can speak with significant individuals who are already present if you arrive early. It may be the helper or coworkers that were there before your visit. One or two remarks or observations will provide you with valuable information for your forthcoming presentation.
Final Thoughts
There are several responses to the question, " Why is it important to calculate the ETA?". One thing is sure: the more precise the expected arrival time (ETA), the more efficient transportation and logistics organizations may use it. This article enables even more exact ETA predictions by including a wide variety of order-related data, such as routes for all allocated operations, current traffic, and different characteristics, such as historical average loading and unloading durations for each activity or remaining driving time.