Updated July 21, 2023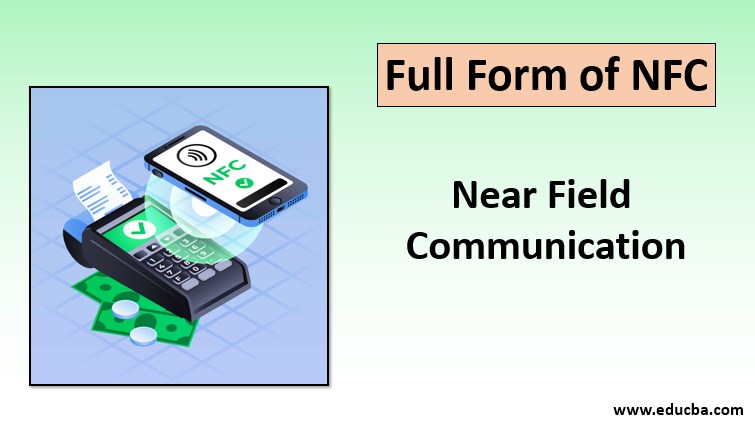 What is the Full Form of NFC?
Near Field Communication is a wireless technology for short-range connectivity in smartphones, tablets, payment cards, etc. NFC helps an individual to transform information from one device to another in one touch for various purposes like bill payment, sharing content, or downloading information.
History of NFC
NFC technology history started in 2004 with the NFC Forum by Nokia, Philips, and Sony. The intention of forming this organization is to promote the convenience and security of near-field communication.
The technology base started way before with Radio-frequency identification (RFID).
In 2006 forum was successfully able to put the first step of the structure of NFC technology with a specification of NFC tags, creating a roadmap for the future for various companies to work in this field.
NFC tags read-only stickers with information that smartphones can read.
Nokia launched the first NFC-enabled phone, Nokia 6131, in 2007.
By 2011, many companies launched NFC-compatible devices to test their popularity.
From 2011-2016

Development of a Payment system through smart poster via the mobile phone app.
The payment process developed through the partnership of many companies like Samsung and VISA decided to develop the payment system.
Development in the security system of the NFC device IBM developed authentication technology.
Companies launch payment systems through tie-up with mobile companies and banks.

After 2016 services like google pay, apple Pay offered customers ease of payment through handheld devices or wearables.
Characteristics of NFC
Single Touch: Near Field, Devices works with one single touch to save time in data transfer, payment, banking, and information transfer.
Versatile: NFC technology works with various fields like offices, cafes, and restaurants, colleges, universities to keep track of employees and students to maintain data security. At the same time, social networking, gaming, and the collection of coupons through the wireless network are easy for individuals.
Technology: Quick and easy setup for wireless technology through devices.
Short-range: NFC devices work with short distances, usually up to 10 cm, as it creates a magnetic field with the power to receive a signal through radio fields.
How Does it Work?
For NFC to work, devices willing to transfer and receive must have an NFC chip within their building. Near Field Communication uses electromagnetic radio fields to make transfer of data. Both devices need to be very close to each other. Device transfer data to another device with physical touch or from not more than a few centimeters (not more than 10cm) away from each other. The transfer action should be performed intentionally to avoid any unwanted theft or transaction due to pocket dial.
NFC uses magnetic induction, which emits electronic current, creating a magnetic field between devices to bridge the distance. In contrast, the signal received by similar technology by receiver devices and data transfer occurs. The speed of transfer is generally not more than 424kb/s
P2P Transfer: transferring information by switching between the active and passive state of the device
Read/Write mode: Active device reads/writes with a passive device through NFC.
Card Emulation: Payment system used to get information on the card for wireless payment in one tap.
Examples of NFC
Samsung Textiles: NFC tags allow individuals to update social media, customize profiles on mobile (silent, normal, outdoor), make a call, and open a webpage through its applications. Once individual programmed tiles in one tap, it automatically adjusts according to the environment.
Sony Xperia Smart Tags: In competition with Samsung Textile, Xperia smart tags work on NFC technology. Once the individual places these tags at home, office, car, etc. It adjusts according to the environment, like turning Wi-Fi on in mobile devices instead of using mobile networks or switching profiles into silent in the office or bedroom with one tap.
Nokia Tags: Nokia promotes using NFC tags in public areas, so individuals with one tap look into categories of products, colors, facilities, price ranges, etc.
Research in Motion: Famous, especially in BlackBerry, with one-touch music that can be streamed in-car or home music system or shared with friends.
NFC vs RFID
| | |
| --- | --- |
| NFC | RFID |
| Near Field Communication reads, shares, transfers, writes and works as a tag in the payment system. | RFID stands for Radio-Frequency Identification which enables powered devices to read tags, unpowered tags, sticks |
| NFC is used for Banking, Payment systems, and data transfer. | RFID is used for Tagging products, Tracking locations, and Tracing progress. |
| NFC works with short distance | RFID can work from comparatively long distance |
| Expensive | Cheap |
Advantages and Disadvantages in Full Form of NFC
Below are the points to explain the advantages and disadvantages :
Advantages
Ease of Use: Since the development of mobile wallets, customers can make quick payments through smartphones or wearables. With one-touch payment, consumers don't need to carry cash or heavy wallets.
Versatile: NFC provides various services like payment, banking, reservation of movies or restaurants, and collecting coupons, making it an attractive package of multiple services in your pocket with a single device.
User Experience: Quick and wireless technology development helps many businesses and consumers increase productivity and avoid time-consuming processes.
Smooth Functioning: Many offices, colleges, and universities use security systems to enter and exit through their Mobile devices. Many employers maintain data security by sharing information through NFC in the office.
Security: services like mobile wallets are proving to be much more secure than credit cards, where device card and payment details are passwords protected even in case of mobile theft. NFC enables Cards to be much safer than cards with the magnetic strip since it avoids physical access to customers' debit and credit cards.
Disadvantages
Short Distance: NFC only works when two devices are very close, which can be a headache for people at long distances since they can only connect the device when they are close to each other.
Low Speed: The data transfer rate is still very low, 100kb/s to 424kb/s, which makes it difficult and time-consuming to transfer large data.
Expensive: Adopting NFC technology is difficult for small businesses since installation and maintenance costs can reduce substantial profit.
Less Advantage: Many customers looking for payment through the NFC system goes toward larger companies, smaller companies for whom NFC is expensive losing their customers.
Security Issues: Even after proven security comparisons with credit cards, the NFC system still faces security threats because huge technology development frauds still occur. With mobile hacking, entire data, and NFC systems come into question. Vulnerability in case of security issues towards personal data acts as a continuous challenge in this technology.
Power Consumption: It is observed that the power consumption rate in NFC-compatible devices is a bit high compared to others.
Conclusion – Full Form of NFC
Near Field Communication faces challenges in security, Cost in the market. Still, it has grown since 2010 through various mobile devices, payment systems, and banking services through partnerships between companies to develop new, easy, secure infrastructure. Companies like Apple and Samsung use NFC in flagship devices as a selling point, with mobile wallet technology and new NFC enables cards that make this technology secure and easy to use for everyone.
Recommended Articles
This is a guide to the Full Form of NFC. Here we discuss the history of NFC, its characters, examples, and how it works, with its advantages and disadvantages in detail. You can also go through our other related articles to learn more –