Updated March 31, 2023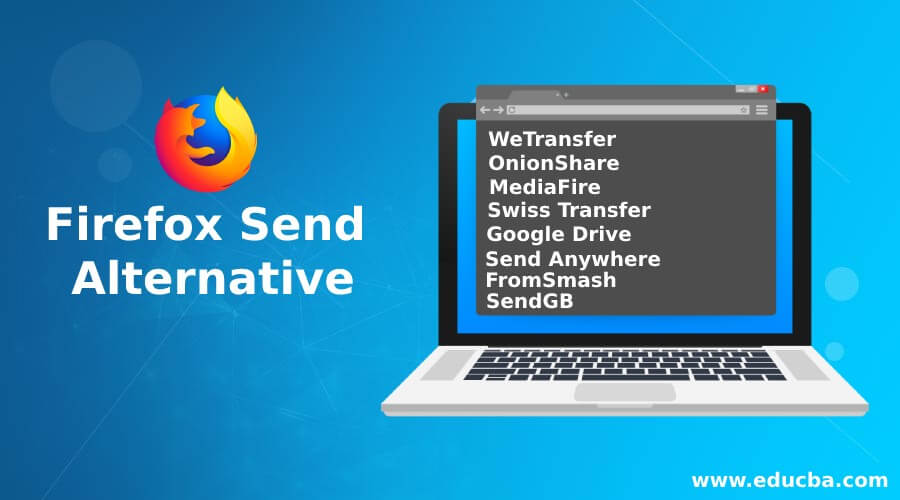 Introduction to Firefox Send
The following article provides an outline for Firefox Send Alternative. Firefox Send was a top-rated service for file sharing, allowing users to send encrypted files with full confidentiality and safety. Firefox Send is very safe as without worrying about hacking or stolen your data, you could send everything. However, in September 2020, Mozilla stopped sending Firefox. The very reason that Firefox Sends was so popular, which allowed users to send encrypted files with complete security and privacy, was unfortunately why some bad players took advantage of it.
Alternatives of Firefox Send
Given below are the alternatives of Firefox Send:
1. WeTransfer
WeTransfer is another cool website that you can use in the absence of an entry to transfer files. Just upload your files to the homepage box to get started. You can enter an e-mail address for files to be sent, or you can get a transfer link for your friends to share. However, you are limited to 2 GB, meaning that your capacity is smaller than that given by Swiss Transfer.
2. OnionShare
OnionShare is the open-source protocol for sending and sharing encrypted files using a tor network. The Windows, Mac or Linux software can be downloaded. Click Share Files to begin sharing encrypted files after downloading the software. If you just share files with a single person, the files are deleted automatically once they are downloaded so that no one can access them. You can uncheck this feature if you want to share the files with several people.
3. MediaFire
MediaFire is a great choice for Firefox. Sending to send and share videos, papers, pictures and other media files. Register and create your account to get started. + The free account limits you to 10 GB of storage while registering freely. Ads are also supported for downloads.
Premium plans begin at only $3.75 a month and allow for more storage (The Pro Plan allows you 1 TB of storage, while the $40/month Business Plan lets you store 100 TB).
4. Swiss Transfer
In this respect, Swiss Transfer is similar. You do not need to create or register your information for Swiss Transfer to share files. You can send up to 50 GB at a time, which is very nice because many other file-sharing services allow you to upload files up to 2 GB or so. You can also make up to 500 transfers of files a day, which is also quite cool. The best thing is that it is fully free to use Swiss Transfer. You don't have to pay anything. You still can protect your uploads with a password, although you do not have to create an account.
5. Google Drive
In fact, Google Drive is a secure and safe way of sharing files. By sending a share link, you can share a document from Google Docs and set permissions as to who is able to edit, comment, or read the document. Similarly, you can easily share tablets or slideshows with documents from Google Sheets or Google Slides. However, other Google Drive files can also be accessed. Just upload to your Google Drive account any document you want to share.
6. Send Anywhere
The quick and anonymous way it allows you to send files instantly is a unique alternative to Firefox Send. Just upload the file that you want to send to the website to start. You will receive a nine-digit code and a QR code once you do this. The recipient can then enter the 9-digit code for downloading the files. You can scan the QR code as well. The code is only valid for 10 minutes and, unless the receiver enters the code, it will lose its chance to download the files within the next 10 minutes.
7. FromSmash
FromSmash, another alternative Firefox Sending, is fantastic for its simplicity. To use the service, you don't have to create an account. If you land on this page, you can download your files by simply clicking on the big button. Then you can either obtain a download link or send the files by email. You can set a password to protect your files and set how long you would like to download the files.
8. SendGB
The ultimate alternative to send Firefox is SendGB. For sending up to 5 GB, SendGB is always free. However, you can only store your files for up to 7 days compared to 90 days if you send more than 250 MB. You can also register for your premium plan to increase your storage limit to 20 GB at a time. It costs €49.90/year. For updated pricing information, please see the SendGB Extra page.
Conclusion
In this article, we have seen Firefox Send alternatives. You can choose any of them based on your requirements.
Recommended Articles
This is a guide to Firefox Send Alternative. Here we discuss the introduction and alternatives of firefox send for better understanding. You may also have a look at the following articles to learn more –