Introduction to Best Finance Books
Finance books offer abundant knowledge about personal and business finance management. They provide expert guidance and practical strategies to manage your finances effectively. There are numerous books ranging from basics offering knowledge on personal finance and economic principles to advanced books that include investment strategies and risk management.
In this comprehensive article, we have added the top 10 finance books for you to choose from.
#
Book
Author
Originally Published
Ratings
1
Money Master the Game
Tony Robbins
2014
Amazon: 4.4

Goodreads: 3.98

2
The Barefoot Investor
Scott Pape
2016
Amazon: 4.7

Goodreads: 4.4

3
The One-Page Financial Plan
Carl Richards
2015
Amazon: 4.3

Goodreads: 3.75

4
The Intelligent Investor
Benjamin Graham
1949
Amazon: 4.5

Goodreads: 4.25

5
How Finance Works
Mihir Desai
2019
Amazon: 4.6

Goodreads: 4.53

6
The Millionaire Fastlane
MJ DeMarco
2011
Amazon: 4.6

Goodreads: 4.32

7
The Millionaire Next Door
Thomas J. Stanley and William D. Danko
1996
Amazon: 4.4

Goodreads: 4.06

8
The Simple Path to Wealth
J.L. Collins
2016
Amazon: 4.7

Goodreads: 4.44

9
When Genius Failed
Roger Lowenstein
2000
Amazon: 4.4

Goodreads: 4.20

10
Broke Millennial
Erin Lowry
2017
Amazon: 4.6

Goodreads: 3.95
Let us review all the finance books and note their important points individually.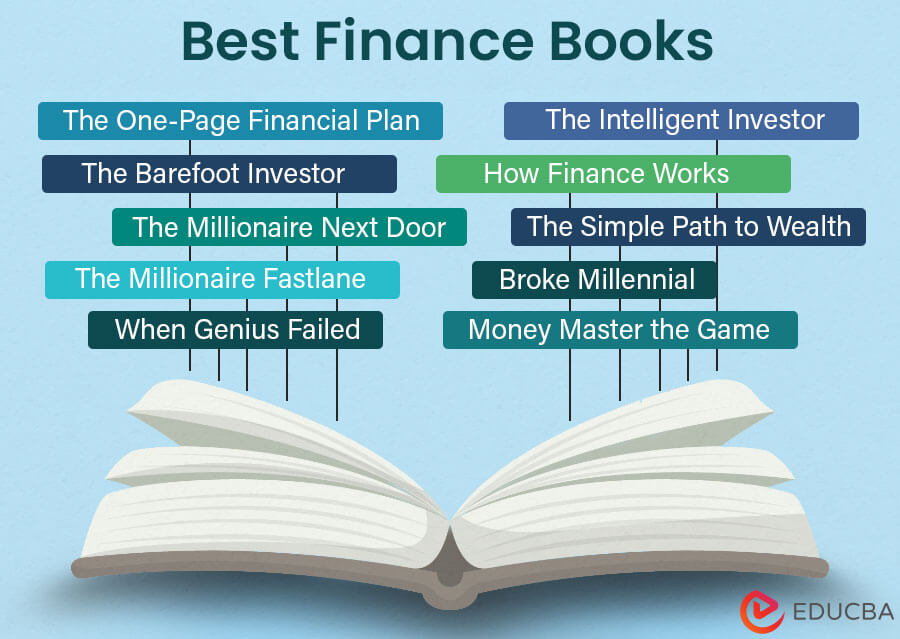 Book #1: Money Master the Game: 7 Simple Steps to Financial Freedom
Author: Tony Robbins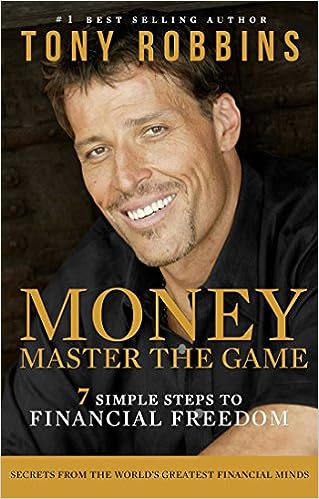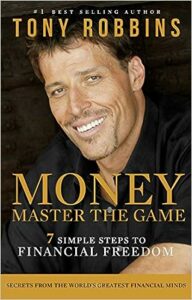 Get this book here.
Review:
Tony Robbins spent ten years researching this book. Following the 2008 financial crisis, he resolved to assist ordinary people in securing a bright future. So, he interviewed famous billionaires like Warren Buffett and Jack Bogle and assembled their best strategies.
Key Points:
The book shows how you can use the compounding power of interest to build organic and passive wealth.
It provides you with a step-by-step guide to achieving financial freedom. It asks you to pick a clear goal among covering basic expenses, basic plus fun, or financial independence.
It also says to use a three-bucket system to diversify your investments: Security, growth, and dream bucket.
Book #2: The Barefoot Investor: The Only Money Guide You'll Ever Need
Author: Scott Pape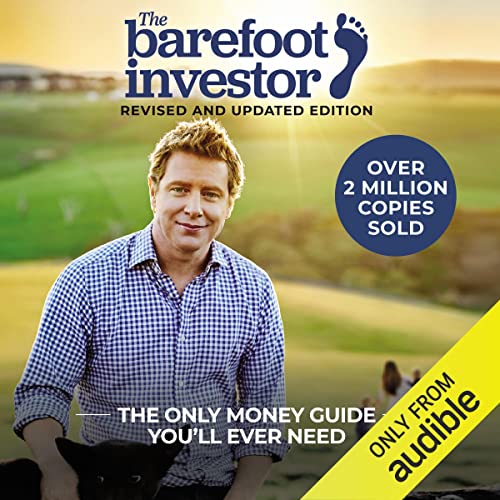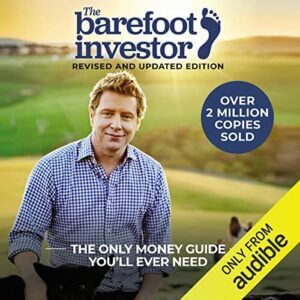 Get this book here.
Review:
Scott Pape is the most trusted finance expert in Australia. His book "The Barefoot Investor" teaches you how to take control of your finances in three stages: Planting, growing, and harvesting. He also strikes a balance between simple and practical advice.
Key Points:
The book helps you understand how using multiple bank accounts simplifies wealth operations.
It says to first shred your credit cards and begin by paying off your debt.
The author also shows how index finances can help you automate some of your withdrawal planning.
Book #3: The One-Page Financial Plan: A Simple Way to be Smart about Your Money
Author: Carl Richards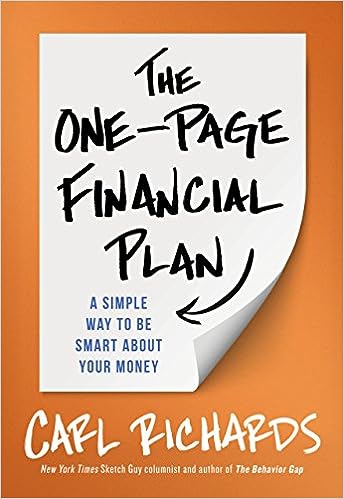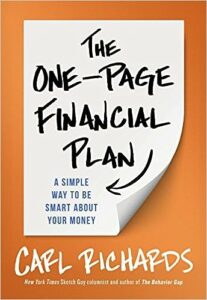 Get this book here.
Review:
Carl Richards has worked as a financial advisor for Wells Fargo, Merrill Lynch, and other firms for over 40,000 hours in the last 20 years. The content of his book depicts the concepts that assisted him and his wife in planning their finances on a single piece of paper.
Key Points:
The book teaches you to set some objectives but also to be flexible and adaptable along the way.
It explains how you can make budgeting a game to make saving more enjoyable.
The book will encourage you to view repaying debt as a valuable investment in your future.
Book #4: The Intelligent Investor: The Definitive Book on Value Investing
Author: Benjamin Graham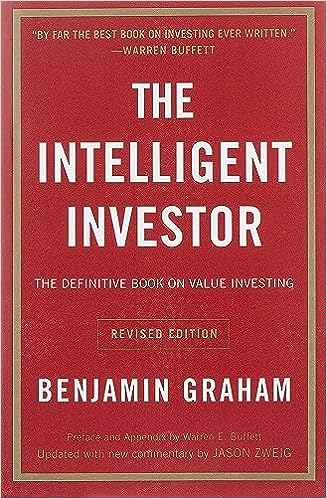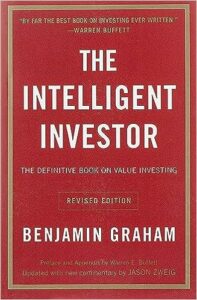 Get this book here.
Review:
Warren Buffett says this is the most stylish investment book ever written. The book focuses on value investing and helps you build a solid investment foundation. It will teach you how to manage risks and invest intelligently for the long term.
Key Points:
Intelligent investing is based on three principles: analyze for the long term, protect yourself from losses, and avoid being greedy for extreme profits.
The book explains that the market is extremely irrational in the short and medium term. Thus, investing in the long term is a safer and more intelligent option.
The author states that you will be fine if you stick to a strict formula for making all your investments.
Book #5: How Finance Works: The HBR Guide to Thinking about the Numbers
Author: Mihir Desai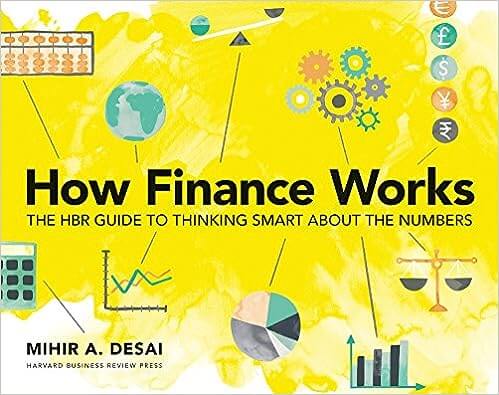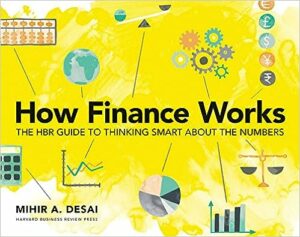 Get this book here.
Review:
The book is a simple guide for everyone to understand the complex world of finance. Mihir Desai, a professor at Harvard Business School, used his extensive finance experience to clarify the financial world's intricate concepts. It provides immense value to a complete beginner as well as a finance professional.
Key Points:
The book covers various financial topics, including financial markets, investment strategies, risk management, and corporate finance.
The author uses real-world examples and case studies in the book to show how you can apply these financial concepts in real life.
Unlike other finance books, the author uses engaging storytelling to make finance relatable and enjoyable at the same time.
Book #6: The Millionaire Fastlane: Crack the Code to Wealth and Live Rich for a Lifetime
Author: MJ DeMarco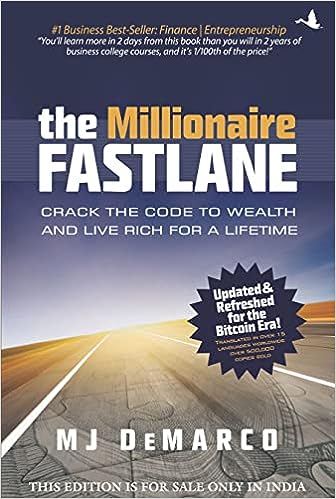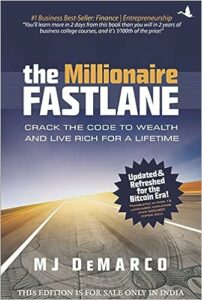 Get this book here.
Review:
"The Millionaire Fastlane" provides a new perspective on achieving financial freedom through entrepreneurship, innovation, and leveraging time. The book, which is suitable for all readers, explains how important it is to have a passive source of income to become financially independent. The author offers practical strategies for building wealth and living life on your terms.
Key Points:
The author promotes owning a business and creating several income streams rather than just investing in the stock market.
The book contains several practical strategies, principles, and real-world examples to help you achieve financial success.
It describes a mindset you should carry that focuses on creating value, solving problems, and seizing opportunities in the marketplace.
Book #7: The Millionaire Next Door: The Surprising Secrets of America's Wealthy
Author: Thomas J. Stanley and William D. Danko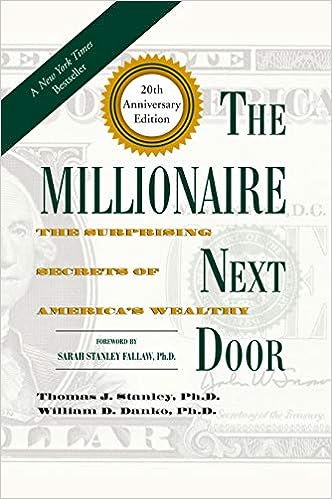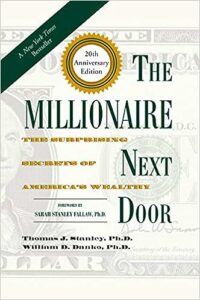 Get this book here.
Review:
The authors of "The Millionaire Next Door" mention American millionaires' financial habits and characteristics. It shines a light on the way millionaires live their lives. One of the book's main ideas is that millionaires have solid financial habits and lifestyles that reflect their financial stability and independence.
Key Points:
The book will teach you that budgeting and tracking expenses is an important practice that will allow you to prioritize saving and investing.
The authors introduce several financial concepts like PAW(prodigious accumulator of wealth) and UAW (under accumulator of wealth) to show that people with modest incomes can also become millionaires.
The book also highlights that continuous learning and constant education are necessary for financial success.
Book #8: The Simple Path to Wealth: Your Road Map to Financial Independence and a Rich, Free Life.
Author: J.L. Collins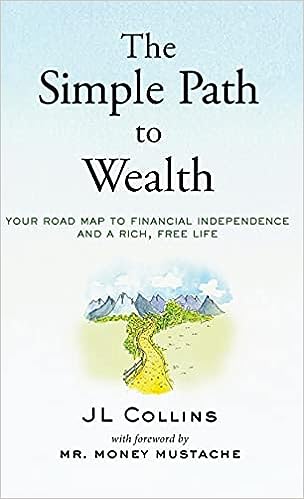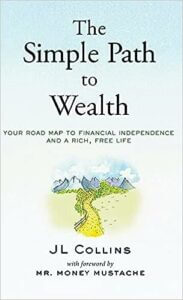 Get this book here.
Review:
This book on finance will provide you with the simplest way to become financially well. It gives you a straightforward approach to achieving financial independence and building wealth. The author breaks down complex and technical concepts into easy-to-understand explanations, making it an invaluable resource for all readers.
Key Points:
The book mainly focuses on index funds, and the author recommends investing in low-cost, broad-market index funds, particularly those that track the S&P 500.
The author also discusses topics like home ownership, the dangers of debt, and market timing so you can make informed and rational financial decisions.
You will also learn about the "Crossover Point," which is when your investment income surpasses your expenses.
Book #9: When Genius Failed: The Rise and Fall of Long-Term Capital Management
Author: Roger Lowenstein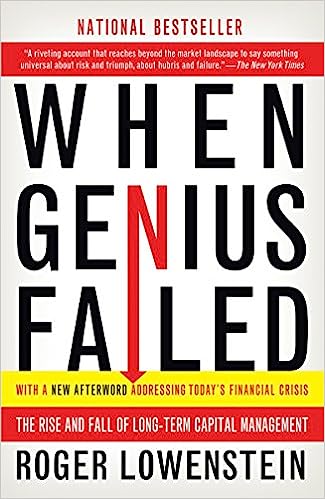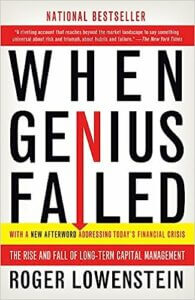 Get this book here.
Review:
The author, Roger Lowenstein, has written a story about the most spectacular financial disaster in modern history, the Long-Term Capital Management (LTCM). It was a hedge fund founded by some of the brightest financial minds. You will learn how the genius investors behind LTCM managed to create massive wealth and still fell apart.
Key Points:
The author uses the case study of LTCM to explain that overconfidence and intellectual arrogance can lead to financial disasters.
He also shows us the LTCM's complex mathematical models and financial strategies to help us understand why and how the company failed.
The book purposefully highlights how using too much debt and inadequate risk management can lead to uncontrolled losses.
Book #10: Broke Millennial: Stop Scraping by and Get Your Financial Life Together
Author: Erin Lowry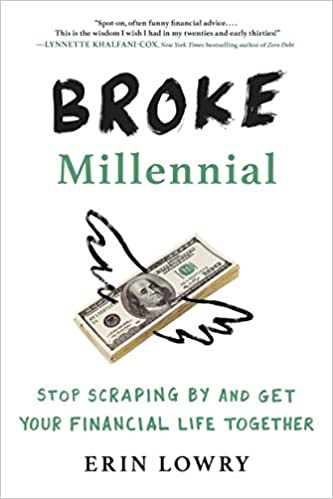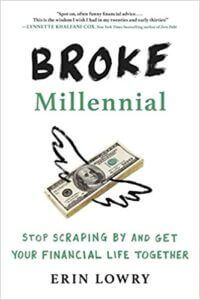 Get this book here.
Review:
This book is the best and most relatable personal finance guide for millennials. However, even if you are not a millennial, the lessons in this book can help you, too. The author includes empathy in her writing style, acknowledging that everyone's financial situation is unique and that there is no one-size-fits-all solution. So, she gives you a financial principles toolkit in her book that you can apply to your situation.
Key Points:
The book accurately states today's millennials' issues and offers practical advice and strategies to overcome them.
The author, Lowry, shares stories from her financial journey, making the book relatable and reassuring for readers struggling with their finances.
She also encourages you to have open and honest discussions about money with friends and family.
Recommended Books
We hope our article on the top 10 Finance books helped you find the best book for you. For similar articles, EDUCBA recommends the following,