What is Fiat Money?
Fiat Money is a currency, like the US dollar, whose value depends on supply and demand and monetary policy that central banks make rather than on its physical properties like those of other commodities like gold and silver.  
For example, the US dollar, Euro, and INR act as fiat money that has no physical backing and is only affected by cross-currency valuations.
Unlike the conventional idea where tangible commodities like silver and gold have intrinsic value, it is a legal tender by state regulation. It purely works on the principles of demand and supply.
Key Highlights
Fiat Money is a government-regulated currency denomination that does not operate under commodities like gold or silver.
It provides greater flexibility to central banks as it can curb the printing behavior for the economy concerned.
An example of modern fiat currency is the US dollar.
Contrary to commodity money, which derives much of its value from material, it is any currency issued by a government and not backed by tangible goods.
It has benefits, including giving central banks more control over the economy. One drawback is that it is not a reliable indicator for preserving the economy.
Explanation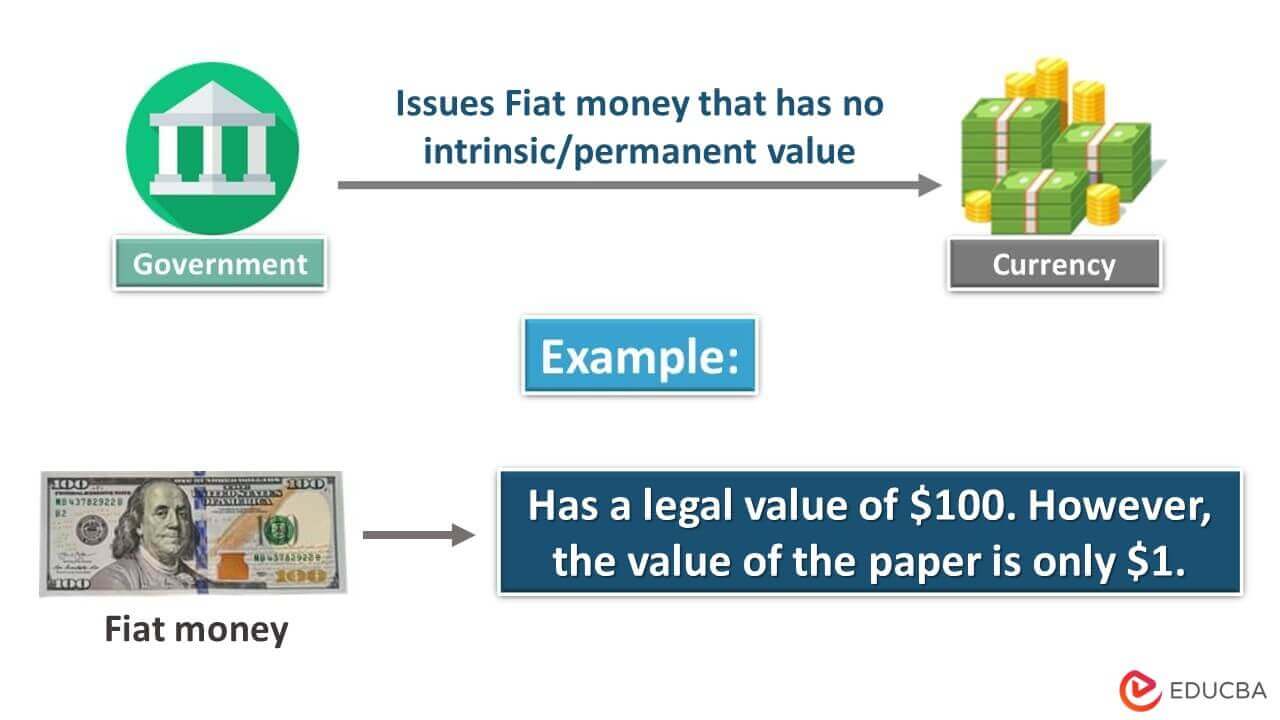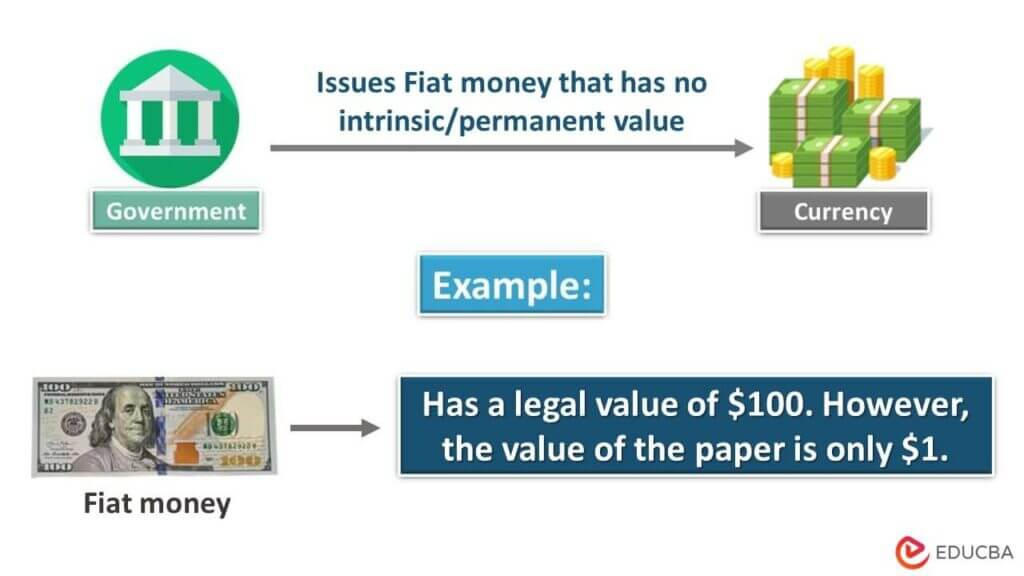 Physical commodities like gold or silver have a value attached to them, and we can redeem them by exchanging them through currencies. However, the currency has no backing concerning the physical commodity. That's when the valuation of currency becomes essential in Fiat money. They are a powerful and vital tool for buying items, ranging from flight tickets to washing machines. However, you cannot buy a flight ticket with gold reserves.
The problem is that too much liquidity causes hyperinflation as more money is in the market. Hence, more cash in hand causes purchasing behavior to rise, and there would be a shortage of products leading to high prices in the market.
Examples
#1: The Indian Currency, INR
The Indian central bank, the Reserve Bank of India, prints INR.
RBI approved the use of Indian rupees for international trade settlement in July 2022.
Authorized dealer banks will need to open individual Rupee Vostro accounts to receive payments in rupees.
#2: The US dollar
The Federal Bank of America prints the dollar as a significant currency.
The relative strength of the American economy supports the dollar's value.
US dollars account for around 60% of all international and foreign currency liabilities (mainly deposits) and claims (primarily loans).
US History
Private and public debt recognition concerning legal tender. The United States considered gold as their fiat money valuations.
The federal government prohibited the citizens from exchanging money as legal tender because it could cause hyperinflation.
There was a ban on the legal exchange of the gold standard inside the economy. This move prevailed after the federal government stopped exchanging gold as a currency valuation from other countries.
Fiat vs. Commodity Money
| | |
| --- | --- |
| Fiat Money | Commodity Money |
| It is any money a government issues, not backed by any physical commodity. | The commodity money gets its value from the substance of its origin. |
| It obtains value simply because the government legislates and regulates its use. | The marginal utility of commodity money works through central banking regulations. |
| Most forms of currency are fiat money. | Commodity money is not in use on a day-to-day basis. |
| Coins and money are some examples. | Salt, gold, and copper tea are some examples. |
Advantages and Disadvantages
| | |
| --- | --- |
| Advantages | Disadvantages |
| It provides the central banks with more significant control over the economy. | It is only partially a solid indicator to protect the economy. |
| It provides the flexibility to regulate money valuations. | It can cause economic bubbles—for example, the dotcom crash. |
| It is in the state of modus operandi to buy most of the commodities. | It causes a high risk of hyperinflation if the central bank prints too much money. |
| For example, the US government uses dollars to control inflation, unemployment, and the market balance of demand and supply. | The limited supply of gold and its fixation on the regular supply of money makes managing it more challenging. |
Final Thoughts
Fiat money can affect the market economy and destabilize the demand-supply circuit in the economy. Since it has no worthy backing, it can fluctuate at high levels that can impact the digital currencies, expensive physical commodities, and the cross-currency valuation that can cause a steep rise in prices leading to inflation and hyperinflation.
Frequently Asked Questions (FAQs)
Q1. Is Bitcoin fiat money?
Answer: No, although Bitcoin and fiat money are both used as a medium of exchange, they differ in creation, regulation, and valuation. While it is issued and controlled by governments and central banks, Bitcoin is created and maintained by a decentralized network of users and is not subject to government or central bank control.
Q2. What are the three types of money?
Answer: There are three main types of money: commodity, fiat, and cryptocurrency. Commodity money derives its value from the inherent value of the entity, which is generally a medium of exchange. It is run by a government and derives value from faith and trust. Cryptocurrency is a virtual currency that secures financial transactions using cryptography.
Each type of money has unique characteristics and different purposes. Commodity money is often used as a store of value, while fiat money is primarily valuable as a medium of exchange. Cryptocurrency is still a relatively new form of money and is often used for online transactions or as an investment.
Q3. What's the difference between fiat and cash?
Answer: Fiat money and cash are both forms of currency that one can use to buy and sell goods and services. One key difference between them is that cash is a tangible asset we can physically exchange for goods and services.
Q4. What are the advantages & disadvantages of Fiat Money?
Answer: Fiat money grants central banks a more informed charge of the economy as they can regulate it while keeping the economic indicators constant.
Although it is a strong indicator of opportunity costs in the economy, it is a cautious tool for hyperinflation. Too much printing of this money without serving the affected indicators may cause crises in demand and supply, leading to hyperinflation.
Q5. Does fiat money have Intrinsic Value?
Answer: No, it doesn't. It only communicates legal currency, the value determined by the government issuing it, and the law of supply and demand. Additionally, it is not based on any tangible item and depends on the stability of the government.
Recommended Articles
This article is a guide to Fiat money. We discuss its definition, examples, and more. Read the following articles to learn more,