What is Economic Collapse?
Economic Collapse is a breakdown of a nation's economy due to several factors, such as hyperinflation, high unemployment/death rates, etc., for an extended period.
For example, the financial crisis of 2008 is a prime example of an economic collapse. The housing market crash failed significant financial institutions like Lehman Brothers. It resulted in an unprecedented rise in prices and unemployment that took a decade to normalize.
A standard economy goes through troughs and peaks. Theoretically, a breakdown is not a part of this cycle. Bankruptcy, civil unrest, inflation, and chaos are usually the causes of an economic collapse. It is commonly known as a financial meltdown. Many parts of the world are in trouble because of the Covid-19 pandemic and the war between Russia and Ukraine.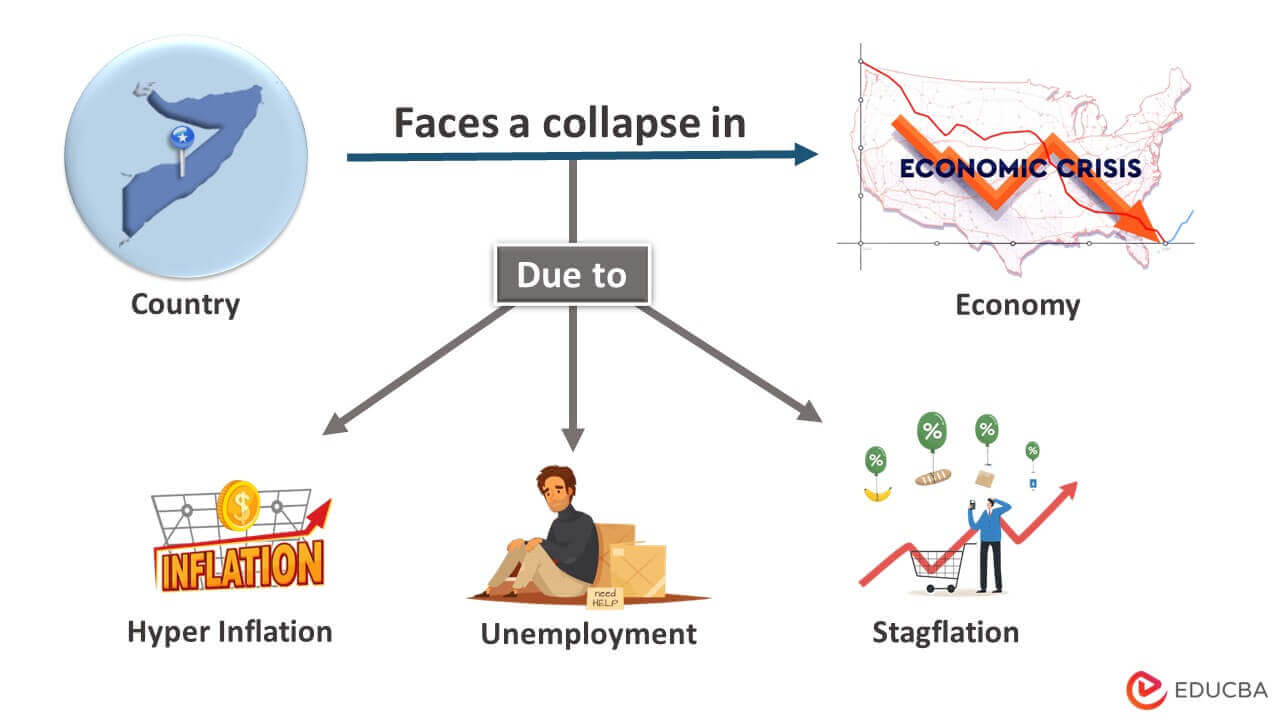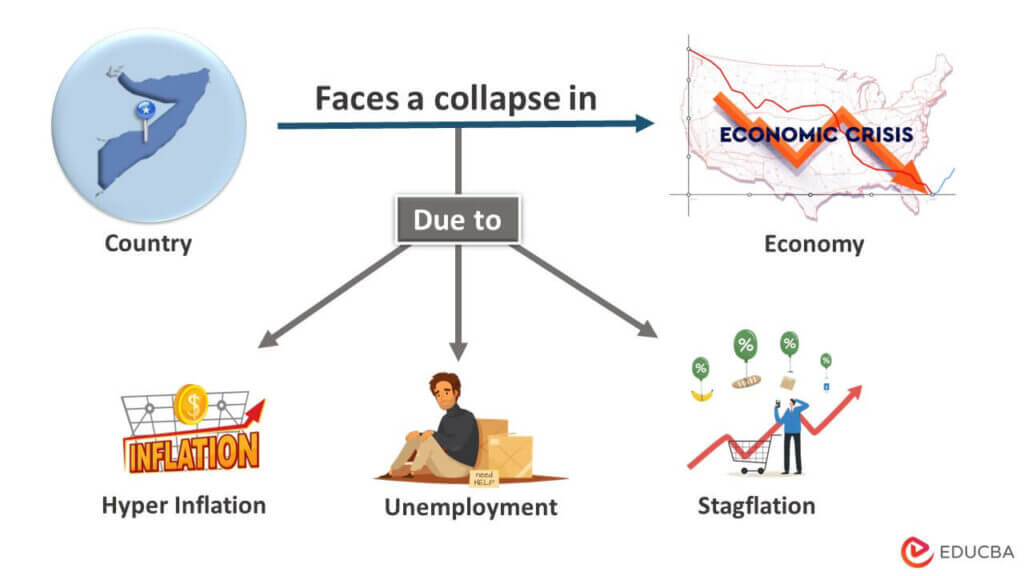 Key Highlights
Economic collapse is the gradual breakdown of the economy over a long period due to a crisis. It often leads to recession.
The repercussions of an economic collapse can be seen in the market to help identify the failure.
It causes inflation, unemployment, a lack of resources, and the failure of financial institutions.
The Great Depression of 1929 is considered the worst crisis in the modern world due to its global impact.
Economic Collapse Stages
Pre-collapse:
The economy has already started to decline, but not till the point of a complete breakdown.
It is in the "trough" stage of the economic cycle.
Collapse:
Collapse is the tipping point. Instead of curving back, the economy plummets, and nose dives.
There is an absolute failure of the economic framework.
High inflation, unemployment, and a financial collapse characterize this stage.
Post-collapse:
The period following a collapse in which the economy gradually recovers.
It is a slow and arduous process that may take decades.
Inflation rates start going down, and the economy picks up.
Reconstruction:
The economy is slowly returning to normal.
It usually takes place several years after the collapse.
Employment rates rise along with people's buying capacity.
Recovery:
The economy has fully recovered and returned to normalcy.
The inflation rate is optimal, employment is high, prices are moderate, and the economy is at full pace.
Examples of Economic Collapse
#1: The Great Depression of 1929
The Great Depression of 1929 is one of the worst economic crises in modern history. The Wall Street crash and poor US government policy-making led to this catastrophe. This recession lasted over a decade and caused massive unemployment and loss of income.
#2: The Recession of 2008
The Recession of 2008 is known as the Great Recession. It caused havoc in financial markets. The crisis, caused by the US housing market crash, led to the downfall of established banks like Goldman Sachs. It caused an unprecedented amount of financial loss and unemployment. According to the reports, there was a loss of $2 trillion from the US economy.
#3: The Sri Lankan Economic Crisis of 2022
The Sri Lankan Economy is dependent on tourism. Poor government policies, terrorism, and the pandemic caused a reduction in tourism and eventually led to the Sri Lankan Economic Crisis of 2022. Sri Lanka could no longer pay for essential resources like oil and gas. In the 2nd quarter of 2022, Sri Lanka's most significant collapse occurred.
Economic Collapse Causes
Stock Market Crash
A stock market crash is a decline in the relative prices of shares listed in the stock market, resulting in a massive loss of wealth.
It extracts money out of companies. It occurs when there is a rise in stock prices for various reasons.
Catastrophic events can also cause a crash.
Hyperinflation
Hyperinflation is a rapid and exponential rise in prices in a short time.
It vastly degrades the currency's value and prevents consumers from buying essential goods. It can be considered accelerated inflation.
It causes a collapse by making commodities unaffordable. Zimbabwe is undergoing hyperinflation caused by a steep devaluation in its currency.
Stagflation
It is a period of slow economic growth followed by high levels of inflation and unemployment. Such sluggish growth slows the economy down and becomes costly.
The countries' central banks can control inflation and stagflation by the Repo rate.
Economic Collapse Effects
It causes a sharp decline in the currency's value which, in turn, causes overprinting of notes, leading to decreased demand. The result is hyperinflation and a steep fall in employment.
Increased interest rates make it difficult for people to get loans. It reduces the spending capacity of people, leading to an economic slowdown.
Paramount banks shut down in the event of a collapse.
It can even fail the government's framework in extreme cases. The political and economic conditions of Sri Lanka in 2022 are a very recent example of this.
Panic, mayhem, and psychological trauma are all observed on a widespread scale. Loss of income, getting laid off, and closing financial institutions are all things that happen all the time.
A country's financial debt piles up and can lead to an emergency.
Necessities such as food and gas become unaffordable.
It causes massive setbacks to the global economy and technological progress.
Final Thoughts
An economic collapse can cause financial institutions to fail, spread panic, and even bring down governments. A person must have deep knowledge of economics to understand this. Such breakdowns have occurred before and are still happening today. We must examine our past failings more thoroughly to overcome such calamities. It is best to be ready for such an incident because it is not difficult to recognize the warning indications of a collapse.
Frequently Asked Questions (FAQs)
Q1. What happens in an economic collapse?
Answer: Economic Collapse is a breakdown of the economic framework of a region or territory. It can occur due to a single catastrophic event or several small events.
Q2. What causes an Economy to collapse?
Answer: Although there can be many reasons for an economy to fail, the major causes of economic collapse are stock market crashes, hyperinflation, and stagflation. One of the recent examples is Zimbabwe which is suffering from hyperinflation.
Q3. When was the last economic collapse?
Answer: The last recession happened at the end of the twenty-first century's first decade. It began in December 2007 and lasted till June 2009, making it the most prolonged recession after World War II.
Q4. What is the difference between an economic depression and an economic collapse?
Answer: An economic depression is a long period of economic slowdown. It causes a decline in purchasing power but recovers in some time. A collapse is a complete failure of the economy that leads to massive unemployment, high inflation, and overprinting notes.
Q5. How to recover from an economic slowdown?
Answer: Business houses can take many measures to recover from a slowdown. Some are as basic as businesses shifting their capital and adapting to the new environment. They can reorganize their labor and change their business activities. Time plays a significant role in recovery.
Recommended Articles
This article is a gist of Economic Collapse. Here you learn its stages, examples, causes, and effects. To know more about the topic, you can refer to these recommended articles,