Updated June 20, 2023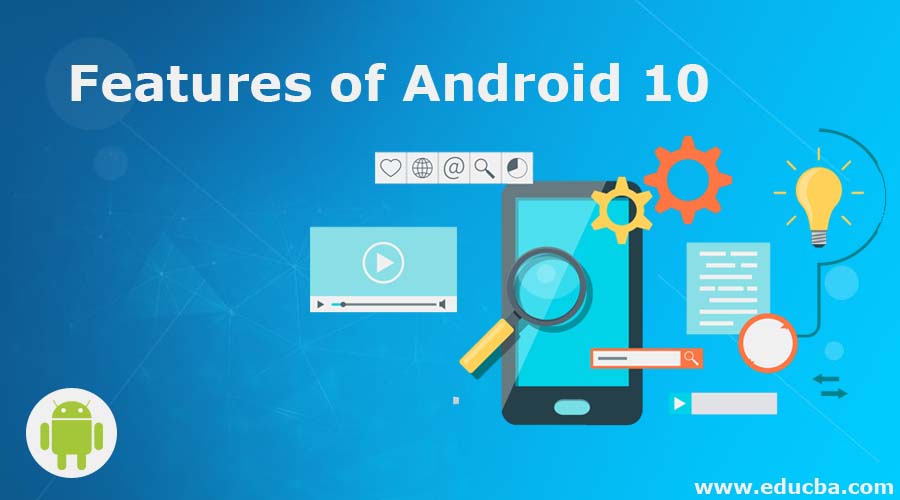 Introduction to Features of Android 10
Google patched Android to Version 10 and is upgrading. Google promised it would work "to start or update devices with a variety of partners" in Android 10. If you own a phone which has not yet been patched, you have to wait everywhere for the update, from a couple of weeks to several months. It cannot even be handled by certain devices like older ones. We keep a running list of when Android 10 will be arriving right here for your phone. New Android updates typically have the names of dessert issues alphabetically. But they have codenames months before release. For example, Android Pie was Android P, and before, Android Oreo was Android O. Android Q. Luckily, Google didn't give us Android quiche this year. Android Q, for example. Rather, the nice names were ditched and numbers were used, beginning with Android 10.
How to get Android 10?
To update the Android 10 go and click setting on your device: Go to System > Advanced > System update
Whether you have the Android 10 update enabled for your particular phone, it will appear and take a few minutes to load. If the update is not yet available, then you will have to wait for it longer.
It can take several weeks or months to obtain the update, depending on your handset and its supplier, if it does arrive at all. For more detail about which phones should upgrade to Android 10, check out our separate guide.
Top Features of Android 10
Below are the Features of Android 10:
1. New Gestures
For Android 10, the back click, the original Android browser, was drawn. The update also includes a range of gestures that allow Android users, virtual or otherwise, to move beyond buttons. And you'll see a black line with a white dash in the middle instead of the three icons on your bottom screen.
First, go to Setting >then click on System > After that Gestures >and then System Navigation (or three-button navigation)From the given above three choices, just select the "Gesture navigation." The different movements and how to use them will be taught.
2. Bubbles
It is the way for Google to do more research on a computer. This reminds us of Chat Heads from Facebook Messenger, but the Android 10 implementation is Systemwide. Google offered instructions for developers to integrate the feature into their applications in a blog post for Android Developers.
Bubbles work this way: On your screen, a minuscule circular alert may appear to tap when an alarm from an app using bubbles is received. For instance, you can tap the bubble notification with a chat app to show a conversation thread or response without running the entire application. In the event of notices, arrival times or calling, Google proposed developers may use Bubbles.
3. Privacy and Security
There are several significant privacy improvements implemented in Android 10 and security updates. If a user is active in the foreground, he may limit an app to access the area. The permission to access the data is also modified in Android 10, known as "Scoped Data." This permission only allows external storage access to the file.
4. Wi-Fi Sharing via QR Code
To share Wi-Fi credentials, Google adopts an alternative using the QR code. This feature was long seen on smartphones in Huawei and Xiaomi. You can tap the Wi-Fi link and push the sharing button. This is simple to work with. Then authenticate Wi-Fi with a password or fingerprint on your computer. You see a QR code, and to access this QR code, the computer of your friend will need to search.
5. Focus Mode
The concentrate mode is one of Android 10's excellent features users face. The Virtual Wellbeing Suite is an extension. This mode allows you to delete intrusive applications by concentrating and holding their alerts, as the name suggests.
6. Dark Theme
For a long time, the mysterious subject feature was requested. Eventually, to Android 10, the dark theme is applied. When the battery saver option is disabled, it can be disabled via a fast-face configuration. Dark mode affects even videos, podcasts of Google, and scan. The dark mode is one of the most popular features of Android 10.
7. Gesture Navigation
Android 10 has smarter and quicker gesture navigation than ever before. You can go back and forth, watch your open applications, and switch your home screen. You can do it. All these activities can be performed with super smooth.
8. Focus Mode
Focus mode is one of the excellent features Android 10 users face. The Interactive Wellness Suite is an extension. As the name suggests, this mode allows you to delete applications distracting by focusing on and holding alerts.
Conclusion
In this article, we have seen How to get Android 10 by updating older versions of android and various features of Android 10 which are very useful when using phones. I hope you will find this article helpful.
Recommended Articles
This is a guide to the Features of Android 10. Here we also discuss the Introduction to Android 10 and its advanced features Android 10 in detail. You may also have a look at the following articles to learn more –