My Favourite Animal
Out of this plethora of animals on earth, my favorite animal is an Elephant. Elephants are some of the largest and most majestic animals in the world. They are well-known for their large size, long trunks, and large ears, as well as their intelligence, social behavior, and gentle nature. They are fascinating creatures, and it is no wonder that they are one of the most loved animals by people all over the world. In this essay on My Favourite Animal, I will delve into the world of elephants and explore their biology, behavior, and significance to humans.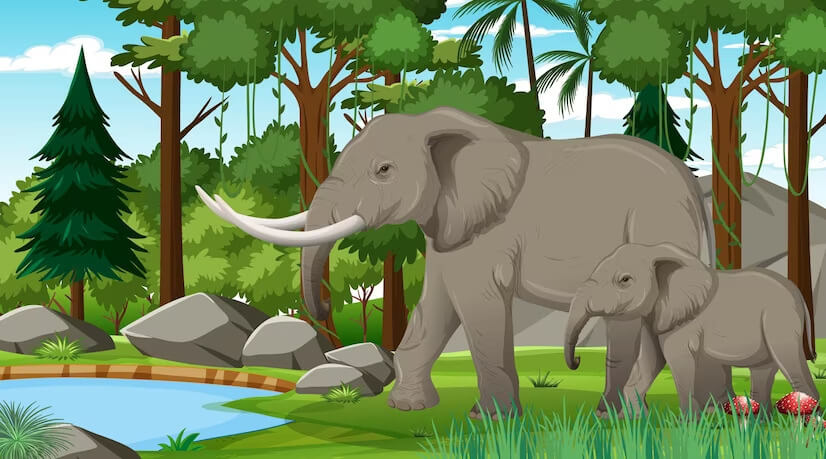 Biology of Elephants
Elephants are part of the family Elephantidae and are the largest land animals in the world. They have unique anatomy, including their long trunks used for various tasks, such as feeding, drinking, and communicating with other elephants. Their trunks are strong, weighing up to 140 pounds, but they are also incredibly agile, allowing them to pick up small objects and perform delicate tasks.
Another defining feature of elephants is their large ears, which serve for hearing and regulating body temperature. Elephants have poor eyesight, but their sense of hearing and smell are highly developed. They also have large tusks and elongated incisors used for foraging for food and as weapons for self-defense.
Elephants are herbivores and feed on various plants, including leaves, branches, bark, and roots. They need a large amount of food to support their massive bodies and can consume up to 330 pounds of vegetation in a single day. Despite their large size, they are elegant and can move quickly through the forest, using their trunks to knock over trees and their tusks to dig for roots.
Behavior of Elephants
Elephants are highly social animals and live in tight-knit family groups called herds. The herds are by a matriarch, usually the group's oldest and most experienced female. Elephants are well-known for their strong bonds and close-knit families and are often seen touching and caressing each other with their trunks.
Elephants are also brilliant animals and were the first to observe to exhibit a range of intelligence behaviors, including problem-solving, tool use, and self-awareness. They are also capable of expressing emotions, such as joy, sadness, and grief, and they have proven to mourn the loss of their family members.
Significance of Elephants to Humans
My favorite animal has also played a significant role in human culture for thousands of years. They were therefore depicted in artwork and literature and revered for their strength, power, and intelligence. In many cultures, elephants are now seen as symbols of good luck, prosperity, and wisdom. They are often used in religious festivals and ceremonies.
Elephants had used for transportation and heavy labor. They were then trained to perform various tasks, such as carrying heavy loads and working in fields. They have been a source of entertainment in circuses and shows. Their intelligence and trainability have made them popular animals for research and experimentation.
Habitat and Distribution of Elephants
Elephants are in various habitats, including forests, savannas, and deserts. African elephants, the larger of the two species, are in 37 African countries, ranging from the savannas of East Africa to the forests of West and Central Africa. The Asian elephants are in 13 countries in Asia, including India, Sri Lanka, and Southeast Asia.
African elephants have a more widespread distribution and are in a broader range of habitats than Asian elephants. African elephants can adapt to various habitats, including savannas, forests, and deserts. Found in countries with varying climates, from the equatorial forests of Gabon to the arid deserts of Namibia.
Asian elephants, on the other hand, are in more fragmented habitats and are more restricted in their distribution. They are typically found in areas with higher rainfall, including the tropical forests of India and Southeast Asia. They are often associated with rivers and wetlands.
Threats to Elephants
Despite being such a magnificent species, elephants face several threats, including habitat loss, poaching, and climate change. The biggest threat to elephants is spawning, hunted for ivory tusks, which are highly valued on the black market. The illegal ivory trade has led to the decimation of elephant populations in many parts of Africa and Asia. It continues to pose a significant threat to these magnificent animals.
Habitat loss is another major threat to elephants. As human populations grow and expand, elephants lose their habitats to agriculture, mining, and other human activities. This reduces the available habitat for elephants, fragments their habitats, and limits their ability to move and forage for food.
Climate change is also a significant threat to elephants, as it can cause changes in the distribution and abundance of their food and water resources. Changes in temperature and precipitation patterns can also alter the timing and availability of food and water sources, negatively impacting elephant populations.
In addition to these threats, elephants are also affected by diseases that humans and domestic animals transmit. Diseases such as Ebola have decimated some elephant populations, emphasizing the importance of monitoring and managing elephant populations.
Conclusion – Essay on My Favourite Animal
In conclusion, no wonder elephant is my favorite animal. Essay on My Favourite Animal, explains that elephants are fascinating and brilliant animals that have captured the hearts and imaginations of people worldwide. Their unique biology, behavior, and significance to humans make them unique. We must work to protect them and their habitats for future generations to enjoy. Elephants are truly unique, whether you are a scientist, an artist, or simply an admirer of these magnificent creatures.