Introduction to Essay on Indian Army
"Service Before Self"
The Indian Army is an institution deeply ingrained in the fabric of the nation and serves as the stalwart guardian of India's sovereignty and security. With a rich history dating back to its formation, the Indian Army has evolved into a formidable force that defends the nation against external threats and plays a pivotal role in disaster relief, peacekeeping missions, and overall nation-building. This essay explores various facets of the Indian Army, including its historical roots, mission and responsibilities, organizational structure, and the unwavering commitment and sacrifices of the men and women who serve within its ranks. As we journey through the pages of this essay, we uncover the valor that defines the Indian Army and its crucial role in shaping the destiny of the nation it dutifully protects.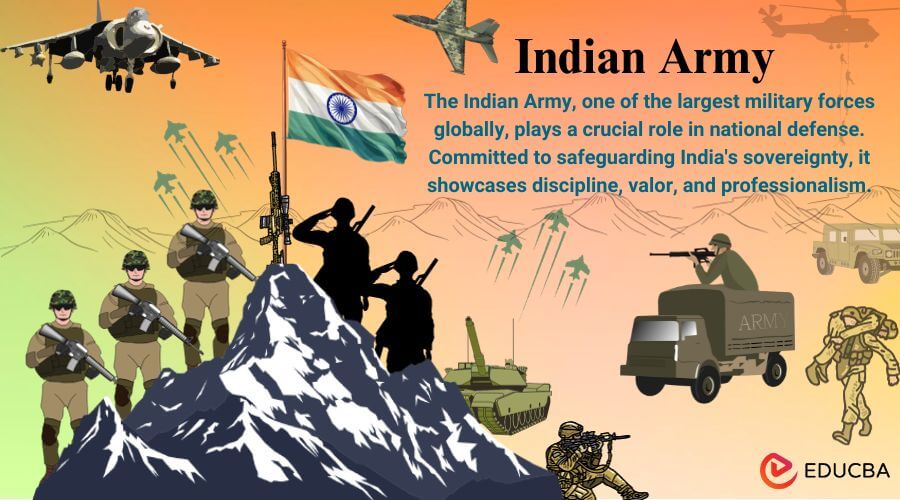 Historical Background
The historical roots of the Indian Army trace back to the British East India Company's military establishments in the 17th century. As the British influence in India grew, so did the need for a more organized and structured military force to safeguard their interests. The early formations, known as the British Indian Army, played a crucial role in various conflicts, including the Anglo-Mysore Wars and the Anglo-Maratha Wars.
The Indian Army underwent a turning point during the Sepoy Mutiny of 1857, which caused the East India Company to transfer control to the British Crown. Consequently, the army was reorganized to become more disciplined and professional.
During both World War I and II, the Indian Army played a significant role. Its soldiers demonstrated bravery and made contributions to the global war effort on various fronts. Following India's independence in 1947, the British Indian Army was partitioned between India and Pakistan, resulting in the formation of two distinct entities.
Since then, the Indian Army has been involved in several conflicts, such as the Indo-Pak wars of 1947, 1965, and 1971, as well as the Kargil War in 1999. Each conflict has further defined the army's identity and reinforced its unwavering commitment to safeguarding the nation's borders.
The historical trajectory of the Indian Army reflects not only its military prowess but also its resilience, adaptability, and the pivotal role it has played in shaping the destiny of the Indian subcontinent. From colonial times to the present day, the Indian Army stands as a testament to the nation's journey, embodying the spirit of sacrifice and dedication in its service to the people of India.
Mission and Responsibilities
The mission and responsibilities of the Indian Army extend far beyond the conventional notions of defense, encompassing a multifaceted role that reflects the dynamic challenges faced by the nation.
1. Defense Against External Aggression:
The Indian Army's primary purpose is to maintain the country's territorial integrity from external threats. Whether facing traditional military challenges or emerging asymmetrical threats, the army stands as the first line of defense, ensuring the sovereignty of the nation.
2. Internal Security and Peacekeeping:
In addition to its external defense role, the Indian Army plays a vital role in maintaining internal security. Deployed in regions affected by insurgency, terrorism, and other internal conflicts, the army assists civil authorities in restoring and preserving law and order. Moreover, Indian troops actively participate in United Nations peacekeeping missions globally, contributing to international efforts to maintain peace and stability.
3. Disaster Relief and Humanitarian Assistance:
The Indian Army demonstrates its commitment to the nation's welfare through its rapid response to natural disasters and emergencies. Whether it be floods, earthquakes, or other calamities, the army plays a pivotal role in providing relief, rescue operations, and rehabilitation efforts, showcasing a humane facet of its responsibilities.
4. Infrastructure Development in Remote Areas:
Beyond its immediate defense duties, the Indian Army engages in nation-building activities, especially in remote and underdeveloped regions. The army contributes to constructing infrastructure such as roads, bridges, and schools, fostering socio-economic development and improving the quality of life for local communities.
5. Border Management and Peace Initiatives:
Given India's diverse geopolitical landscape, the Indian Army manages and secures the vast borders with neighboring countries. This involves not only defense but also diplomatic initiatives to maintain peaceful relations. The army often engages in confidence-building measures and joint exercises to promote regional stability.
6. Counter-Terrorism Operations:
In the face of persistent threats from terrorist organizations, the Indian Army is actively involved in counter-terrorism operations. These operations require a combination of military precision, intelligence gathering, and cooperation with other security agencies to neutralize threats to national security.
Training and Discipline
Training and discipline lie at the heart of the Indian Army's ethos, shaping soldiers into resilient and highly skilled warriors ready to face the myriad challenges that safeguarding a nation entails.
1. Rigorous Training Programs:
The Indian Army's training regimen is renowned for its intensity and comprehensiveness. When recruits step into training centers, they are subjected to physically demanding exercises, tactical simulations, and mental conditioning. Basic training covers many skills, including marksmanship, survival techniques, and battlefield strategy.
2. Emphasis on Physical Fitness:
Physical fitness is a cornerstone of the training process. Soldiers undergo rigorous physical exercises, obstacle courses, and endurance drills to ensure peak physical condition. The emphasis on fitness enhances combat capabilities and instills a sense of discipline and resilience.
3. Specialized Training for Different Corps:
The Indian Army's diverse roles demand specialized skills. Various corps, such as the infantry, artillery, and armored corps, undergo specific training tailored to their roles on the battlefield. This specialization ensures that each soldier is proficient in basic combat skills and excels in the unique requirements of their assigned corps.
4. Leadership Development:
Leadership is a critical aspect of the Indian Army's training philosophy. Officers and non-commissioned officers undergo specialized leadership training to hone their decision-making skills, strategic thinking, and the ability to lead troops in diverse and challenging situations.
5. Military Etiquette and Code of Conduct:
Every aspect of military life ingrains discipline. Soldiers undergo training to adhere to a strict code of conduct and military etiquette. This discipline extends to maintaining uniforms, following orders promptly, and respecting the chain of command. Such discipline ensures smooth operations and fosters a culture of mutual trust and reliance among soldiers.
6. Stress on Mental Resilience:
Beyond physical prowess, the Indian Army significantly emphasizes mental resilience. Soldiers are trained to remain composed under pressure, make swift decisions, and adapt to rapidly changing situations. This mental fortitude is crucial in the high-stakes and unpredictable environments in which the Army operates.
7. Continuous Professional Development:
Continuous learning is an integral part of the Indian Army's training program. The Army strongly emphasizes on the professional development of its soldiers. Soldiers undergo advanced training courses, workshops, and exercises throughout their careers to keep themselves updated with evolving military tactics, technologies, and strategic developments.
Modernization Efforts
The Indian Army has undertaken substantial modernization efforts to ensure it remains at the forefront of defense capabilities. These endeavors encompass the acquisition of cutting-edge technology, advanced equipment, and a strategic emphasis on innovation to address contemporary security challenges.
1. Advanced Weapon Systems:
The Indian Army has actively pursued the acquisition of state-of-the-art weapon systems to enhance its firepower. This includes the modernization of artillery with long-range precision-guided munitions, the induction of advanced tanks such as the Arjun Mark II, and the procurement of modern assault rifles and personal equipment for infantry.
2. Focus on Cybersecurity and Information Warfare:
Recognizing the growing significance of cyber threats, the Indian Army has invested in cybersecurity infrastructure and capabilities. This includes establishing dedicated cyber units and integrating advanced technologies to safeguard military networks from cyber attacks. Information warfare capabilities are also being honed to counter modern asymmetric threats.
3. Unmanned Aerial Vehicles (UAVs) and Drones:
Integrating UAVs and drones has become a priority for the Indian Army. These aerial platforms are crucial in surveillance, reconnaissance, and intelligence gathering. Their versatility enhances situational awareness and provides real-time information for tactical decision-making.
4. Network-Centric Warfare:
The concept of network-centric warfare is a cornerstone of the modernization efforts. The Indian Army is working towards creating a robust communication and data-sharing network that enables seamless coordination among different branches and units. This network-centric approach enhances operational efficiency and facilitates quicker responses to emerging threats.
5. Indigenous Defense Manufacturing:
To promote self-sufficiency and reduce dependency on foreign suppliers, the Indian Army has emphasized indigenous defense manufacturing. Collaborating with domestic defense industries and research institutions aims to develop and produce advanced weaponry, equipment, and technologies in the country.
6. Upgradation of Aviation Capabilities:
The aviation wing of the Indian Army has seen substantial modernization, including the induction of advanced attack helicopters, reconnaissance aircraft, and transport helicopters. These upgrades enhance the army's mobility, response time, and air support capabilities in diverse operational scenarios.
7. Emphasis on Special Forces and Counterinsurgency Operations:
Recognizing the evolving nature of security threats, the Indian Army is modernizing its special forces with advanced equipment and specialized training. This includes the acquisition of cutting-edge gear for counterinsurgency and counter-terrorism operations, reinforcing the army's ability to address unconventional challenges.
8. Innovation in Military Strategies:
Modernization efforts extend beyond hardware; there is a concerted effort to innovate in military strategies. The Indian Army is adapting to emerging trends in warfare, incorporating lessons from global conflicts and exploring innovative approaches to counter both traditional and unconventional threats.
Humanitarian Assistance and Disaster Relief
The commitment to Humanitarian Assistance and Disaster Relief (HADR) reflects the army's ethos of service to the nation, extending its hand to those in need both within India and beyond its borders.
1. Rapid Response and Deployment:
Swift and effective responses characterize the Indian Army's HADR capabilities. When disaster strikes, be it earthquakes, floods, cyclones, or other calamities, the army mobilizes quickly to provide immediate assistance. This rapid deployment is crucial in mitigating the impact of disasters and saving lives.
2. Search and Rescue Operations:
The army plays a pivotal role in search and rescue operations during natural disasters. Specially trained units equipped with advanced tools and technologies are deployed to locate and rescue survivors trapped in disaster-stricken areas. Helicopters and specialized teams are often at the forefront of these life-saving efforts.
3. Medical Aid and Field Hospitals:
The Indian Army's medical corps plays a critical role in providing emergency medical aid during disasters. Medical assistance is offered to the injured by setting up field hospitals and mobile medical units to reach remote areas otherwise inaccessible actively. This healthcare support is instrumental in preventing the spread of diseases and ensuring the well-being of affected populations.
4. Relief Material Distribution:
The army is responsible for distributing essential relief materials, including food, clean water, shelter, and clothing. This ensures that affected communities receive the basic necessities for survival and recovery.
5. Engineering and Infrastructure Support:
The engineering units of the Indian Army contribute significantly to HADR efforts by repairing and rebuilding critical infrastructure. This includes restoring roads, bridges, and communication networks, essential for delivering aid and assistance effectively.
6. International Humanitarian Assistance:
The Indian Army extends its HADR expertise globally, actively participating in international relief missions. Whether responding to earthquakes in Nepal, floods in Sri Lanka, or other disasters worldwide, the Indian Army's commitment to global humanitarian efforts underscores its role as a responsible and responsive international actor.
7. Coordination with Civil Authorities:
Collaboration with civil authorities is a cornerstone of the army's HADR operations. The army works hand-in-hand with local, state, and national government agencies, as well as non-governmental organizations (NGOs), to ensure a coordinated and effective response to disasters.
8. Community Engagement and Capacity Building:
Beyond immediate relief, the Indian Army engages in community outreach and capacity-building initiatives. This involves educating communities on disaster preparedness, conducting training programs, and empowering local populations to better cope with and respond to future disasters.
Awards and Bravery
1. Param Vir Chakra (PVC):
The Param Vir Chakra is the highest award given during wartime for acts of exceptional bravery in the face of the enemy. Those who have displayed extraordinary courage, often risking their lives in the line of duty, receive the award.
2. Ashoka Chakra:
The Ashoka Chakra is awarded during peacetime for similar acts of bravery, recognizing exceptional courage, sacrifice, and selflessness in the line of duty and highlighting the army's commitment to protect the nation even during peace.
3. Mahavir Chakra:
The Mahavir Chakra is the second-highest award given during wartime for acts of conspicuous bravery and exceptional devotion to duty, showcasing the resilience and valor of the awardee.
4. Kirti Chakra:
The Kirti Chakra awards acts of gallantry during peacetime. Similar to the Mahavir Chakra, it recognizes exceptional courage and devotion to duty, even in situations that may not involve direct combat with the enemy.
5. Shaurya Chakra:
The Shaurya Chakra recognizes acts of bravery in the presence of the enemy during peacetime, honoring exceptional courage and commitment to duty.
6. Sena Medal and Mention in Dispatches:
The Sena Medal is awarded for acts of bravery and distinguished service during peacetime. Additionally, Mention in Dispatches is a commendation for a soldier's gallantry and exceptional service in the face of the enemy. Both these recognitions highlight the diverse ways in which soldiers contribute to the nation's security.
7. Gallantry Awards in United Nations Peacekeeping Missions:
Indian Army personnel actively participate in United Nations peacekeeping missions, and their gallantry is recognized through UN medals and other commendations. These awards underscore the army's commitment to promoting global peace and stability.
8. Bravery in Counterinsurgency Operations:
Soldiers engaged in counterinsurgency operations are recognized for their bravery and commitment in challenging and often unconventional warfare scenarios. Commendations and awards highlight their role in maintaining internal security.
9. Posthumous Awards:
Underscoring the supreme sacrifice made by soldiers who lay down their lives in the service of the nation, authorities posthumously confer many of these awards. These posthumous awards serve as a poignant reminder of the ultimate price paid for the cause of freedom and security.
Challenges and Sacrifices
Below are the challenges and sacrifices faced by the Indian Army:
Challenges Faced by the Indian Army:
The Indian Army faces numerous challenges in a dynamic and unpredictable environment. One of the major obstacles is the diverse and demanding terrain along the country's borders. From the icy peaks of the Himalayas to the arid deserts, the army must be adept at navigating and defending India's vast and varied geographical boundaries. Additionally, the threat of terrorism and insurgency poses a significant challenge, particularly in regions like Jammu and Kashmir and the northeastern states. In order to maintain internal security while defending against external aggression, the army must strike a delicate balance and remain constantly vigilant.
Sacrifices of the Indian Army:
Either I will come back after hoisting the tricolor, or I will come back wrapped in it, but I will be back for sure." – Capt. Vikram Batra
The sacrifices made by the men and women of the Indian Army are profound and long-lasting. The most significant sacrifice is the loss of life while performing duty. Whether in conventional warfare, counterinsurgency operations, or during peacekeeping missions, soldiers put their lives on the line to protect the nation and its people. The impact of these sacrifices resonates throughout families and communities, leaving an indelible mark on the nation's collective conscience. In addition to the ultimate sacrifice of life, soldiers endure extended periods of separation from their families, demanding training regimens, and the physical and mental toll of being on the front lines. The commitment to duty, despite these sacrifices, highlights the deep sense of duty and patriotism that characterizes the ethos of the Indian Army. It is a testament to the selflessness and unwavering dedication that define the men and women in uniform, who prioritize the nation's security above personal comfort and safety. The sacrifices made by the Indian Army echo through history, shaping the narrative of a force that embodies courage, honor, and an unyielding commitment to the protection of the nation.
The Indian Army's Role in Nation-Building
1. Infrastructure Development in Remote Areas:
The Indian Army operates in diverse and often challenging terrains, from mountainous borders to remote villages. In these areas, the army engages in building critical infrastructure such as roads, bridges, and airstrips. These projects enhance military mobility and connect isolated communities, facilitating economic development and social integration.
2. Education Initiatives:
Recognizing the transformative power of education, the Indian Army undertakes initiatives to improve educational facilities in remote and underserved areas. This includes establishing schools and vocational training centers, empowering local communities, and providing a foundation for a brighter future.
3. Healthcare Outreach:
The army is often at the forefront of providing healthcare services in areas with challenging accessibility. Mobile medical units, field hospitals, and health camps are deployed to offer essential healthcare services, contributing to the overall well-being of the local population.
4. Community Engagement and Skill Development:
Beyond physical infrastructure, the Indian Army engages with local communities through various community development programs. Skill development initiatives, workshops, and vocational training programs empower individuals to become self-reliant, contributing to economic sustainability.
5. Environmental Conservation:
The army recognizes the importance of preserving the environment in its operational areas. Afforestation programs, waste management initiatives, and sustainable practices contribute to environmental conservation, aligning the army's activities with broader national goals of ecological sustainability.
6. Disaster Preparedness and Response:
The army's expertise in disaster management extends to proactive measures for disaster preparedness. Training local communities in disaster response, establishing early warning systems, and conducting mock drills enhance the resilience of vulnerable regions.
7. Counterinsurgency and Winning Hearts and Minds:
The army takes a comprehensive approach beyond military operations in insurgency-affected areas. Community engagement, addressing socio-economic grievances, and creating a peaceful and stable environment is essential for winning the hearts of the local population.
8. Border Area Development:
In regions along the borders, the army actively contributes to the development of border areas. This includes constructing infrastructure, providing essential services, and promoting economic activities, fostering a sense of security and connectivity among border communities.
9. National Integration and Unity:
The Indian Army, composed of personnel from diverse linguistic, cultural, and regional backgrounds, serves as a unifying force. Through its nation-building efforts, the army reinforces the idea of a united and integrated India, transcending geographical and cultural divides.
Conclusion
The Indian Army is a multifaceted force that not only defends the nation's borders but also actively contributes to its growth and welfare. It exemplifies valor, sacrifice, and dedication by safeguarding against external threats and engaging in humanitarian efforts. The army plays a crucial role in building nations, unifying people, and acting as a beacon of hope in times of crises. Its role extends far beyond military operations, underscoring its integral part in the nation's journey toward progress, unity, and resilience.
Recommended Articles
We hope that this EDUCBA information on "Essay on Indian Army" was beneficial to you. You can view EDUCBA's recommended articles for more information.