What is Duopoly?
A duopoly is an oligopoly where two business firms dominate the market for their products or services.
For example, Alphabet Inc and Meta Platforms own more than 50% of the ad market globally, forming a duopoly in digital advertising. The market share of other players is negligible.
In a monopoly, a single player dominates the market for a particular product. In contrast, in a duopoly, two players have a clear dominance for a specific product. The two players compete with each other to increase their market share and often serve a loyal customer base of their own.
Key Highlights
A duopoly is where two companies hold a majority, i.e., 50% or more of the market share.
The two companies are interdependent while enjoying a monopoly for their loyal base of customers.
It is of two types: Cournot, and Bertrand, based on what triggers the competition between the two companies.
There are various real-life examples like Apple, Samsung, Airbus, and Boeing.
It is advantageous for companies to focus on their products without risks of disruptions, but it also limits free trade.
How Does it Work?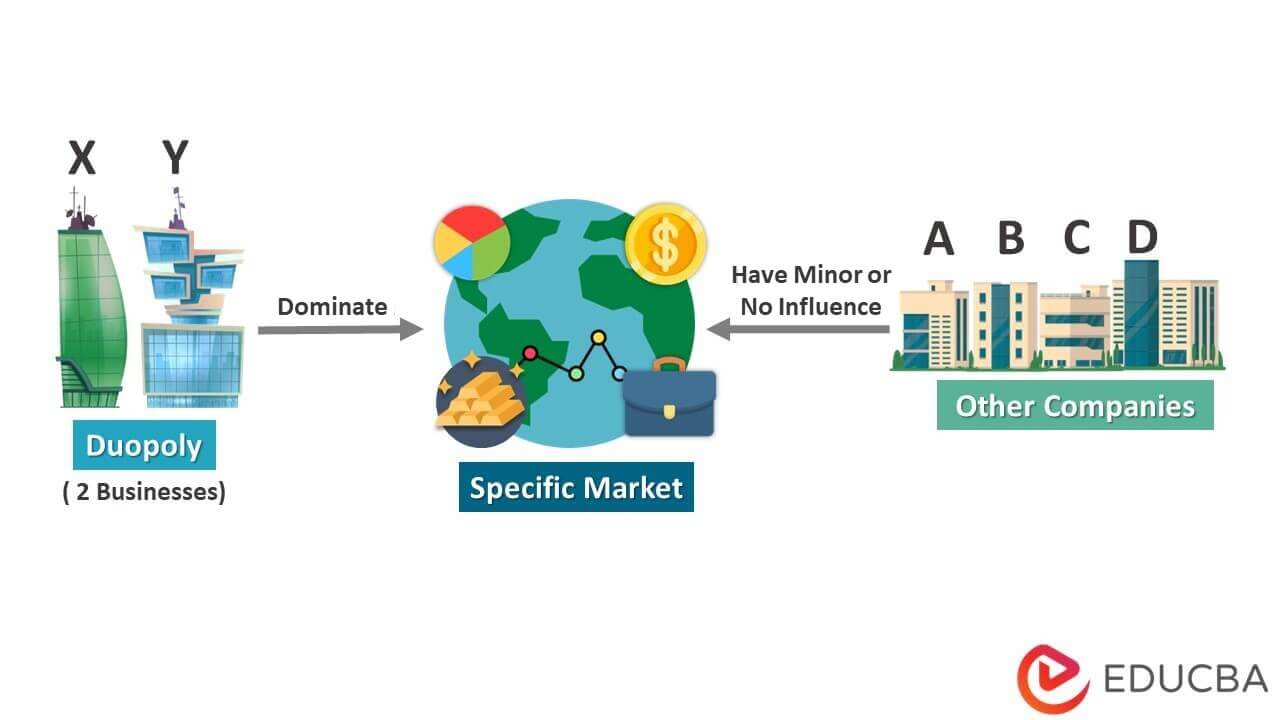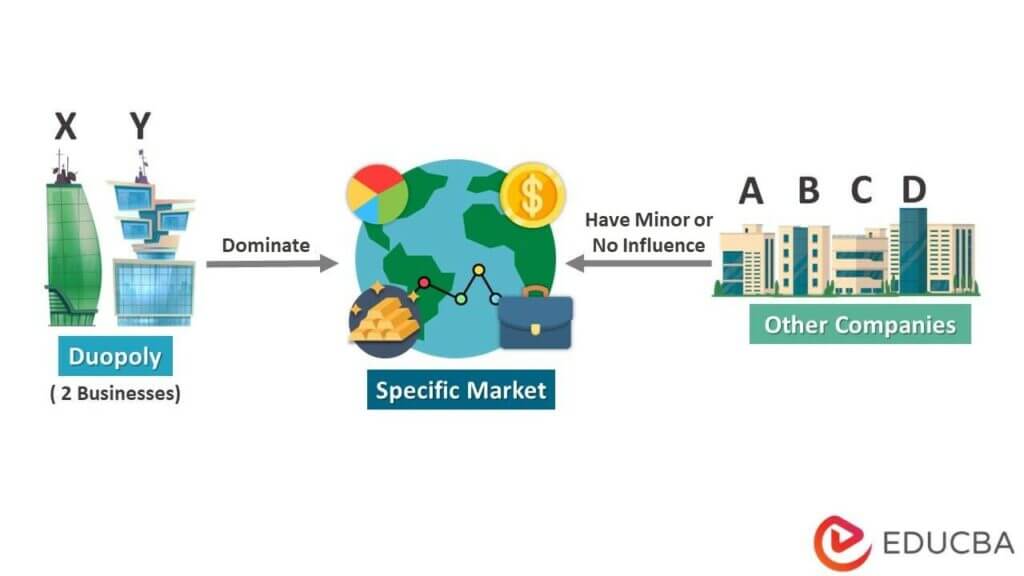 The producer from two companies dominates in a Duopoly, a particular product in a market sector. In this condition, various companies compete with each other by lowering the prices of their products. This situation benefits the consumers.
Even though there will only be two competitors in the market, with the mutual acceptance between these two companies, it can become a monopoly. A monopoly is a condition in which a single producer of the product in the market will exist.
Types
Cournot
According to this, the volume of goods or services produced decides the competition between the two players.
The two companies produce their goods to maximize profits. Thus, in the long run, an equilibrium is set for both companies in terms of output.
Hence, there is no incentive to start a price war. There is no collusion between the companies, and each company produces to maximize its profit.
Bertrand
In this market, price competition exists between two firms, and customers opting for the lowest prices can create a price war.
The two firms implement low pricing strategies leading to their depleting profits.
In this, customers enjoy purchasing goods and services at low prices while profits for companies dwindle due to existing competition.
Examples
Boeing and Airbus
Boeing and Airbus have been considered duopolies in the large jet airplane manufacturing market since 1990.
Together, they own nearly 90% of the market share of airplane manufacturing.
The creation of Airbus made airplane manufacturing more competitive, forcing Boeing to be more price competitive and present an excellent service.
Apple and Samsung
Apple and Samsung companies combined to dominate the smartphone market.
The remaining smartphone manufacturers contribute less than 25% of the smartphone industry.
Visa and Mastercard
Visa and Mastercard are considered Duopoly in card payment services.
Of all the card transactions in European countries, 80% are through Visa and Master cards.
Coca-Cola and Pepsi
Another example is in the beverage industry, where Coca-Cola and Pepsi dominate.
Coca-Cola has a 43% market share, while Pepsi has 29% giving both companies a concentration of more than 70% in the cola market.
While both players spend a fortune to promote their brands, they do not launch a campaign against each other as it may be mutually harmful, as seen in their earlier campaigns in the 1970s.
Characteristics
The two big players affect each other's decisions.
The change in the price of the product by one player will also influence the pricing strategy of another player.
Similarly, launching a different quality product within the same niche will force another player to launch a similar product to stay competitive.
As there are only two players for the majority market share, each player develops a loyal customer base over time. Hence, they enjoy significant individual monopoly powers. For example, Samsung and Apple have developed a substantial, loyal customer base, and now Apple enjoys a monopoly for its market share of customers.
The two players avoid head-to-head competition as it is mutually harmful.
The duopolies are neither compatible nor conflicting and tend to focus on their work to win the market share.
How is Duopsony Different from Duopoly?
| | |
| --- | --- |
| Duopsony | Duopoly |
| Duopsony is an economic condition with only prominent buyers for a particular product or service. | Two big players have more than 70% market share for the supply of the product. |
| Duopsony is also called buyer's Duopoly and is a category of oligopsony. | It is a form of oligopoly. |
| For example, Intel Corporation and Advanced Micro Devices Inc are the leading manufacturers of microchips. | For example, Flipkart and Amazon are leading e-commerce companies. |
Advantages & Disadvantages
| | |
| --- | --- |
| Advantages  | Disadvantages  |
| Companies benefit by cooperating. | It limits free trade. |
| The two companies collude to decide upon a rate that can maintain demand equilibrium and maximize profits without competitors. | It sets the entry barriers for new entrants. |
| Companies concentrate on improving the quality of their existing products. | Goods and services lack diversity and innovation. |
Final Thoughts
A few decades back, the market had monopolies of a handful of companies in each sector that controlled the prices and supply of utilities. Now, there is a significant presence of duopolies around the world. It provides just the right amount of competition so that companies can not take market share for granted and still work on products without worrying about disruptions. It is necessary for the sector where quality is more important than price, like airplane manufacturing.
Frequently Asked Questions(FAQs)
Q1. How is an oligopoly different from a duopoly?
Answer: In a monopoly, there is just one major supplier. In a duopoly, there are two major suppliers of a particular good or service. In an oligopoly, there are several interdependent firms that influence each other.
Q2. What is a duopoly market? Who introduced the term?
Answer: A duopoly market is an economic condition in which two business firms dominate. For example, Swiggy and Zomato are the leading food delivery platforms in the Indian market. The French Mathematician and economist Augustin Cournot coined the term in 1838. Cournot duopoly comes from his name.
Q3. Why is duopoly good?
Answer: Duopoly is a good practice for companies as they can continuously operate the market according to their requirement. They can increase the prices and update the product according to new standards.
Q4. Is duopoly legal?
Answer: With some conditions, a duopoly is legal. Both companies should refrain from collusion, as it may result in higher consumer prices. Collusion may also result in one company becoming a monopoly. Thus, collusion is illegal in the US, but duopoly is legal.
Q5. Is a duopoly form of business benefits to the economy?
Answer: A duopoly is an efficient form of business. In a sector where quality and constant supply are more important, it is very beneficial as firms can concentrate on the quality of goods without worrying about disruptions.
Recommended Articles
This article is a gist of a Duopoly. Here you learn its definition, characteristics, advantages, disadvantages, and examples. To know more about the topic, you can refer to these recommended articles,