Updated April 14, 2023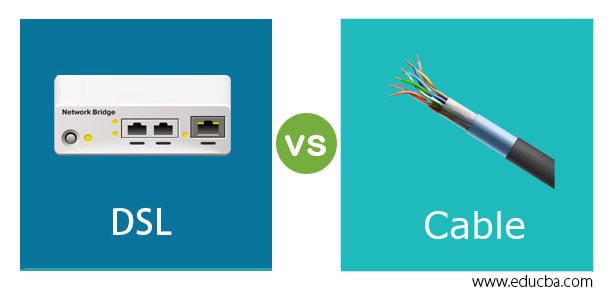 Difference Between DSL vs Cable
DSL vs Cable, DSL is the short form of Digital Subscriber Link. In this connection, standard copper phone lines are used for running the connection to our home. It is henceforth convenient because we still have the wired connection even if we are using landlines anymore. Thus, the reach to every user using DSL is quite easy. Even in rural areas, the accessibility to DSL connection is well established and using a DSL modem, we can connect our phone line to the internet and internet service providers do offer to rent out their DSL modem, but it is always preferable to buy one in order to save some cash. In our childhood days, we have obviously come across the word Cable TV. Yes, you are right, it is the same cable we would be talking about, just modified to suit the needs of making internet reach your house. Most of the time, we may get higher speeds than DSL, but in times of high parallel usage of cable internet in the same area, the speed might considerably drop as well.
Head to Head Comparison Between DSL vs Cable (Infographics)
Below are the top Comparisons between DSL and Cable:

Key differences of DSL vs Cable
Let us study some important key differences between DSL and Cable:
Now that we have a fair understanding of what DSL and cable internet connections are and having a fair analogous situation of these types of internet option, it is now time to jump on to look at differences between the 2 and set our context and priorities correct when there needs to be a decision to be taken between the 2.
The first genre on which we would be comparing our 2 candidates has shared connections. In this context, just to set a pretext that shared connections means that the same connection is shared across multiple subscribers. If we use our analogous resemblance of that phone line, it needs to be private to a single home. In contrast, a cable may run through the entire neighbourhood and if we remember that in the cable TV all our neighbourhood used to get the same channel, irrespective of if they want to see or not. Hence, we can fairly say that DSL is a non-shared connection, whereas Cable is a shared connection.
The second genre extends from the first one as internet speeds. Now in our previous genre of discussion, we understood that DSL is not a shared connection and Cable is, hence internet speeds for Cable might reduce at the time when a lot of people are accessing the internet at the same time, maybe a prime evening time. In contrast, DSL connections would give similar speeds even at the prime time as it gives in the non-prime time. There is another eye to the comparison of internet speeds. In general, DSL connections are capped at 6-7 Mbps speeds, whereas cable internet can range up to as fast as 105 or even 150 (For the ones with Fiber Optics). Also, there is a limitation of DSL connections that as one moves away from the main ISP hub, the speed starts reducing.
The third genre we would look at is the pricing point which essentially is the first thing one would look at if the pocket is tight! This point is again very subjective in nature as it internally depends on other factors like availability of the internet options in the area you live, the provider you are looking for, and whether the demand has already reached saturation. But if we need to compare apples to apples considering all external factors to be the same, DSL does fare to be less in price than cable connections.
Last but not least, the genre is about the type of environment best suited for the connections. In this, if your requirement is about light to medium usage of the internet, with 3 or fewer connections to the internet simultaneously and a budget-sensitive mindset, then one should surely go for DSL. But in other cases of heavy internet usage with simultaneous online gaming, backing up huge file to the cloud, big data analytics use cases, and not that budget-sensitive then, Cable is your go-to option.
Comparison Table of DSL vs Cable
Below is the comparison table:
| | | |
| --- | --- | --- |
| Genre | DSL | Cable |
| Shared Connection | DSL doesn't have a concept of shared connection, and the line of connection is solely for you | As cable runs through neighbourhoods, it has a concept of shared connection. |
| Internet Speeds | The internet speeds don't fluctuate much with external factors like many other people using the internet simultaneously. But on the other hand, the speeds are comparably lesser than Cable. | At peak times, the internet speed might go down and may keep fluctuating, but in other scenarios, the speeds are quite higher than DSL, somewhere in the order of 105 Mbps. |
| Pricing | Comparably cheaper in comparison to Cable | Comparably costlier option. |
| Usage points | It is mainly used for cases when there is light usage, with not many concurrent connections and not heavy continuous uploads and downloads. | It is mainly used for cases when there are heavy uploads or downloads, avid online gamer, and continuous backing up of heavy files to the cloud. |
Conclusion
As a concluding note, it is eventually important to understand the real need for the internet for ourselves to judge the best choice suited for the jobs and being budget-friendly. In the end, if you are a casual user with not much requirement, fast internet always DSL is the best option, but in case of heavy internet usage, Cable is the place.
Recommended Articles
This is a guide to DSL vs Cable. Here we discuss the difference between DSL vs Cable, infographics, key differences, and a comparison table. You can also go through our other related articles to learn more –