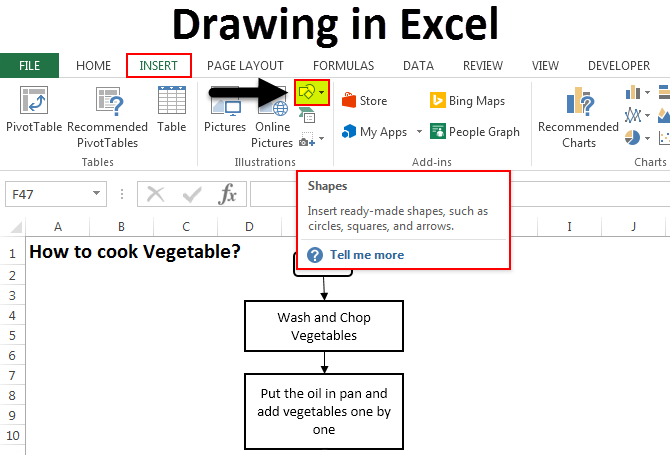 Drawing in Excel (Table of Contents)
Drawing in Excel
In Excel, we have different tools and functions for drawing and all are available in the Insert menu ribbon's illustration section. There we have Shapes, Text Box, Smart Art Graphics and Picture. To draw anything in Excel, we can choose any shape or design from Shapes. If we go in Shapes, we have Lines, Rectangles, Arrows, Stars, etc. To draw anything from shapes in Excel, select any of the shapes we want to draw and holding left-click drag and draw the shape in the size we want and then release the key to get the final drawing.
Drawing in Excel – Example #1 
We will see all kinds of shape with their use and application. For selecting drawing, go to Insert menu and select Shape option ( highlighted ) as shown in the below screenshot.

Once you click on Shape (highlighted as shown above), you will get a drop down list with all available shapes and figures.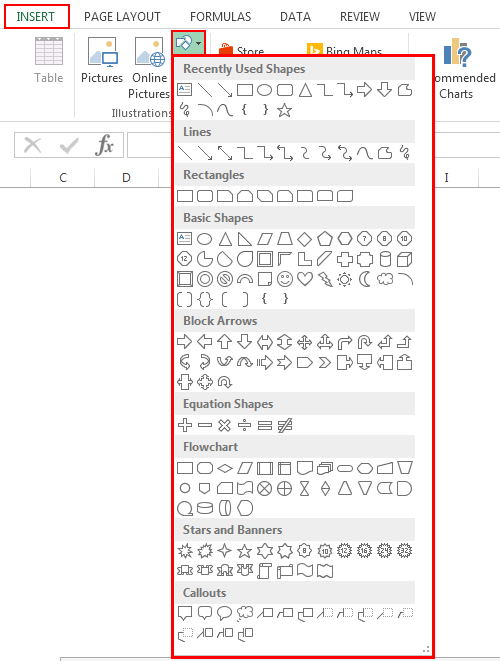 As we can see, the types of shapes which were mentioned are there is screenshot given above. Now, let's take one category at a time. To draw any shape from the menu, select the shape by clicking on it and draw it on anywhere in excel. Once drawn, you can change its orientation and size as well as per your need.
Lines – Very first defined category of Shapes are Lines. It has Line, Arrow, and Line with Arrow, Elbow connectors, Curvy Lines in different forms. Lines are used for connecting one cell or destination with the other one.

Rectangles – Rectangles as we know, it is a shape which has opposite sides equal to each other. Rectangles are mainly used for showing a process where something is happening.

Basic Shapes – Basic Shapes has a different type of 2D and 3D shapes.
The first shape is Text Box, which is used for entering any text or headlines. Which is followed by Circle, Triangles, and shapes with multiple arms/sides, which can be used for decision making mainly. Followed by Cubes, Cylinders which are used for showing data storage.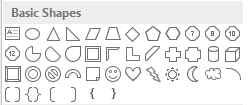 Block Arrow – Block Arrows are used for giving direction to any process. It can be one way or multi-way. Block Arrows can be used for direction along with entering the text in.

Flowchart – Flowchart is used for creating a process map or process flow, which defines the process steps from start to end.

Callouts – Callouts are used for mentioning the important notes, comments or remarks. It calls out the value or comments which are important to any reference process step.

Example #2
In this example, we will draw a Flow Chart by using some shapes. We will consider an example of cooking, where we will implement the shapes which we learned in the above example.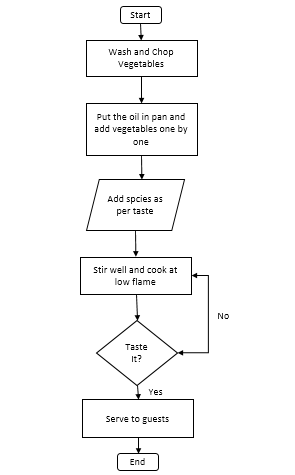 Above shown process flow chart is the Process Flow of Cooking Vegetable. Below are the terms and use of shapes given;
Process Start and End box call Terminator, which is used to terminate or end the process.
The rectangle is used to represent the process, in our Flow Chart, Washing and Cutting vegetables and putting them on the pan is a process.
The parallelogram is used to represent the data flow. Here in our Flow Chart, we are adding spices as the flow of data.
Diamond shape box is used to represent the decision. In out Flow Chart, Tasting the cooked vegetable shows decision with answer YES and NO, which shows whether the vegetable is cooked or not.
Arrows are used as connectors, which connect one process step to another step.
Pros of Excel Drawing
Excel drawing makes data professional in all way, even if basic shapes are used.
Using Shapes in Excel instead of MS Word are very user-friendly. So it is recommended to use Shapes for drawing in MS Excel only.
Connecting the shapes together is also easy.
Cons of Excel Drawing
Although it is very useful for making data or presentation look good, but using shapes consumes a lot of time in Excel. If used in Microsoft Visio, which is a separate tool provided by Microsoft, is specially used for creating charts with more defined shapes.
Things to Remember 
Always connect the shapes with each other by putting shapes closer so that connecting points will get activated.
Once done with the using Shapes, group all the shapes together so that whenever you change the worksheet or paste it in another sheet and it will not get dispersed.
Recommended Articles
This has been a guide to Drawing in Excel. Here we discuss the Drawing tool in Excel and how to use the Drawing tool along with practical examples and downloadable excel template. You can also go through our other suggested articles –