What is Health Insurance for Students?
Health insurance for students is a protection that covers their surgical and medical expenses. Insurance companies pay for hospital stays, doctor visits, prescription medications, and other costs.
For example, the policy will cover all the associated costs if a student fractures their leg and has health insurance.
Health policy may be necessary for students seeking higher education to guarantee they receive quality medical care without worrying about the cost. Students with this insurance can receive emergency medical care from top hospitals without paying upfront. They can also gain several additional benefits from this policy's coverage. The policy offers coverage for ambulance costs up to a specified amount, cashless treatment, and a free yearly physical exam.
Key Highlights
Health insurance for students covers expenses for medical care in the event of an emergency

Students may require the health plan for various reasons, such as coverage for medical expenses, cashless treatment, etc

When registering for this plan, students must provide the necessary paperwork, which includes age verification, address verification, identity verification, and medical records.
Why do Students Need a Health Insurance Plan?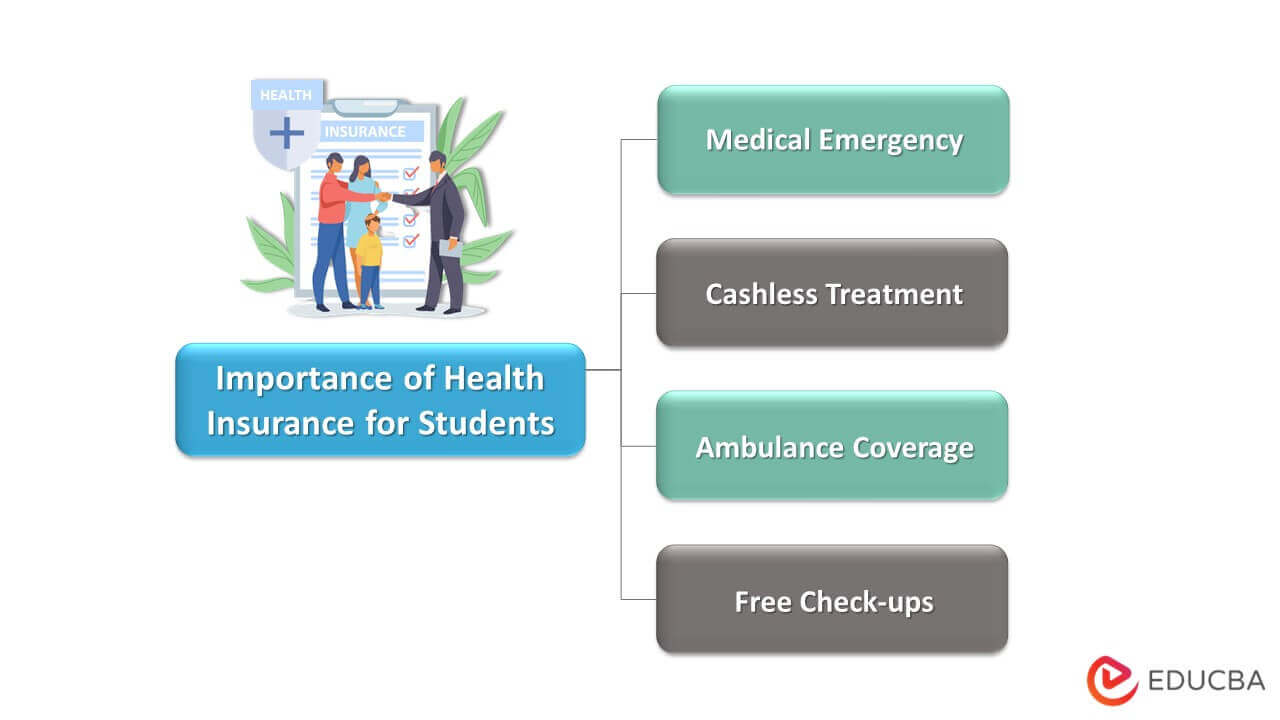 Following are some benefits:
#1 Coverage for Emergency Medical Expenses
They do not have to worry about the costs incurred during an emergency medical treatment

It covers all medical expenses, including treatment costs, doctor's consultation fees, in-patient/out-patient charges, medicine costs, etc. 
#2 Cashless Treatment Facility
It lets you get a cashless treatment facility from the network hospitals of your insurance company. Therefore, the insurance company pays the bills directly to the hospital

It allows you to start the emergency treatment process immediately

You or your parents can save time arranging money during this critical hour. 
#3 Coverage for Ambulance Fees
The insurance company also gives coverage for

ambulance expenses

up to a specific limit, as per the policy brochure 

All you need to do is keep the ambulance bill and submit it while making claims for the policy benefit. 
#4 Medical Check-ups
The insurance providers provide a free annual physical examination. 

It can aid in the early detection of any illnesses

As a result, you can quickly recover from that condition or prevent further complications in the future.
Best Health Insurance for Students in India
Following are some of the cost-effective health insurance policies you can purchase:
Insurance Company

Hospitalization Coverage

Premium 

Aditya Birla Activ Assure Diamond Plan

Minimum: Rs. 3 Lakhs

Maximum: Rs. 50 Lakhs

Starting from Rs. 3887

Bajaj Allianz Extra Care

Minimum: Rs. 3 Lakhs

Maximum: Rs. 50 Lakhs

Starting from Rs. 2194

Bajaj Allianz Health Guard Gold

Minimum: Rs. 3 Lakhs

Maximum: Rs. 50 Lakhs

Starting from Rs. 4171

Care Health Insurance Plan

Minimum: Rs. 4 Lakhs

Maximum: Rs. 50 Lakhs

Starting from Rs. 5277
Note: The coverage amount and the premiums are subject to change over time. Please get in touch with your insurer for exact estimates.
How to Buy a Health Insurance Policy in India?
You can get covered under a health insurance plan through these simple steps. Here are the steps to follow to apply for a health insurance plan:
Step 1:

Visit the official website of a marketplace for health insurance policies

Step 2:

Click on 'Check Plans'

Step 3:

Provide the required personal details

Step 4:

Choose a health insurance policy from the available plans

Step 5:

Upload the photocopies of all the required documents 

Step 6:

Pay the premium amount
Documents Needed to Buy a Health Insurance Policy
Following are some of the essential documents you need to submit while applying for a health insurance plan:
Age proof:

Voter ID, PAN card, etc

Address proof:

Telephone bill, passport, ration card, and others

Identity proof:

Aadhaar card, passport, voter ID card, etc.

Medical reports:

As required by the insurer.
Final Thoughts
A health insurance policy can help you secure treatment expenditures, especially in an emergency. Wherever you go for higher studies, you can stay assured that you have a backup against your hospitalization expenses. It will provide great peace of mind to you and your parents, allowing you to focus more on your education.
Frequently Asked Questions (FAQs)
Q1. Can students buy health insurance?
Answer: Yes, students pursuing higher education can buy any health insurance of their choice. The main criteria for a student to purchase health insurance are that they must be above 18 years old. 
Q2. Do students need medical insurance?
Answer: Buying medical insurance is essential for students, as it can help them get treatment from a reputed network of hospitals without worrying about expenses. They can also get avail of facilities like cashless treatment, ambulance fee coverage, and free annual check-ups.
Q3. Is insurance cheaper for students?
Answer: Medical insurance for students is available at a lower cost due to various schemes and discounts. These discounts are specially for students between 18 and 35 years. They can only be applied when you provide proper documents proving that you are a student.
Q4. How is health insurance important for students?
Answer: Many students stay away from their families while pursuing higher education. Health insurance is beneficial if they get hurt or fall ill. Students can get good quality medical attention without stressing about expenses. It keeps them and their parents worry-free.
Recommended Articles
This article is a guide to the Importance of Health Insurance for Students. Read the following articles to learn more,