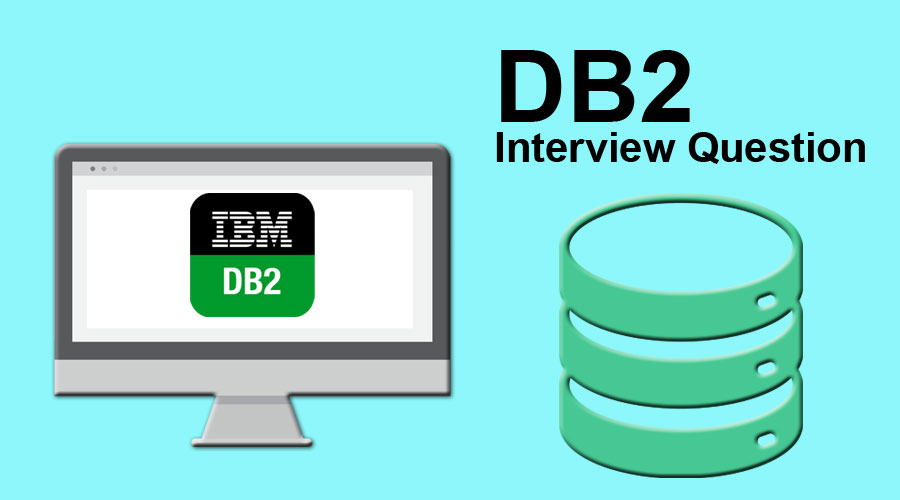 Introduction to DB2 Interview Questions and Answers
DB2 is basically one database designed by IBM. It mainly manages a relational database management system (RDBMS), which helps to store data in a proper relational approach, which helps analyse and retrieve data very efficiently. DB2 admin expert's people are very much highly demanded in the current market scenario; the base salary is also very attractive.
If you are looking for a job related to DB2, you need to prepare for the 2023 DB2 Interview Questions. Every interview is indeed different as per the different job profiles. Here, we have prepared the important DB2 Interview Questions and Answers, which will help you succeed in your interview.
This 2023 DB2 Interview Questions article will present the 10 most important and frequently asked Interview questions. These questions are divided into two parts are as follows:
Part 1 – DB2 Interview Questions (Basic)
This first part covers basic DB2 Interview Questions and Answers.
Q1. Provide given some clear definition or explanation regarding the picture clause in DB2. And in the case of the null indicator variable, how it can be utilized properly?
Answer:
Picture clause is one the key feature that needs to be defined for identifying specific characteristics and requirements of editing of a, particularly elementary items. This picture clause can be different for DB2 or mainframe DB2; we can use S9(4) COMP as the picture clause for the null indicator variable.
Q2. Every RDBMS database has one common disadvantage of creating the deadlock. Now, DB2 also followed the same RDBMS structure, so deadlocks also been generated in DB2. Please explain how or which specific components need to be check for identifying DB2 deadlocks?
Answer:
DB2 deadlocks are one of the critical problems for any kind of DB2 user; currently, DB2 is running for two kinds of approaches one is for IBM mainframe where DB2 is the only option to use, but the facility is deadlocked condition or any other critical problem of RDBMS database normally not introducing for using the same in Mainframe object. But this kind of problematic scenario can easily be generated when DB2 has been using for any kind of web application or something else rather than Mainframe. Deadlocks conditions normally generated in case of some concurrency issues, which are critical for web application users. Normally IRLM (Internal Resource Lock manager), which is known as the the locking service component of DB2, has been provided all the locking-related services that manage every concurrent issue in the DB2 database.
Let us move to the next DB2 Interview Questions.
Q3. Every RDBMS database always followed some well-defined structure for the executed SQL statement in their environment. In the case of DB2, which component is responsible for executing the SQL statement? Explain with an example?
Answer:
SQL statements can be varieties for every kind of databases. IBM Db2 has also followed some specific SQL structure define in their environment. Those SQL can be executed smoothly compare to other database, and performance of the same little better than other always. Normally, some of them define database service components as very smart and execute it as quickly as other databases. IBM Db2 is mainly concentrating on executing SQL query very smartly without a huge performance issue. DB2 has provided queue results for executing a query by this IBM DB2 database service components and managing the huge buffering pool without losing any critical transactional data store in the database.
Q4. In DB2, is it possible to use one of the popular aggregator keywords like MAX if the column defines as CHAR? If yes, please explain the same how we can do it.
Answer:
These are the basic DB2 Interview Questions asked in an interview. Yes, it is possible to use MAX easily in the case of the column defined as CHAR. But it is required to ensure that a CHAR column should always contain some numeric value; in that case, MAX will always provide the correct result in the case of DB2. If there have some non-numeric value, there is a lot of possibility of receiving some wrong kind of data. For example, suppose you are willing to get some MAX value of 'www', '099', '99' kind of data. Then it may give some kind of the wrong result as DB2 supported AS/400, which follows EBCDIC to store values. That's why 099 will store as 99 in the database. So keep 99 always be a maximum value kind of approach.
Q5. One of the common approaches in the RDBMS database is expecting the average salary for an entire organization from a specific table by using common aggregator AVG. Is there any possibility of given some wrong average value for any kind of common mistake? If yes, explain the mistake and how we can recover the same?
Answer:
We normally calculate an average value by using an AVG aggregator for one of the columns that hold numeric values. Sometimes developer, by mistake, mentions that column as expected null, then the average value will always come as wrong as it will consider the null value as one of the values of salary. Also, they did the mistake of mentioning 0 in the salary field, rather than mentioning 0 deactivate or removing the member who doesn't have any salary will give the more appropriate result.
Part 2 – DB2 Interview Questions (Advanced)
Let us now have a look at the advanced DB2 Interview Questions.
Q6. Suppose we are willing to shut down the DB2 database or startup one DB2 database. Then which component needs to be used for handling startup and shutdown?
Answer:
DB2 start up and shut down can be handled by system define service components of DB2. There are two key system service components: global db2start and db2stop, which mainly manage to start and shut down the DB2 database.
Q7. Suppose we are willing to apply some locks in the DB2 database, then which level of execution we can able to add those locks. Give some more details on the same?
Answer:
DB2 database locking or any RDBMS database locking system are well defined. There have several phases they can apply locking:
Page: locking can be done for an entire page. In that case, none of the table accessible during the lock period.
Table: locking the table. One that specific table will not be accessible by another request.
Table Space: tablespace can be the lock; in that case, all the table using that specific tablespace cannot be accessible during the locking period by another request.
Let us move to the next DB2 Interview Questions.
Q8. Suppose we are planning to add some isolation level on the DB2 database. Is it possible? If yes, then explain which level we can able to do this?
Answer:
In DB2, we can specify the isolation level for the binding step. Bind step in DB2 is actually the compilation process define on this database platform. BIND basically ensure proper compilation of Cobol programming. It basically helps to DB2 optimizer for preparing the SQL statement in the executable code.
Q9. Suppose we have executed one DML statement like UPDATE, INSERT, and DELETE kind of command on one specific table. Those statements normally return some number of rows that are impacted or updated; on which field helps to show the number of rows in SQLCA?
Answer:
This is the most asked DB2 Interview Question in an interview. We need to validate SQLERRD, which is actually holding how many rows are impacted or updated for checking the same.
Q10. What will be the defined length of physical storage for storing the timestamp in the IBM Db2 database?
Answer:
Timestamps normally have taken 10 bytes. YYYY-MM-DD HH:MM: SS: NNNNNN
Recommended Articles
This has been a guide to the list of DB2 Interview Questions and Answers. Here we have listed the most useful 10 interview sets of questions so that the jobseeker can crack the interview with ease. You may also look at the following articles to learn more –