Learn from Home Offer TAKE THIS BUNDLE
SEO Training in Kochi (12 Courses, 6+ Projects)
12 Online Courses
6 Hands-on Projects
66+ Hours
Verifiable Certificate of Completion
Lifetime Access
Search Engine Optimization - Introductory
Search Engine Optimization - Case Study#2
Search Engine Optimization - Case Study#1
SEO - Search Engine Optimization
SEO Project on Page Optimization
Offer ends in:
TAKE THIS BUNDLE
* One Time Payment & Get Lifetime Access
What you get in this SEO Training in Kochi?
Online Classes
Technical Support
Mobile App Access
Case Studies
About SEO Training in Kochi
| Course | | No. of Hours |
| --- | --- | --- |
| Search Engine Optimization - Introductory Course | | 4h 14m |
| Search Engine Optimization - Case Study #1 | | 2h 48m |
| Search Engine Optimization - Case Study #2 | | 2h 51m |
| SEO - Search Engine Optimization | | 4h 11m |
| SEO Project on Page Optimization | | 5h 12m |
| Conversion Rate Optimization (CRO) - Beginners | | 1h 48m |
| Conversion Rate Optimization (CRO) - Advanced | | 3h 25m |
| SEO Project 2019 - Page Optimization | | 2h 6m |
| Google Analytics | | 4h 47m |
| Project on Google Analytics | | 2h 31m |
| Google Adwords- Google Adwords Course | | 9h 19m |
| Google Ads Training - Advanced | | 1h 59m |
| Digital Marketing - Display Advertising | | 3h 34m |
| Email Marketing Case Study - Build a Powerful Targeted Email Database | | 3h 07m |
| Project on Twitter Marketing and Analytics | | 3h 35m |
| Local SEO | | 1h 27m |
| SEO Analytics Strategies- Content Marketing Tools | | 2h 13m |
| SEO and Search Engine - SEO to Rank #1 in Google | | 11h 31m |
| | |
| --- | --- |
| Course Name | SEO Training in Kochi |
| Deal | You get access to all 12 courses, 6 Projects bundle. You do not need to purchase each course separately. |
| Hours | 66+ Video Hours |
| Core Coverage | Search Engine Optimization (SEO), Search Engine Marketing (SEM), Google Adwords, Google Analytics, Digital Marketing, Display Advertising, Email Marketing, Conversion Rate Optimization (CRO) |
| Course Validity | Lifetime Access |
| Eligibility | Anyone serious about learning SEO and wants to make a career in this Field |
| Pre-Requisites | Basic knowledge about Digital Marketing would be preferable |
| What do you get? | Certificate of Completion for the course |
| Certification Type | Course Completion Certificates |
| Verifiable Certificates? | Yes, you get verifiable certificates for each12 course, 6 Projects with a unique link. These link can be included in your resume/Linkedin profile to showcase your enhanced skills |
| Type of Training | Video Course – Self Paced Learning |
| Software Required | None |
| System Requirement | 1 GB RAM or higher |
| Other Requirement | Speaker / Headphone |
SEO Training in Kochi Curriculum
---
You can learn the most important SEO skills. In this field when you get a job and build a career as follows:
This SEO Certification course covers various methods of content marketing. This takes about 2 hours and includes topics such as content marketing tools, social media, webinars, automation, visuals, etc. It also gives some examples.
Search Engine Optimization
This module is 5 hours long informative and interesting. It will discuss topics such as a web analytics summary, web analysis approaches, and various techniques and the structure of the Google Analytics system, different types of tabs, goal setting, user management, and export possibilities, etc.
Conversion Rate Optimization (CRO) – Beginner Level
This SEO learning focuses on concepts that should be learned by every beginner from the start. This is focused on the students learning how ad words work, definitions of ad words, conversion tracking, and the concept of CPM, as well as on basic themes like how the user searches on the Internet. It also teaches how to re-market the dynamics, rate limit, video campaign, conversion tracking shopping campaign, etc. with the help of a there perspective example
Conversion Rate Optimization (CRO) – Advanced Level
This is a 5-hour long section this tutorial is advanced and focuses on topics such as a detailed SEO summary. You can understand the many facets of SEO by studying SEO Training in Kochi. You'll know how to organize the traffic on your pages and keyword management, what the various components of SEO are. you'll also understand the comparison of what the SEO and SEM. The section also addresses one of the main aspects of SEO, which is site optimization.
This SEO module includes an introduction and basic concepts of search engines, how indexing, crawling, and processing is done while searching for the content on pages, relevancy calculation, retrieval, the several of SEO techniques, what are different types of searches, etc. Important elements considered by a search engine when searching and ranking, examples of search listings, Google optimization, etc.
This module is all about 3 hours long. It will explain to you the concepts such as CRO-components, CRO configuration, the development and evaluation of an optimization plan, testing user data, optimization plan stages, data analysis, CRO instruments, PPC comprehension, etc.
In SEO Training in Kochi, you will learn how to use SEO to generate more traffic on a website and to improve the rating of the SEO throughout offline and online marketing strategies. This module will also instruct you on such topics such as profile linking, submitted list, submissions for posts, blog comments, social bookmarking, etc.
It is approximately 3 hours, this module will cover valuable display marketing techniques, such as advertising introduction, critical terminologies, branding, show comprehension before wonderfully finalizing the main ideas.
This segment will discuss email marketing. This will explains the concepts such as email marketing, email options, document reviews, the layout of an address, email copies, pages, etc.
SEO Training – Certificate of Completion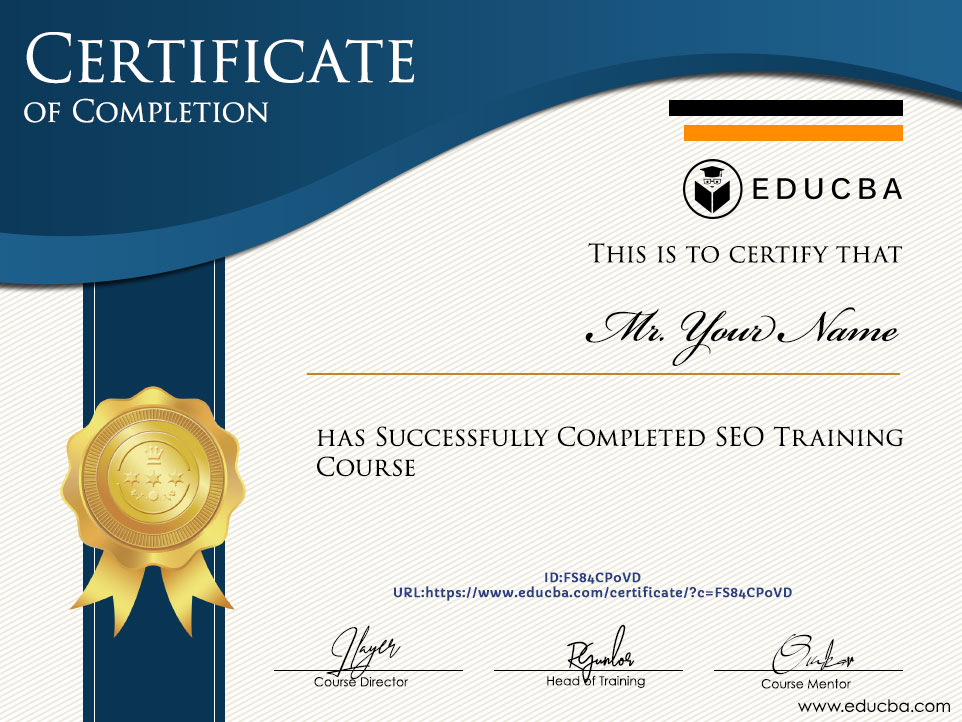 What is SEO?
SEO is an acronym for optimizing search engines, which is a strategy for increasing the quantity and quality of website traffic by indexing the site's increased visibility. SEO also supports most digital marketing functions as ensuring that bots produce website traffic and search more regularly for web pages. Many traffic means many profits. It also guarantees traffic efficiency by tracking visitors ' importance. This also helps to remain on the first page or to reach a first position on the business website. More international visitors will also check the website.

Industry Growth Trend
The digital marketing software market is projected to grow from USD 33.39 Billion in 2016 to USD 74.96 Billion by 2022.
[Source - MarketsandMarkets]
Average Salary
Average Salary
$51,326 per year
The average salary for a SEO Specialist is $51,326 per year in the United States.
[Source - Indeed]
Which Skills will you learn in this Course

?
Online as well as offline marketing campaigns, you can learn how to incorporate SEO, how to scan and develop your vocabulary for a high ranking using search engine optimization, discover different keywords, and validation. This SEO learning explains how Google or any other search engine can render a web page recognizable as one of the top results Google Analytics, Google Ad-words page optimization, web layout, right keyword choice, etc. are many skills taught. Some people have amazing content on their websites, but millions of people around the world still don't see it because they don't customize their website for it. Therefore, their pages are not shown when a client performs a request. This SEO training teaches you everything about managing your SEO web pages to ensure more traffic with better quality and fewer ads to your website.
Pre-requisites
SEO is a technological subject and is therefore supposed to have a basic understanding of web technologies and the internet.
It is recommended that the student be familiar with at least one programming language to understand the course content well and to be confident to start working in this area.
Also, prior exposure to analytics is preferred but not mandatory, in particular, web analysis and web design. It is an added advantage if you've been working with PHP or JavaScript.
Target Audience
SEO Training in Kochi is for web designers, software developers, and program administrators. If you want to become qualified in this area, you should participate in this SEO training. New graduates and professional staff who want to customize a website or work with a company specializing in the optimization of their customers ' web pages can be a good target audience for the course. SEO Training in Kochi can also be used by managers and owners of web pages who want to control their SEO team and need to familiarize themselves with the domain.
SEO Training in Kochi – FAQ's
---
Will the course obtain a certificate?
Yeah, that's right. The SEO course is awarded to all those students who successfully pass the course along with project completion and who earn a lifetime validity certificate.
How long is the validation period?
The credential for this course is valid for lifetime. All certificates need to be modified. You can also take additional advanced courses that increase your knowledge and help you to develop your career.
Is it hard to understand the SEO course? Do I have to check the content continuously?
We have a mixture of students in our class from beginners to working diplomas, with an overall figure of 95%. It shows that practically everybody can grasp the course by making some effort. It is only advised that you revisit the content if you have an important interview and have maybe skipped some of the important concepts because most of the lessons will easily be recalled.
How long is this SEO Course going to take?
It is generally recommended for 5-6 hours a week. Time to complete the course may differ, but the majority of students can complete the course in 3 to 4 months if they are given 5-6 hours a day because it is more than 58 hours a day.
Why should you take up the SEO Training in Kochi?
Educba is one of the very few SEO training institutes in Kochi. For this SEO training course, Educba experts are working. Educba Institute in Kochi is very highly classified and perfect for those who want to know digital marketing from the best institute.
What is the SEO Market trend in Kochi?
Many leading companies now a day choose SEO positions for their company to gain more digital technologies. Strong investments in R&D in SEO engineering in Kochi. SEO. Flipkart, Amazon, etc. hire SEO specialists to always obtain relevant traffic and this requirement rises in the SEO sector only annually. In Kochi, there is now an immense demand for SEO profiles. Be prepared to take this extensive course in SEO with Educba for your dream job in the SEO business.
Sample Preview
---
Career Benefits
In SEO Training in Kochi, each SEO theory will be understood from the basic level to the highest level because it will also help you crack your interview. Most of our students took the course successfully in MNCs and numerous active startups. Those students who are focused and complete all assignments that perform well at their work during interviews and job applications.
SEO Training Course Testimonials
---
SEO
Great course! Easy to understand and well-paced. This is a great way to get you up to speed on SEO or it can serve as a great refresher. I recommend EDUCBA to all professionals who are looking to expand or brush up on their skills.
Linked
Vince Czerwonka
Very good course for beginners
Great course! Easy to understand and well-paced. This is a great way to get you up to speed on SEO or it can serve as a great refresher. I recommend EDUCBA to all professionals who are looking to expand or brush up on their skills.
Linked
Manoj Kumar
Nice course
I knew a little bit about SEO but wanted to learn more so I took this eduCBA course to try to learn more. This was a nice SEO training with lots of good information about Google and SEO. There were several areas I learned how to do something I didn't know how to do or learned how to do something better than I could before. I highly recommend this to anybody either needing to learn more about SEO from scratch or adding to your existing knowledge.
Linked
John Knox
Very helpful Training on SEO
This SEO training is very well-conceived, nicely presented, and concise. It contains a lot of information important to everyone interested in SEO – beginners and more advanced professionals alike. The presenter is a professional in this field and a good teacher as well, he speaks great English also. There were a lot of examples to show the application of SEO which for me was very important. Thank you and keep making courses like this.
Ivana Slavkovski Bilić