Learn from Home Offer TAKE THIS BUNDLE
SAS PROGRAMMING Course Bundle - 18 Courses in 1 | 8 Mock Tests
123+ Hours of HD Videos
18 Courses
8 Mock Tests & Quizzes
Verifiable Certificate of Completion
Lifetime Access
TAKE THIS BUNDLE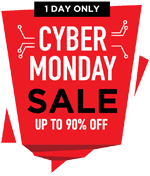 * One Time Payment & Get Lifetime Access
What you get in this SAS PROGRAMMING Course Bundle - 18 Courses in 1 | 8 Mock Tests?
123+ Hours
18 Courses
Mock Tests
Course Completion Certificates
Lifetime Access
Self-paced Courses
Technical Support
Mobile App Access
Case Studies
About SAS Training in Bangalore
| | |
| --- | --- |
| Course Name | Online SAS Training in Bangalore |
| Deal | You get access to all videos for the lifetime |
| Hours | 123+ Video Hours |
| Core Coverage | SAS, SAS/GRAPH, SAS/STAT, SAS/ODS, SAS PROC SQL, SAS Advanced – Macro, SAS-EG, Predictive Modeling with SAS, Business Analytics using SAS |
| Course Validity | Lifetime Access |
| Eligibility | Anyone serious about learning SAS and wants to make a career in this Field |
| Pre-Requisites | Math skills, Data intuition |
| What do you get? | Certificate of Completion for each of the 18 courses, Projects |
| Certification Type | Course Completion Certificates |
| Verifiable Certificates? | Yes, you get verifiable certificates for each course with a unique link. These link can be included in your resume/Linkedin profile to showcase your enhanced SAS skills |
| Type of Training | Video Course – Self Paced Learning |
| Software Required | None |
| System Requirement | 1 GB RAM or higher |
| Other Requirement | Speaker / Headphone |
SAS Training in Bangalore Curriculum
---
SAS training is designed in a structured format covering the topics from basics to the advanced concepts involving SAS Programming language. We target to provide a high-class training which contains 9 modules having around 9 projects. You can spend more than 121 hours on improving or adding a new skill to your knowledge bank along with certifications on successful completion of training which you can use as an asset in CV while seeking or switching jobs.
The training covers topics like SAS Statistics, SAS Macros, SAS Proc SQL features, SAS Programming, and much more. There are different projects designed for so that you get hands-on experience. Advance topics are explained in with the help of user-friendly online content so that it becomes easy for a newbie to understand easily. Hand-on sessions are designed with pinpointed details to foster the environment where all the doubts and confusion on the topic can be cleared. Learners will get insights about real-life business scenarios and issues. They will get a piece of knowledge on how SAS is used to solve such scenarios. This SAS Training in Bangalore gives a broad business perspective along with technical knowledge which will help you prepare yourself for the competitive industry.

SAS Training – Certificate of Completion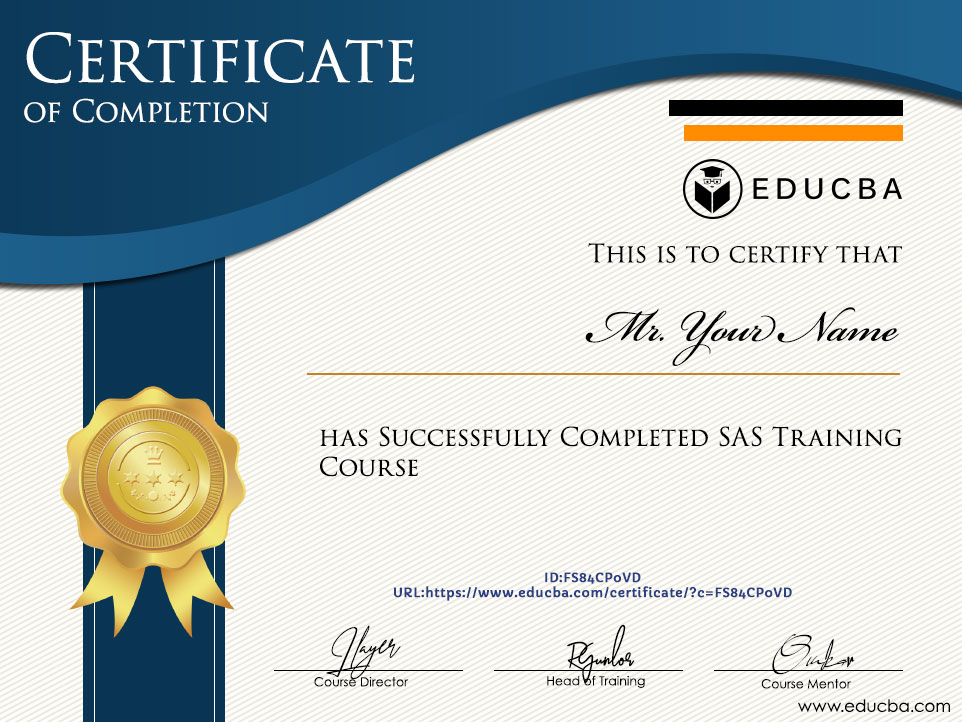 What is SAS?
SAS is an integrated system of various software products used in collaboration to derive business intelligence. These products are owned and developed by a company called "SAS Institute". SAS enables programmers with different functionalities. Some of the functionalities are listed below:
Information retrieval and data management
Information and graphical reporting
Statistical analysis
Quality improvement
Operations research and project management
Data mining and warehousing
Business predictive analytics, forecasting and decision support
Application development
Product design and development
Features of SAS:
SAS can be tagged as scalable software systems that can process millions of rows and columns dealing with various data manipulations. It is quick in providing analysis as it has an inbuilt date, time handling functions, random number, and statistical functions, etc. It can interact with the database and operating system smoothly without taking much time. It produces outputs in different formats.

Which Skills will you learn in this Training

?
As a part of this SAS Training in Bangalore, various courses will be offered to a trainee. The below list gives an overview of takeaways to be offered as part of this training:
The learner will get help to develop an analytic approach to deal with any business scenario.
You will be offered with courses statistics and mathematical models to approach any problem in a better way.
You will get hands-on sessions in various SAS tools and understand how to generate output reports and graphs. You will also understand the importance of these reports in strategic decisions.
After this SAS Training in Bangalore, you will be able to work on SAS language to facilitate coding in those languages as per business requirements.
Pre-requisites
Below mentioned are the prerequisites for this SAS Training in Bangalore:
Good internet connectivity since it is online training.
A system with 1 GB RAM or higher configuration.
Comfortable with the English language since the course is designed in the English language.
Basic understanding of programming language and mathematics.
Willing to work or passionate about analytics.
Target Audience
Students: Students in college or schools who aspire to pursue their career in SAS can attend this SAS Training in Bangalore. They will be awarded certification along with the hands-on training which will be added as a feather in their crown to showcase in interviews.
Experienced Professionals: Professionals who are working in any domain or technology for a long time now and seek a change in their career path should enroll for this training. This training comes as a full package containing online content along with certification which can be used to showcase in their CVs during interviews.
Job seekers: People in the market who are searching for a job opportunity in the market and are ready to learn a trending technology can enroll in this SAS Training in Bangalore. The market trends show that the demand for applicants with skillsets containing SAS language and SAS software tools is on the rise.
Analytics enthusiasts: Irrespective of job experience and the field one works on, all the analytics enthusiasts who seek to learn more in the field are most invited to attend this training. This training will cater to your curiosity in the analytics and you may end up knowing things which may persuade you in considering this field as your preferred career path.
Entrepreneurs: Although SAS is less recommended to startups at their early age because SAS license costs pretty high still for startups which have established themselves and expect to increase their business with a paradigm shift in analytics can consider investing in SAS as a good decision. There are a lot of startups like Salesforce, Zendesk, etc. marking their presence in the market. All young entrepreneurs and business transformers are most invited to attend this SAS Training in Bangalore to get an idea of how to make the most out of data analytics.
SAS Training in Bangalore – FAQ's
---
Why should you attend the SAS training?
This training comes with a great opportunity for all the analytics enthusiasts who seek to build their career in analytics. One can have a good salary, job satisfaction, a good learning work environment along with a chance to work on latest tools and technologies which are responsible for shaping the industry benchmarks in today's world. To gear up your career and seek these opportunities one should be ready. This SAS Training in Bangalore provides an opportunity for a trainee by preparing them to face the industry.
How is the market trend for job applicants having SAS in their skillset?
We are shifting towards a world where we seek a risk-free environment around us. These companies are investing money to make their products even better and robust for that, they are gathering historical data linked to their products and customers to learn from the mistakes done in the past. To accomplish this task there are multiple tools present but they need skilled people to operate upon them. We should see an upsurge in demand for SAS skilled professionals to cater to this demand by many IT Firms.
I am experienced in some other technology, is it beneficial for me to attend this SAS Training in Bangalore?
If you are trained in some outdated technology and wish to have a marked shift in your career, then you should not leave this opportunity to learn SAS. R and python languages are considered nowhere to match SAS in its efficiency and speed. SAS though is a paid software but has proven its worth in the market by showcasing its efficiency in analytics. One can have a change, salary hike, get more interesting work, and add colors to your daily routine job.
Due to the job profile, I did not work much on coding skills. How much coding should I practice for understanding SAS?
SAS uses 4th generation programming language as macros are available for users who do not have many hands-on programming. It majorly requires analytical skills as most of the tools in SAS as user-friendly.
Why should you take up SAS training in Bangalore?
Bangalore being one of the favorite destinations for IT firms, provides a wide number of opportunities to job seekers who wish to work on trending technologies.
One can expect these benefits out of learning SAS:
Salary increment as SAS is still a niche skill found with job applicants.
Job satisfaction as one gets to solve challenging and interesting challenges by analyzing data.
Get to work with big organizations. We see many big IT firms going for implementation of SAS now, this trend then will be followed by small firms too observing the efficiency offered by SAS.
Get to work with knowledgeable experienced IT professionals in SAS creating an overall collaborative learning environment in the workplace.
What is the SAS market trend in Bangalore?
SAS is leading in advanced analytics business capturing the market share of around 30.8%. It has maintained this position from long back and has exhibited continuous growth year on year even after facing competitions from open source technologies like R and python. Bangalore is known as "silicon valley of India" will give unlimited job opportunities for SAS skilled professionals looking at increasing need to handle and use data.
Sample Preview
---
Career Benefits
Salary hikes and numerous jobs as this is still a niche skillset and is in demand by big organizations. As per market trends, this demand will increase in the future too.
It will be possible to get interesting results as data processing will become faster. This will foster advanced data analysis and provides one with an interesting job profile.
It is beneficial for those who are trying to switch into data analysis coming from different technical backgrounds.
If you show up your interest in learning SAS, then it also verifies your adaptability and interest to learn new technology in the market.
The certification obtained after this SAS Training in Bangalore will help in getting more weight to your CV in comparison to others.