Updated June 13, 2023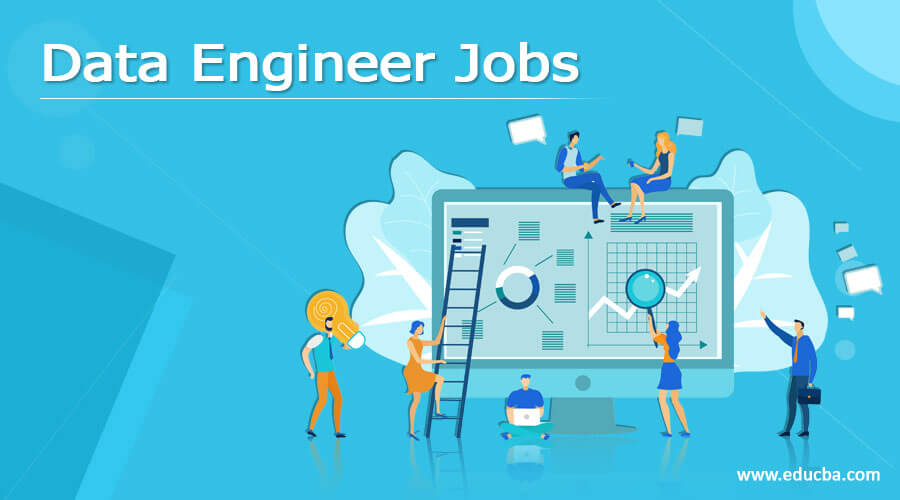 Introduction to Data Engineer Jobs
By definition, we can elaborate that the Data Engineer is a software engineer dedicated to the data resolutions consisting of technologies to be used and the scalability of various solutions. There is a slight difference between a software engineer and a data engineer: the first operates with data concepts, and the latter is concerned with writing code only for data pipelines. The data engineer job is exceptionally related to functioning as a technical professional responsible for designing and retaining the planning of data systems that integrates perceptions extending from analytic frames to a data warehouse. Data Engineer Jobs involve technicians developing the steps and processes implemented in modeling, verification, mining, and acquisition.
Top Data Engineer Jobs (USA)
Data Engineers are the human assets accountable for operative data engineering practices working in any organization generating data reservoirs and configuring pipelines to transfer sorted data info. It is also a science for assembling and authorizing information that data scientists can leverage.
After extensive research and analysis, the team of Zippia's data scientists found that:
Presently, there are over 7,390 data engineers engaged in the United States.
Women are 18.8% of total data engineers, but men are only 74.0%.
A working data engineer has an average age of 39 years.
The furthermost corporate culture of data engineers is white, about 57.1%, further trailed by Asian, about 27.7%, and Latino or Hispanic, about 7.4%.
The normal data engineers are in New York, NY, and IL, Chicago.
They are paid $99,766 of the average annual salary.
The average beginning salary is about $74,000.
92% was earned from what men earned by women in 2021.
The maximum 10% of uppermost salaried data engineers earn as much as $133,000.
15% of entire data engineers are LGBT.
They are more expected to work at communal companies than reserved companies.
Job Responsibilities
For applying for data Engineer jobs, one should have the following key job responsibilities mentioned below:
Develop and support the prime architecture of the data pipeline.
Gather big, composite data sets that can satisfy functional and non-functional business necessities known as Data Acquisition.
Recognize, design, and execute internal process enhancements: mechanizing manual processes, elevating data distribution, re-designing frames for better scalability & so on.
Construct the frame needed for the finest extraction, conversion, and loading of records from extensive data sources using SQL and AWS 'big data' knowledge.
Figure out analytics tools that operate the data pipeline for delivering actionable visions into client acquirement, functioning proficiency, and other main business enactment metrics.
Efforts with investors consisting of the Management, Product, Data & Design crews for helping with data-associated procedural issues and supporting their data setup necessities.
Hang onto our data disconnected and secure diagonally national limitations over and done with numerous data center and AWS sections.
Make data implements for analytics and data scientist crew members who support them in constructing and enhancing our product into an advanced industry leader.
Operate with statistics and analytics specialists to struggle for better functionality in our data schemes.
Implement programming language and also tools associated with it.
Discover unseen patterns using data chunks and developing models.
Provide updates to the sponsors based on analytics.
Efforts in sync with inner & outer crew members such as data scientists, data architects, and data analysts for management of all kinds of technical concerns
Assimilation of data-controlling processes into the administration's current structure.
Data safekeeping & authority with present-day safety controls.
Data storage using technologies like NoSQL, Hadoop, Amazon S3, and so on.
Qualifications and Salary
The qualifications compulsory to become an efficacious Data Engineer can be listed:
Achieve your undergraduate degree sooner from universities and begin functioning on related projects.
Store entry-level professional experience
Collect trained certifications
Improve data engineering abilities – programming code, database design, automation, cloud computing, etc.
Carry on acquiring an upper degree in computer science, engineering, etc.
Brush up on exploration and computer engineering skills.
Retain posting your related work on Github, and LinkedIn platforms.
Encompass self-learning using online courses.
Familiarize assignment-centered learning methods.
To prove your merit as a Data Engineer, some certifications such as IBM Certified Data Engineer, Google Cloud Certified Professional Data Engineer, CCP Certified Data Engineer, and Certificate in CPEE can be picked up.
Data Engineer should possess a few essential technical and soft abilities which can support them in accomplishing their finest and make administrations control their superlative perspective mentioned as follows:
C++
Azure
Database systems like NoSQL, SQL
Distribution system basics: Apache Spark, Apache Hadoop
ETL (Extra, Transform, Load) tools
Scala
Amazon S3/HDFS/AWS
Python, Scala, and Java languages
Machine learning algorithms
Data structures, data lakes, data modeling, data architecture
Data APIs
ELK Stack
Software Development
Apache Airflow, Apache Kafka
Business intelligence and analytics or dashboards.
Operating systems(OSs) such as UNIX, Solaris, Linux
Visualization/dashboards/big data analytics
Business intelligence and analytics
Understanding of functioning with connectors – SOAP, REST, HTTP, FTP
 Team skills with Collaboration
Presentation and communication skills
The Salary of a Data Engineer Can be
As per the record of Glassdoor, a data engineer's average salary is evaluated to be $137, 776 per year, depending on skills, with a reported salary range of $110, 000 to $155,000 (in India, it's Rs. 8, 56, 643 LPA). At the same time, senior data engineers can earn up to $172,603 of average salary per year, with a reported range of salary of $152,000 to $194,000. A few salary details paid on average to the data engineers in some top tech companies can be listed:
Organization Reported Salary Range Average Annual Salary:

The salary usually depends on various elements such as the size and status of the company, educational merit, topographical location, career position, and also experience in working. Presumed companies and big performers in Big Data production like Airbnb, Amazon, Netflix, Spotify, Deloitte, Accenture, IBM, and Capgemini, to label a few, generally pay great reimbursement to data engineers.
Conclusion
Data engineers require obligating a concrete understanding of universally applied scripting languages. They are estimated to support the secure development of enhanced Data Quality and improved quantity, with the help of leveraging and refining data analytics systems. Today, the demand will grow speedily as many businesses and institutions need a vigorous Data Architecture to save and fetch data. When an institute expands into implementing Data Science, the requirement for Data Engineers arises. There is no experience in other jobs, but several data engineer jobs need experience in a software engineer title.
Recommended Articles
This is a guide to Data Engineer Jobs. Here we discuss the introduction, top data engineer jobs, qualifications, salary, and job responsibilities. You may also have a look at the following articles to learn more –