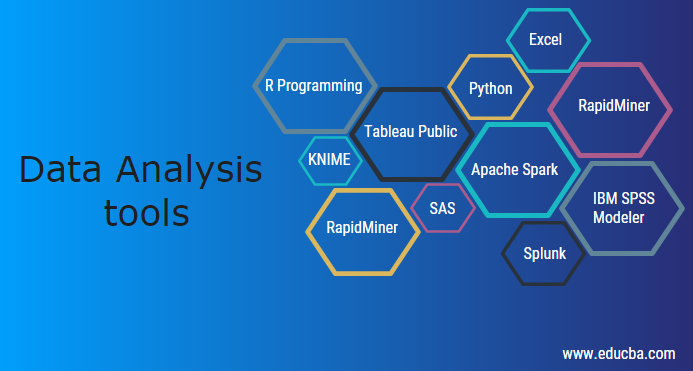 Introduction to Data Analysis Tools
Data analysis tools such as R Programming, Tableau Public, Python, SAS, Apache Spark, Excel, RapidMiner, KNIME, QlikView, Splunk, etc. are used to collect, interpret and present data for a wide range of applications and industries so that these data can be used for the prediction and sustainable growth of the business. Due to these tools, data analyzing has become easier for the users, and due to its various types, it has created a huge opening in the market with a demand for data analytics engineers.
Top Data Analysis Tool
Here we are going to explain the Top data analysis Tool.
1. R Programming
What if I say Project R, a GNU project, has been published in R? This is written mainly in C and Fortran. And many modules have been drawn up in R alone. It is a free language and software for statistical computing and graphics programming. R is the industry's leading analytical tool, commonly used in data modeling and statistics. You can manipulate and present your information readily in various ways. SAS has in numerous ways exceeded data capacity, performance, and results. R compiles and operates on many platforms, including -macOS, Windows, and Linux. t has the option to navigate packages by category 11,556 packages. R also offers instruments to install all the packages automatically, which can be well-assembled with large information according to the user's needs.
2. Tableau Public
Tableau Public offers free software that links any information source, including corporate data warehouse, web-based information, or Microsoft Excel, generates information displays, dashboards, maps, and so on and that present on the web in real-time. It can be communicated with the customer or via social media. Access to the file can be downloaded in various formats. We need very good data sources if you'd like to see the power of the tableau. The big data capacities of Tableau make information essential and better than any other data visualization software on the market can be analyzed and visualized.
3. Python
Python is an object-oriented, user-friendly as well as open-source language that can be read, written, maintained, and free. Guido van Rossum created it in the early 1980s, supporting both functional and structured techniques of programming. Python is simple to know because JavaScript, Ruby, and PHP are very comparable. Python also has very nice libraries for machine learning, e.g. Keras, TensorFlow, Theano, and Scikitlearn. As we all know that python is an important feature because of that python can assemble on any platform such as MongoDB, JSON, SQL Server, and many more. We can also say that python can also handle the data text in a very great manner. Python is quite simple, so it is easy to know, and for that, we need as a uniquely readable syntax. The developers can be much easier than other languages to read and translate Python code.
4. SAS
SAS stands for Statistical Analysis System. It was created by the SAS Institute in 1966 and further developed in the 1980s and 1990s; It is a programming environment and language for data management and an analytical leader. SAS is readily available, easy to manage, and information from all sources can be analyzed. In 2011, SAS launched a wide range of customer intelligence goods and many SAS modules, commonly applied to client profiling and future opportunities, for Web, social media, and marketing analytics. It can also predict, manage and optimize their behavior. It uses memory and distributed processing to quickly analyze enormous databases. Also, this instrument helps to model predictive information.
5. Apache Spark
Apache was created in 2009 by the University of California, AMP Lab of Berkeley. Apache Spark is a quick-scale data processing engine and runs apps 100 times quicker in memory and 10 times quicker on disk in Hadoop clusters. Spark is based on data science, and its idea facilitates data science. Spark is also famous for the growth of information pipelines and machine models. Spark also has a library – MLlib that supplies a number of machine tools for recurring methods in the fields of information science such as regression, grading, clustering, collaborative filtration, etc. Apache Software Foundation launched Spark to speed up the Hadoop software computing process.
6. Excel
Excel is a Microsoft software program that is part of the software productivity suite Microsoft Office has developed. Excel is a core and common analytical tool generally used in almost every industry. Excel is essential when analytics on the inner information of the customer is required. It analyzes the complicated job of summarizing the information using a preview of pivot tables to filter the information according to customer requirements. Excel has the advanced option of business analytics to assist with the modeling of pre-created options such as automatic relationship detection, DAX measures, and time grouping. Excel is used in general to calculate cells, to pivot tables and to graph multiple instruments. For example, you can create a monthly budget for Excel, track business expenses or sort and organize large amounts of data with an Excel table.
7. RapidMiner
RapidMiner is a strong embedded data science platform created by the same firm, which carries out projective and other sophisticated analytics without any programming, such as data mining, text analytics, machine training, and visual analysis. Including Access, Teradata, IBM SPSS, Oracle, MySQL, Sybase, Excel, IBM DB2, Ingres, Dbase, etc., RapidMiner can also be used to create any source information, including Access. The instrument is very strong that analytics based on actual information conversion environments can be generated; for Example: For predictive analysis, you can manage formats and information sets.
8. KNIME
KNIME The team of software engineers from Constance University was developed in January 2004. Open-Source workflow platform for information processing building and execution. KNIME utilizes nodes to build graphs that map information flow from input to output. With its modular pipeline idea, KNIME is a major leading open-source reporting and built-in analytical tool to evaluate and model the information through visual programming, integrate different data mining elements and machine learning. Every node carries out a single workflow job. In the following instance, a user reads certain information by using a File Reader node. The first 1000 rows are subsequently filtered using a Row Filter node. Then, you can calculate summary statistics using a statistics node, and the findings are finished by a CSV Writer on the users' hard drive.
9. QlikView
QlikView has many distinctive characteristics, such as patented technology and memory processing which can quickly execute the outcome for end customers and store the information in the document itself. Data association is automatically retained in QlikView, and almost 10% of the initial volume can be compressed. Color visualization of the information connection –for associated information and non-related information, a particular color. As an auto service BI tool, QlikView is usually easy to collect without having to have unique data analysis or programming abilities for most company customers. It is often used in marketing, staffing, and sales departments as well as in management dashboards to monitor general company transactions at the highest management level. Most organizations provide company users with training before they are provided with software access, while no unique abilities are needed.
10. Splunk
Its first version, most of it appreciated by its users, was launched in 2004. It gradually became viral among businesses and began to purchase their company licenses. Splunk is a software technology used to monitor, search, analyze and view information produced by the computer in real-time. It can track and read various log files and save information on indexers as occurrences. You can display information on different types of dashboards with these tools. Splunk retrieves all text-based log information and offers an easy way to search through it; a user can retrieve all kinds of information, conduct all kinds of interesting statistics and submit them in various formats.
11. IBM SPSS Modeler
A predictive Big Data Analytics Platform is IBM SPSS Modeler. It provides predictive models and supplies people, organizations, systems and the company. It contains a variety of sophisticated analytical and algorithms. IT Find out more quickly and fix issues by analyzing structured and unstructured data SPSS Modeler doesn't just explore your information. It is most potent when used to uncover strong patterns in your continuing business processes and then capitalize by deploying business models in order to better predict choices and achieve optimum results.
Conclusion
Although tools mentioned in the above article facilitate evaluation, the data you provide and analyze is only as useful as they are. Take time to learn some fresh tricks, take the challenge and let these instruments improve, and complete your already existing logic and reasoning abilities.
Recommend Articles
This has been a guide to Data Analysis Tools. Here we discuss the top 11 user-friendly and performance-oriented Data Analysis Tools in detail. You may also look at the following articles to learn more –